We Can't Wait to See Where Atlantic Cape Will Take You!
Congratulations to the Class of 2023. We at Atlantic Cape are so proud of all our graduates. Whether they are starting their first job, making a transition to a dream career, or continuing their education, our graduates have overcome challenges to reach the same goal: a college degree. From here, they will go onward to be the leaders that our community needs. We know that Atlantic Cape alumni are ready to be part of the solution. Here are a few impressive stories from some of our recent graduates. We hope their stories will inspire others and find out where Atlantic Cape can take them.
Associate in Science - Business Administration
Ariqua Gilliss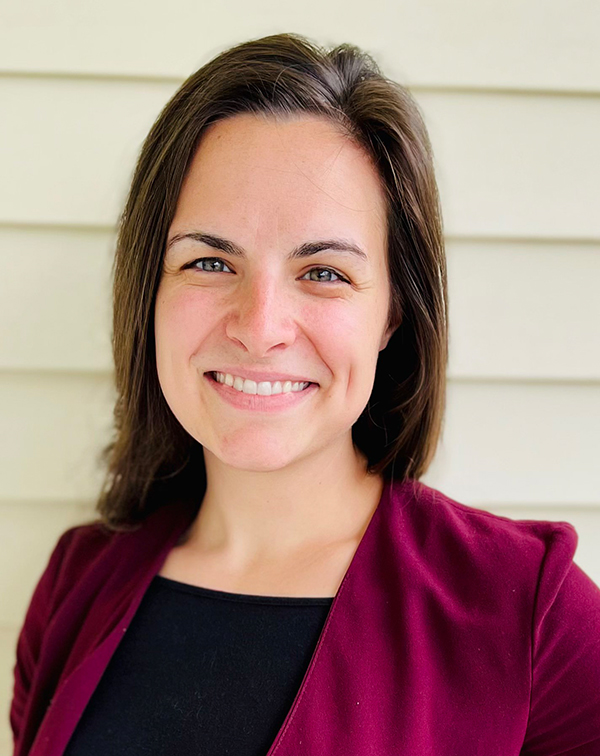 "Keep showing up every single day."
Ariqua Gilliss, 29 from Galloway, and her husband have an incredible son and also run a business together. For 13 years Ariqua dreamed of completing her associate's degree at Atlantic Cape and thanks to the encouragement and support from family and friends she has finally realized that dream.
"Because of Atlantic Cape I have been able to interact with new friends both in the student body and the teaching faculty," Ariqua said. "I have learned current and applicable information that will be invaluable as I run my own business."
Ariqua, who attended Atlantic Cape as an online and remote student, stresses that it is important to "keep showing up every single day" because the difficult tasks in life are not accomplished in one day, they are accomplished by remaining steadfast.
After graduation, Ariqua will continue running her business, together with her husband, full-time.
Associate in Arts/Associate in Applied Science – Liberal Arts/Biology
Jasmin Caldwell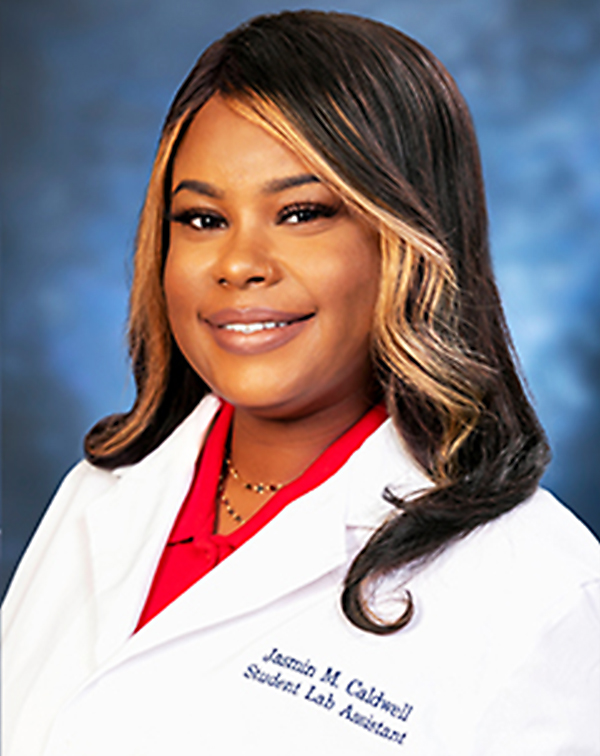 "Atlantic Cape gave me the opportunity to tailor my degree and fine-tune my experience to be a future front-runner in medicine."
Jasmin Caldwell, 31 from Atlantic City, never let the fact that she is a mom with two daughters to raise get in the way of her academic dreams. Returning to college as an adult learner came with its own unique set of challenges, but Jasmin was determined to make the most of it.
At Atlantic Cape, she was able to save money, while making the leap back into higher education, which included majoring in both Biology and Liberal Arts.
"Atlantic Cape has allowed me to have a flexible schedule, while building my unique degree," Jasmin said. "Both majors allow me to build upon the skills I will need to get into Medical School, while simultaneously learning about topics that interest me, such as psychology, bioethics and public speaking."
Jasmin turned family time with her daughters into a bedtime story ritual with textbooks often substituting for traditional nursery rhymes.
"My biggest challenge was being a mom, but I overcame that by including my five-year-old daughter, who is now well-versed in Biology and Chemistry, in my studies," Jasmin said. "This not only showed her how important college is, but it has also piqued her interest into a whole new world."
Despite her hectic schedule, Jasmin, who attended Atlantic Cape in-person, online and remotely, managed to preside as president of the Student Government Association this school year. She was also a member of Phi Theta Kappa, Circle K, the Biology Club and was a student lab assistant in the STEM department, as well.
Jasmin credits many Atlantic Cape staff and faculty members, such as Lisa Givens, Joelle Motley and Lynette Ingram to Dr. Terri-Lynn Hamby, Ken Cabarle and the entire Center for Student Success team, for supporting her along the way.
"I have never received this much support my entire life. To be celebrated, motivated and told that my dream isn't just a dream was all I needed to put my plan into fruition," Jasmin said. "Atlantic Cape will always have a special place in my heart. Thank you for all you have done and by helping to change this one life, you may have helped change the world."
Jasmin plans to continue her education in the Fall by attending Stockton University as a Pre-Medicine student and Biology major.
Associate in Science – Criminal Justice
Amber Gundle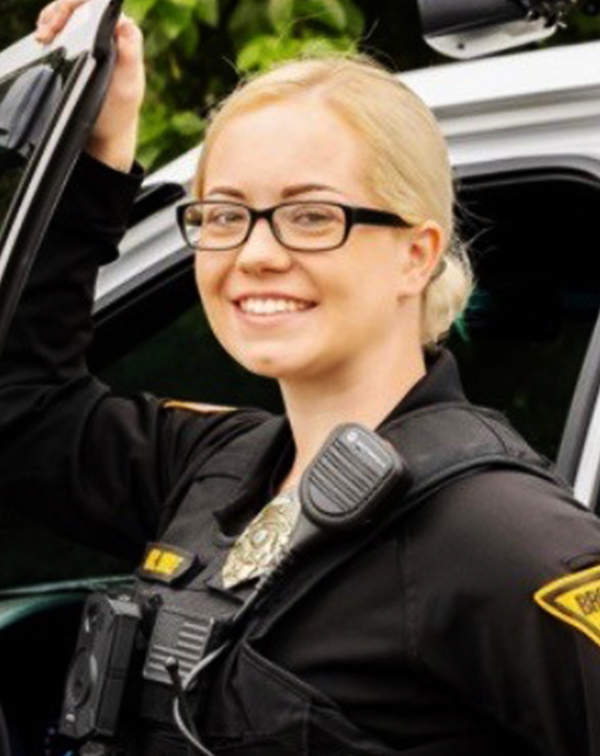 "Don't feel bad about taking your time to earn your degree."
Amber Gundle, 27 from Brooklawn, is currently a Detective with the Brooklawn Police Department and she utilized the credits she received from attending the police academy to help her attain her Criminal Justice degree at Atlantic Cape.
Amber chose to attend Atlantic Cape being of its affordability and the flexible course schedule offerings that perfectly fit into her busy career. Amber, who took classes online and was a member of the Phi Theta Kappa International Honor Society, said that overcoming time management and being committed to college were challenges that she faced.
Amber is thankful to her coworkers at the Brooklawn Police Department and her husband, Cody, for always being there for her and pushing her to do her best.
As a first-generation college graduate, Amber is proud of the road less traveled that she took.
"Don't feel bad about taking your time to obtain a degree. Everything happens for a reason, and everything will eventually fall into place when it is ready. Take some time to figure out exactly what you want to do and find yourself first," Amber concluded.
Amber plans on continuing her education as she pursues her bachelor's and master's degrees while striving to eventually work in the Crime Scene unit.
Associate in Science – General Studies
Tyrese Myrick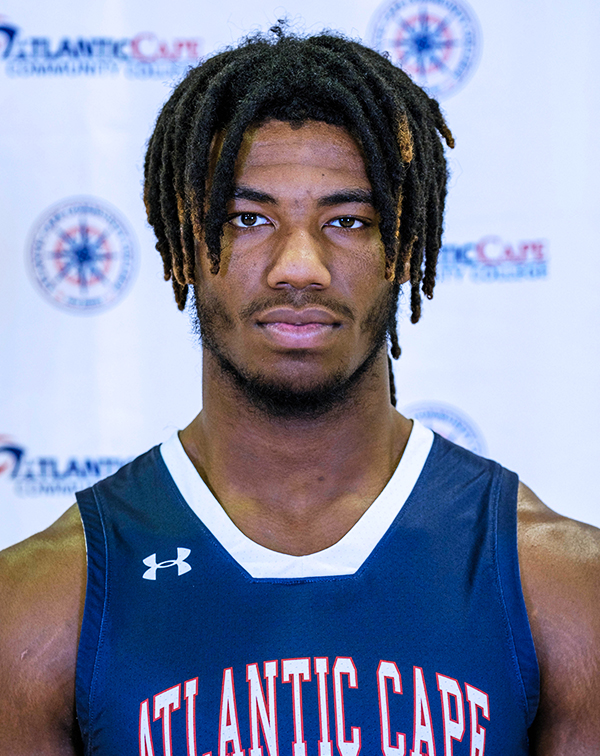 "It means a lot to me to be the first to graduate college in my immediate family."
Tyrese Myrick, 21 from Willingboro, had two important reasons why he chose to attend Atlantic Cape: to become a better student and to become a better athlete. Tyrese excelled in both over the course of his two years at Atlantic Cape and was a crucial piece to the Buccaneers on-court hoops resurgence.
Tyrese said that his biggest challenge was learning to manage his course work while simultaneously remaining active on the basketball court. He credits Head Coach Allen Ragland and Athletic Director Jamal Edwards with providing him the positive motivation needed to succeed in the classroom and on the court.
"Atlantic Cape has provided me with the opportunity to play basketball at the next level," Tyrese said.
Tyrese attended classes in-person and online, and plans on furthering his education at a 4-year college while continuing his basketball career.
Associate in Arts, Education – Preschool to Grade 3
LaRissa Sykes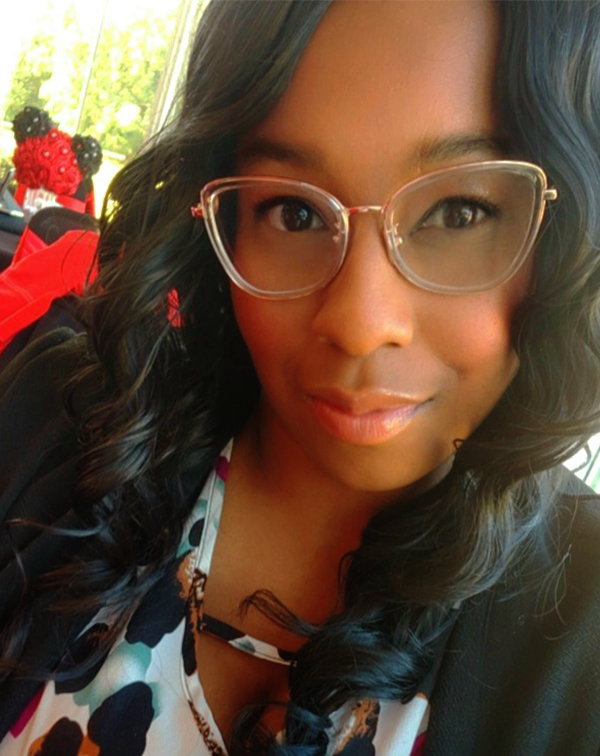 "Never give up on your dreams & goals even if you feel like they are too far away to achieve them."
LaRissa Sykes, 31 from Minotola, overcame many challenges to finally realize her academic dreams. Ms. Sykes is a single mother of four, including one diagnosed with extreme aggressive mental health challenges, who also works full-time as a frontline healthcare worker. Ms. Sykes, who has severe ADHD, managed to remain focused on her day-to-day studies despite myriad real-life distractions.
"Most of my professors at Atlantic Cape were beyond amazing and very patient with me. They kept me motivated during the hard times and showed me that I could achieve many things, such as graduating from college," Sykes said.
LaRissa originally became a student at Atlantic Cape in 2009. Life threw her many curve balls along way that led to her halting her studies, but she returned to college by taking online and hybrid classes and was motivated to complete what she had started.
"Graduating from Atlantic Cape means everything to me and I feel like I am worthy of accomplishing anything I set my mind to," Sykes said. "It means a lot to me to show my children that even though I have been through so many challenges in life that working hard will make you feel beyond great when you accomplish it."
LaRissa will be attending Stockton University in the Fall where she will be working towards her bachelor's degree in Early Childhood Education.
Associate in Arts – Education
Rosario Cuba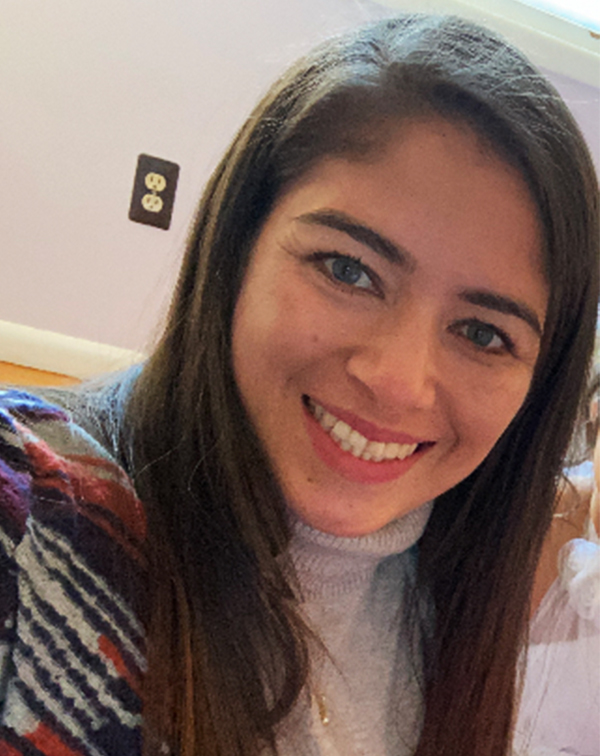 "Strive to fulfill your dreams. You can achieve anything you set your mind to."
Rosario Cuba, 39 from Galloway, knew that learning the English language was an obstacle so she began her time at Atlantic Cape by taking the English as a Second Language (ESL) Program. Upon completing that program Rosario began her pursuit of an associate's degree.
"Graduating from Atlantic Cape is one of my greatest achievements," Rosario said. "I never thought that I would finish the ESL Program and now I can't believe that I have my associate's degree! I am very grateful to Atlantic Cape."
Rosario thanked Danays Hernandez for assisting her with financial aid, Cynthia Correa for helping her register for classes, Gwen McIntyre and Paige Elmer for helping her during her ESL classes, and all of the wonderful people she has met at Atlantic Cape.
Rosario, who attended Atlantic Cape in-person, online, hybrid and remotely, will be transferring to Stockton University and working towards obtaining her bachelor's degree.
Associate in Applied Science – Culinary Arts
Elvis Rodriguez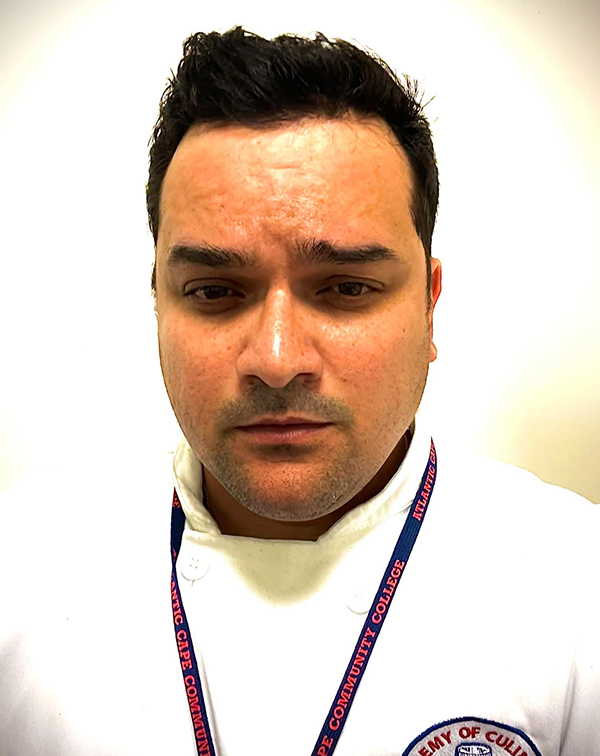 "I feel confident that the Academy of Culinary Arts and Atlantic Cape have prepared me for a bright culinary career."
Elvis Rodriguez, 36 from Fort Myers, Florida, brought a significant amount of life skills and experience when he decided to enroll in Atlantic Cape's Academy of Culinary Arts Program. A father and nine-year military veteran, Elvis knew that he wanted to attend culinary school, but he wasn't sure where. Attending an open house at Atlantic Cape confidently answered that lingering question for him.
By successfully balancing his home life, health and college studies, while surrounding himself with friends and peers who positively influenced him, Elvis was able to thrive and ultimately complete his dream of graduating from culinary school.
"All of the chefs have been so extremely supportive. We have been through so much together in the span of time we were here," Elvis lamented. "I have no way of repaying them for the priceless wisdom they have given me and the confidence they have instilled in me. I am forever grateful."
Despite the challenges, Elvis was determined to never give in, thus he became more determined than ever to succeed. Elvis is thankful to many of his culinary peers and chef educators like Chef Sheridan, Chef Wohlman, Cher Miller and Chef Colucci.
While at Atlantic Cape, Elvis volunteered over the summers with the Kids College program. He was also involved with the Culinary Students Association, American Culinary Federation and the Let's Chow Food Truck. Elvis attended classes at Atlantic Cape both in-person and online.
"It is truly an honor to graduate from Atlantic Cape. Completing Culinary school has been a dream come true."
After graduation, Elvis will commence his culinary career at the Cardinal contemporary American restaurant in Atlantic City.
Associate in Nursing and Associate in Health Science
Brianna Torres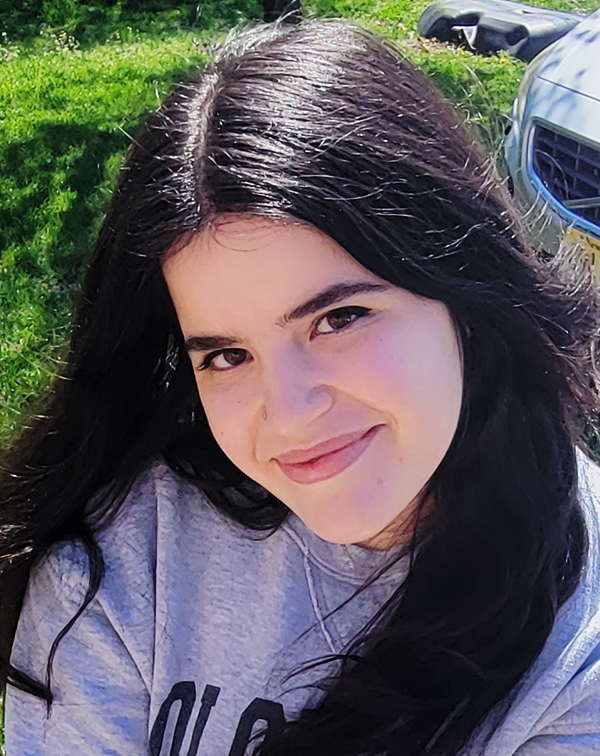 "So. Many. Scholarships!"
Briana Torres, 21 from Mays Landing, has always dreamed of becoming a nurse. With the help of generous scholarships that allowed her to attend college close to home she has finally achieved her dream and become a first-generation college graduate in her family.
Briana and her friends spent many long hours and days studying in the STEM building and utilizing the whiteboards to write down notes.
"I am the first person in my family to graduate college, so this is huge for me. I feel like I have made my family proud," Brianna said. "I will continue to motivate girls that come from any background to pursue what they love. I come from a family who pushed me to succeed and I feel like I have finally reached my dream"
Briana, who attended classes at Atlantic Cape in-person, online and remotely, credits the scholarships she earned for helping make pursuing her education less stressful. She also credits Atlantic Cape's generous campus student resources and close proximity to her home, her friend Kyla for accompanying her in the nursing program, and her boyfriend Brandon for helping her out home and putting up with her late-night studying sessions.
Along with her classes, Briana was a member of the Nursing Club and will be continuing her education at Rutgers University here at Atlantic Cape this Fall.
Associate In Arts – Psychology
Latona Bader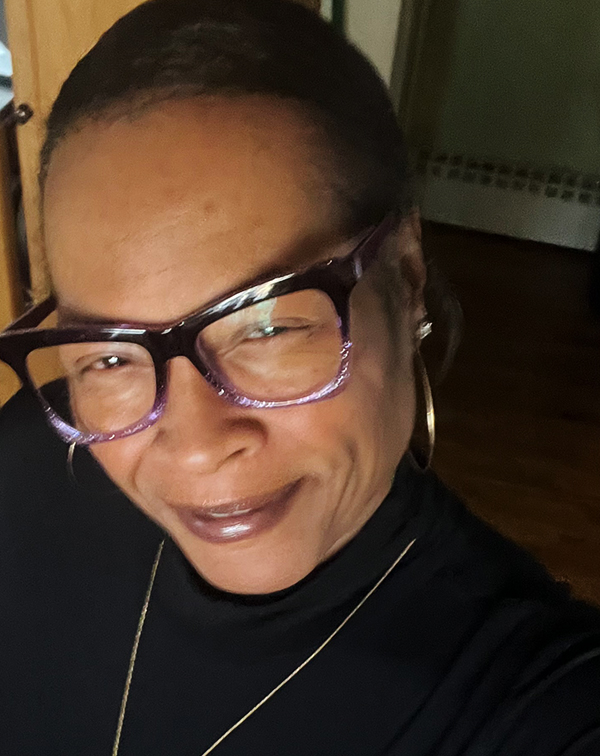 "Graduating from Atlantic Cape I feel confident that I can excel in the major that I have chosen."
Latona Bader, 53 from Tuckahoe, Cape May County, admits that she is a very sociable person so when the pandemic interrupted her classes three years ago she freely acknowledges that she struggled with online learning at first.
"I had to choose classes that were online only and they are a challenge for me because I am very social. It was difficult not being able to socialize. Luckily, I had a remote class, as well, which helped alleviate some of my anxiety because we were able to interact with one another on Zoom."
Latona chose Atlantic Cape because of its affordability, its convenient location and class schedules that fit into her full-time work schedule. Latona, who attended classes in-person, online and remotely, was a member of Sigma Kappa Delta, Phi Theta Kappa and Psi Beta while also a member and officer in the Theatre Arts Guild.
She credits her first English Professor Linda Koch with teaching her the vital skill of writing a paper without run-on sentences.
"She disliked run-on sentences so much, that she would get on her soapbox and grill the whole class on when to use a comma. I can truly say that I can write a paper now without a run-on sentence."
Latona is planning to continue her education at Stockton University as a Forensic Psychology major.
"Every Professor that I have had at Atlantic Cape has given me the tools that I need to continue my studies in Psychology," Latona concluded.
Associate in Science – Health Science
Hailie Nguyen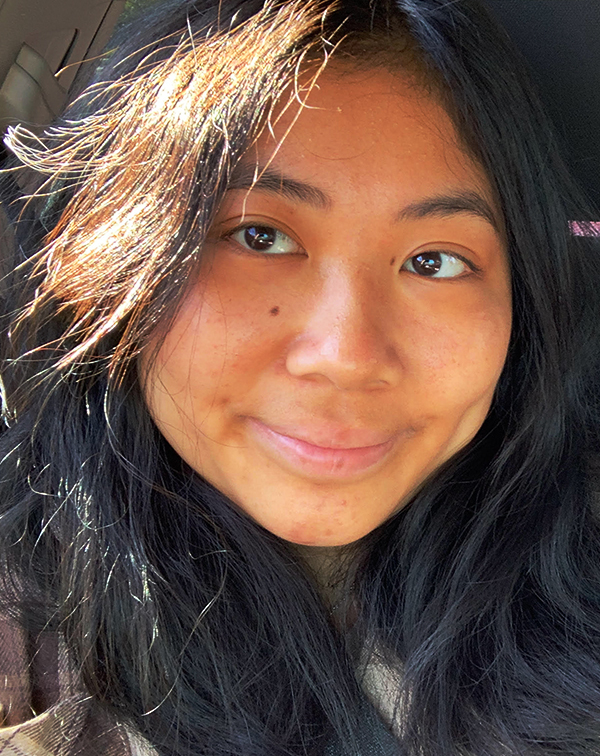 "Nothing is that serious." "We ball!"
Hailie Nguyen, 19 from Egg Harbor Township, accomplished quite a bit during her time at Atlantic Cape. Along with being a full-time student and working two part-time jobs, Hailie was able to revive the college's Asian Cultural Club as its president while also volunteering at the campus food pantry.
Hailie is proud to have increased the club's membership from just two in the Fall 2021 semester to 18 in Spring 2023. She oversaw the club's activities, such as hosting events from Earth Day Bob and Cultural Thanksgiving to Halloween luncheon and Boba Café, where more than $700 was raised for Adelaide's Place in Atlantic City.
With such a hectic schedule, Hailie, who attended classes in-person, online and remotely, was able to persevere through it all.
"I think the biggest challenge was the stress. Being a full-time student, club president and working two part-time jobs, delegating time for myself was a big challenge, but knowing that I had people to support me was a big help."
Hailie credits her family, particularly her mother, for keeping her motivated and on track throughout the school year, as well as her sisters and aunts for keeping her sane while she completed all of her course work. She also thanks Student Service Navigator Jerome Ingram, her club members and officers, and lastly her best friend and boyfriend for all of their support and motivation.
Hailie intends to continue her education at a four-year college while hoping to land an internship as well.
Associate in Science – Business Administration
Tatiana Shukovsky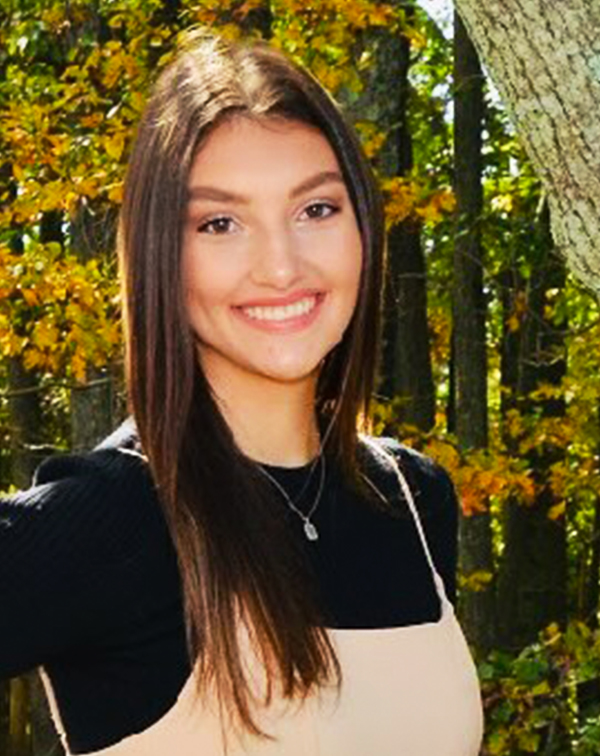 "Yesterday is history, tomorrow is a mystery and today is a gift. That is why it is called the present." 
Tatiana Shukovsky, 19 from Estell Manor, parlayed stellar academic grades that were in the top 15% of her class in high school into a New Jersey Student Tuition Assistance Reward Scholarship (S.T.A.R.S.), which she utilized to attend Atlantic Cape. As a NJ STAR, Tatiana needed to maintain at least a 3.0 GPA and enroll in at least 12 credits per course semester. She accomplished this while also serving as the Student Government Association Vice President.
Tatiana, who attended classes at Atlantic Cape in-person, online and hybrid, credits Student Engagement Manager Lisa Givens with her unwavering support this past year.
"She provided not just me, but all students, a positive outlet for questions and concerns. She really supported me throughout my entire last year at Atlantic Cape, which was when I really needed the guidance most."
During her time at Atlantic Cape, Tatiana has learned to never take anything for granted in life, which is why she considers every day to be a gift, thus helping her through some of her toughest moments.
Tatiana will be continuing her education at Stockton University this Fall. 
Associate in Applied Science – Health Science
Catherine Versoza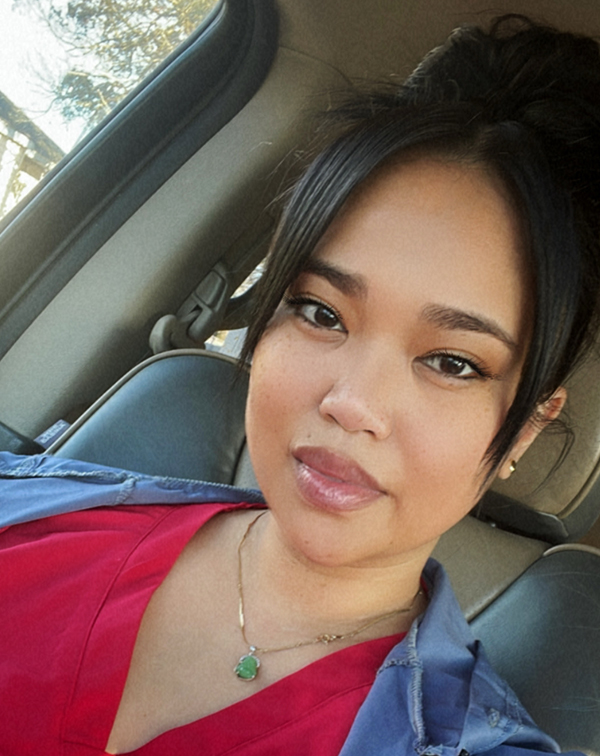 "Atlantic Cape provided me with the ability to obtain a degree without compromising the time for my family and my job."
Catherine Versoza, 29 from Atlantic City, knows what it is like to juggle multiple tasks at the same time. As a mother working a full-time job and continuing her education, Catherine learned to prioritize her time to accomplish all of her important responsibilities.
Catherine, who attended her classes in-person, online, hybrid and remotely, chose Atlantic Cape because it offered her a flexible class schedule, which was a crucial consideration because of all of the hats that she wears.
 "I want to thank my children for their patience, my partner for his support, my best friend for her unmatched belief in me, and my coworkers who turned into friends by helping me with gas money, printing materials, or just motivation. I can never be grateful enough to them," Catherine said.
Catherine is a first-generation college graduation in her family and was a member of the Phi Theta Kappa International Honor Society. She plans to continue her education by pursuing her RN in Nursing.
"Every journey begins with a single step. You cannot get somewhere without taking that step. Only you can make that happen. Pursuing higher education means striding for a better future, a better you and a better self," Catherine concluded.
Associate in Science – Human Services
Diana K. Sotomayor Tejeda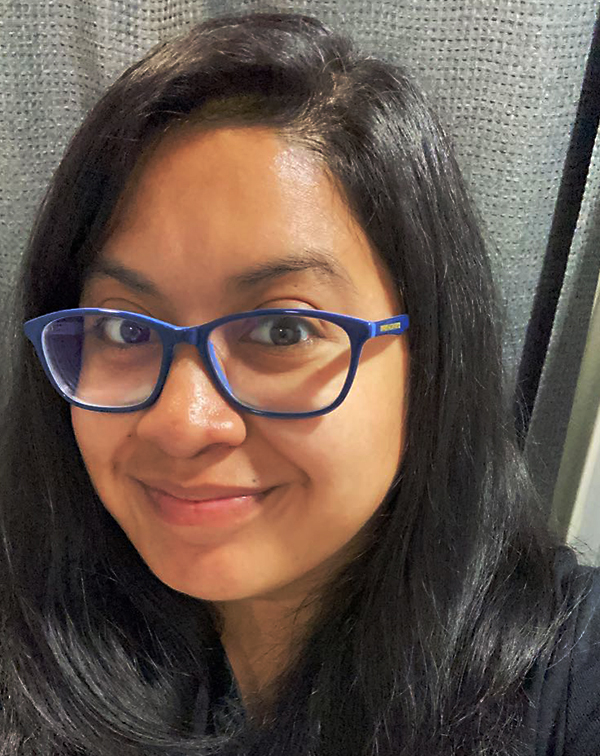 "The future belongs to those who believe in the beauty of their dreams."
Diana K. Sotomayer Tejeda, 34 from Lower Township, Cape May County, juggled her commitment to a full-time job while attending Atlantic Cape in-person, online, hybrid and remotely. Diana's time at Atlantic Cape afforded her the chance to hold an internship with the Cape May County Department of Social Services.
Diana chose Atlantic Cape because of its cost effectiveness, student-friendly flexible class schedules and "awesome professors." In the end, Diana's perseverance paid off as she will become a first-generation college graduate in her family.
"I want to thank my parents, especially my mom for always pushing me to be my best, and to my siblings, Noah, Jade and especially my sister, Julia, for helping me make this all possible," Diana said. "Also, thank you to my wife, Cass, for holding down the fort at home."
Diana plans to continue her education this fall by transferring to Rutgers University-Camden where she will work towards a Bachelor of Science Degree in Social Work.