Associate in Applied Science
Hospitality Management

The hospitality industry is the number one employer in Atlantic County. This degree, coupled with experience prepares students for management careers in hospitality including hotels, restaurants, casinos, and other hospitality and tourism related businesses. In addition to hotel management courses, students are exposed to a variety of courses in business administration, which enable them to make appropriate business decisions. In their final semester, students are required to complete a mandatory 135-hour internship in a hospitality-related business.
Hospitality Management Vision Statement
The Hospitality Management Program aspires to strengthen the hospitality industry in our region through employer partnerships and professional development for current practitioners.
Hospitality Management Mission Statement
The Hospitality Management Program of Atlantic Cape Community College is committed to providing a quality education, incorporating theory and practice, to prepare students for successful careers in the hospitality and tourism industry, and/or transfer to four-year institutions.  Additionally, our mission is to connect our students with industry stakeholders through community events.
Hospitality classes are scheduled traditionally, for those students most comfortable in a classroom learning environment, and Online, for those students who are self-disciplined and appreciate the flexibility that distance education offers. Students with transfer credits should contact the Admissions Office.
For more information, contact the ACA director, Chef Joe Sheridan, at (609)343-4939 or jsherida@atlanticcape.edu.
Upon completion of this program students will be able to:
Identify

 

and apply the knowledge and skills necessary for hospitality and tourism operations;
Develop and integrate a core set of business skills necessary to successfully operate a hospitality and tourism organization;
Demonstrate competence in the communication skills necessary for hospitality and tourism management;
Formulate business decisions in hospitality and tourism management;
Evaluate leadership principles necessary in the diverse and global hospitality industry;
Demonstrate professional conduct and industry knowledge in an internship setting.
Table of degree requirements
Courses
Credits

GENERAL EDUCATION COURSES - 20 credits

When a General Education course is not specified, refer to the list of approved General Education courses.
Communication (9 credits)
 
    ENGL101-Composition I

3

    ENGL102-Composition II

3

    COMM120-Public Speaking

3

Mathematics-Science-Technology (8 credits)
 
    Choose two: General Education Mathematics or General Education Science courses

8

Social Science (3 credits)
 
    General Education Social Science course

3

TOTAL GENERAL EDUCATION COURSES

20

PROGRAM COURSES - 40 credits

    ACCT130-Financial Accounting

4

    BUSN222-Principles of Management

3

    HOSP100-Orientation to Hospitality and Tourism

3

    HOSP132-Food Service Sanitation

1

    HOSP134-Restaurant Operations

3

    HOSP200-Hotel Operations

4

    HOSP205-Human Resources Management

3

    HOSP250-Catering and Events Planning

3

    HOSP265-Hospitality Sales and Marketing

3

    HOSP295-Internship in Hospitality Management

4

    HOSP299-Seminar in Hospitality Management

3

    Choose BUSN or HOSP course

3

    Choose BUSN210-Business Law I or HOSP225-Hospitality Law

3

TOTAL PROGRAM CREDITS

40

Technological Competency: 0-4 Credits

(Is fulfilled with CISM125, CISM132, testing, or reviewed departmental portfolio)

TOTAL CREDITS REQUIRED FOR DEGREE

60

* If you are planning on transferring to a four-year institution, it is strongly recommended that you take MATH150-Precalculus or MATH155-Calculus I and speak with an advisor.
 

(HOSP) EFFECTIVE FALL 2023

 
RECOMMENDED SEQUENCE OF COURSES
Table showing the recommended Sequence of Courses
Course Code
Course Name
Course Credits
First Semester (16 credits)
BUSN222
Principles of Management
3
ENGL101
Composition I
3
HOSP100
Orientation to Hospitality and Tourism
3
Gen Ed
Mathematics or Science course
4
Gen Ed
Social Science course
3
Second Semester** (14 credits)
ACCT130
Financial Accounting
4
ENGL102
Composition II
3
HOSP132
Food Service Sanitation
1
HOSP134
Restaurant Operations
3
HOSP265
Hospitality Sales and Marketing
3
Third Semester** (17 credits)
HOSP200
Hotel Operations
4
HOSP205
Human Resources Management
3
HOSP250
Catering and Events Planning
3
HOSP299
Seminar in Hospitality Management
3
Gen Ed
Mathematics or Science course
4
Fourth Semester (13 credits)
COMM120
Public Speaking
3
HOSP295
Internship in Hospitality Management
4
Choose
BUSN210 or HOSP225
3
Choose
BUSN or HOSP course
3
**Includes summer and/or winter session options
Table showing the data on Retention and Placement rates

| Program Enrollment – Major | 2018-19 | 2019-2020 | 2020-2021 |
| --- | --- | --- | --- |
| Number of Students | 38 | 38 | 40 |
| Number of Graduates  | 4 | 5 | 4 |
| Student/Faculty Ratio  | 8:1 | 13:1 | 10:1 |
| Retention Rate % – Freshmen to Sophomore (for all Programs) | 76% | 78% | 75% |
| % Students employed in the hospitality industry or a related field i.e. Professional Placement within 90 days after graduation  | N/A | N/A | N/A |
| % Students continuing their education within 90 days after graduation  | 0% | 20% | 25% |
| Total Professional Placement and Continuing Education Rate  | 0% | 20% | 25% |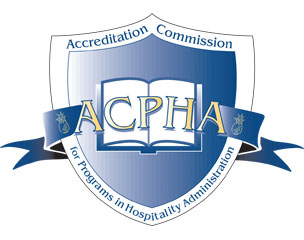 Report completed 11/29/2021 by Accreditation Commission for Programs in Hospitality Administration