Return to All News
Academy of Culinary Arts Holds Fundraising Dinner to Support Student Study Abroad Program in Italy
11/10/2022 | Media Contact: David Zuba, Public Relations Manager and Copywriter | (609) 343-4933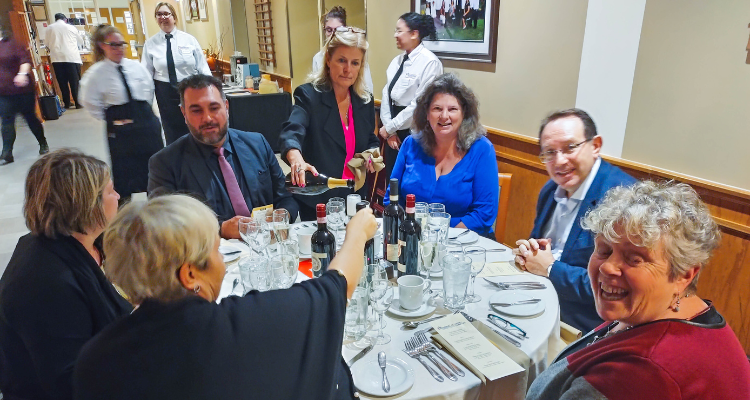 MAYS LANDING — Atlantic Cape Community College's Academy of Culinary Arts held its Italy Dinner fundraising event on Tuesday, November 8 at Careme's in support of its Study Abroad Program and 17-day educational cuisine and culture trip to Italy next year.
"This dinner is very important because this trip is an expensive venture. It's an incredible value for the money, but to tell a student that it will cost $5,000 to go to Italy is basically telling them you can't go," Interim Director, Academy of Culinary Arts, Chef Joseph Sheridan admitted. "So anything that we can do to help offset that cost for them we try to do because it is such an incredible experience."
Guests packed the academy's student-run restaurant for an evening of fine dining, camaraderie and philanthropy all for a worthwhile cause. The academy raised $665 from an auction featuring four authentic Italian cuisine packages, which included a two-pound block of Tradizionale Parmigiano-Reggiano Cheese and a 100ml bottle of Tradizionale 25-year-old aged Balsamic Vinegar of Modena.
"We are very excited for this evening. We have all worked hard in school every day to put on this dinner," sophomore culinary academy student Jada Edwards of Galloway said during the event. Edwards hopes to make the trip to Italy next year and "hope(s) to see the different cultures of how they cook the food."
The academy's culinary students cooked all of the evening's authentic Italian regional cuisine under the direction of Chef Felice Santodonato and Chef Georgeann Leaming, an academy 1999 graduate and season 19 Food Network Chopped! series champion. The four-course dinner featured Capricciosa Prawn Tartare with Parma Ham and Avocado; Carnaroli Risotto Buono with Saffron, Truffle Butter, Parmigiano Fondue and Salted Hazelnuts; Pork Tenderloin with Modena Balsamic Apple Puree and Paprika Fellne Chips; and Walnut-Pear Savarin with Grand Marnier-Amaretto Zabaglione.
Eliciting smiling faces throughout the room was a fait accompli as Chef Santodonato's first name, Felice, translates to "happy" in his native Italian language. He has over 20 years of experience in the catering and hospitality industries from Italy and Switzerland to China and the United States. He is also co-owner and Chef Ambassador for the Madeit Group, and has over 15 years of teaching experience, as well.
Culinary students that attend the 17-day Italy excursion from May 23-June 8, 2023 will experience a half dozen authentic Italian cooking classes, trips to wineries, distilleries, an olive oil production facility, a balsamic vinegar aging facility, coffee college, parmigiano reggiano production facilities and day trips to Rome, Venice, Umbria and more. Students may use this trip towards their degree as a general education elective course. Due to the global pandemic, this will be the first Study Abroad trip that the academy has attended since 2019.
"The purpose of this dinner tonight is not only Italian cuisine, but to help the students with fundraising and to help them go to Italy," Giacomo Berselli, owner of Marco Polo Program Abroad in Italy said. "We always believe in helping Atlantic Cape Community College in bringing students to Italy and to study abroad. As Marco Polo, what we can do to help the students to go, not only to bring them the culture, but give an opportunity to raise money."
Another sophomore culinary academy student, Elvis Rodriguez of Pleasantville, has lofty goals for his anticipated trip to Italy. "While I am there I am going to be knocking on doors asking if jobs are available. I will go right back to Italy if I am offered a job."
Atlantic Cape's Academy of Culinary Arts Study Abroad Program was founded 22 years ago by Chef Kelly McClay, who in June 2021 retired after 14 years as dean of the academy and 26 years overall at the college. She praised the efforts of so many in giving the academy's students an opportunity to participate in the Study Abroad Program and the trip's invaluable experience for the students.
"The fact that we are raising money for them to take this trip is priceless because most of these students would not be able to go without some (financial) help and this trip is so valuable for their future in the industry," McClay said. "They learn how another world sees food. They come back with a very different attitude toward school, about their future and the kind of work they want to do."
McClay, who, along with just one other instructor, took 24 students on their first Study Abroad trip to Italy in 2000, admits that recreating this extraordinarily-unique international academic and cultural experience would only be possible overseas.
"No matter how hard we try we could never replicate that experience in an academic environment," McClay admits. "It's an opportunity to see another part of the world and to live within that world for a short period of time."
Earlier in the day, Chef Santodonato performed a regional Italian cuisine cooking demonstration in one of the academy's cooking classrooms before a standing-room-only crowd that featured more than 50 culinary students along with several instructors and guests. The Academy of Culinary Arts currently has 120 full-time students enrolled in its program.
"We have found our way through COVID to do our first trip since 2019 and we are really excited about it," Chef Sheridan concluded.
Click flickr.com to view photos from Chef Santodonato's cooking demonstration.
About Atlantic Cape Community College
Atlantic Cape is a comprehensive two-year community college serving the residents of Atlantic and Cape May counties. The college offers over 40 career, transfer and workforce development programs to more than 8,000 students annually at three campuses in New Jersey: Atlantic City, Cape May Court House and Mays Landing.
About the Academy of Culinary Arts
 The Academy of Culinary Arts at Atlantic Cape Community College is celebrating 40 years of educating future chefs and food service professionals. The ACA recently was ranked the No. 1 culinary school in New Jersey by Best Choice Schools.
For more information about the academy, visit www.atlanticcape.edu/aca.