Return to All News
Five Men of Atlantic Cape receive jackets
05/06/2022 | Media Contact: Claire Sylvester | (609) 343-4933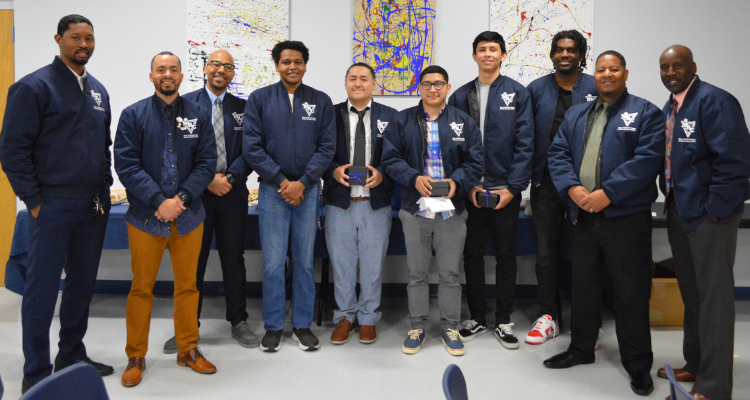 Men of Atlantic Cape (MAC), a retention program for Black and Latino students at Atlantic Cape Community College, hosted a jacket presentation ceremony for five students on Wednesday, May 4, 2022 at the Mays Landing campus.
David Coit, Jonathan Cosme, Eduardo Jimenez, Evon Rodriguez, and Nijayen Simmonds received embroidered jackets acknowledging their efforts as a part of the program.
"The Men of Atlantic Cape jackets recognize MAC students (a.k.a. MACers) who have shown dedication to the program and educational success at Atlantic Cape. Selected MACers receive a jacket to officially welcome them to the MAC alumni," explained Jerome S. Ingram Jr., Student Service Navigator for Athletes and Veterans and Men of Atlantic Cape mentor.
Men of Atlantic Cape was created more than 25 years ago by former Dean of Students Paula Stewart Davis under a different name in response to the concerns around the recruitment, retention and graduation rate of African-American males in college.
The program has evolved over time and is now open to all male students of color. The MAC members meet throughout the year with mentors where they discuss issues that may interfere with the achievement of their academic goals. MAC members are exposed to information and skills that will enhance their potential for success through workshops, seminars, leadership training and a retreat.
Former lead mentor Michael Forest and new lead mentor Rashawn Martin were joined Wednesday by mentors Ingram; Eric Stewart, Student Service Navigator for the Center for Student Success; and Atlantic Cape Athletic Director Jamal Edwards, as well as MAC alumni Gerald Carrion, to present the jackets to the students.
A small reception was held following the ceremony.
For more information on MAC, visit atlantic.edu/student-life/student-engagement/leadership.php.