Return to All News
39th annual Holocaust Awareness program to discuss Anne Frank investigation
03/25/2022 | Media Contact: Claire Sylvester | (609) 343-4933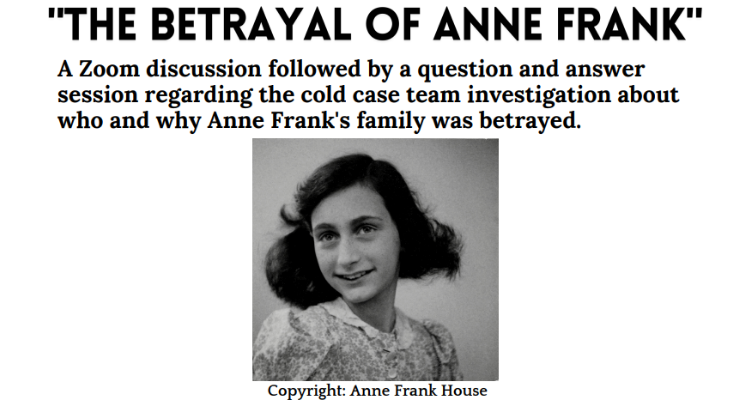 Who tipped off Nazi Gestapo about the hiding place of Anne Frank and her Jewish family in Amsterdam, Netherlands during World War II? 
Jan Erik Dubbelman and Dr. Dienke Hondius, both of Amsterdam, who were interviewed by a cold case investigation team working to unravel the most likely scenario of the fate of the Frank family, will be the guest speakers at a program at 7 p.m. March 31 via Zoom discussing the investigation.
The fate of the Franks is the subject of a new book titled "The Betrayal of Anne Frank: A Cold Case Investigation," by author Rosemary Sullivan. The presenters will discuss the investigation and the research they have done. 
The 39th annual Holocaust Awareness program is co-sponsored by the Sara and Sam Schoffer Holocaust Resource Center at Stockton University and Atlantic Cape Community College.
Hondius, Assistant Professor at Vrieje University in Amsterdam, was honored in 2020 as Stockton's Ida E. King Distinguished Visiting Professor of Holocaust Studies. Dubbelman is Emeritus Director of the International Education Projects at the Anne Frank House in Amsterdam.
In 1942, Anne Frank, 15, and her family hid in Nazi-occupied Amsterdam in a building with a secret staircase hidden behind a bookcase. They were discovered in August 1944, then sent to concentration camps.
Anne's father, Otto Frank, survived. Her mother died in Auschwitz-Birkenau concentration camp. Anne and her sister died in the Bergen-Belsen concentration camp in Germany along with 50,000 other Jews. 
A diary written by Anne Frank was published after the war ended.
The Sara and Sam Schoffer Holocaust Resource Center is offering two Professional Development Hours to educators who participate in the annual program. After the program, the educators also can request resource materials for grades 5 through 12 to supplement teaching Holocaust and Genocide Education in their classrooms.
For more information, call 609-652-4699.
To attend, visit https://stockton.zoom.us/j/99036738617.
For NJ Educators: 2 PDH (Professional Development Hours) and OspreyAdvantage is available for Stockton students.