Return to All News
Atlantic Cape basketball standout David Coit signs with Northern Illinois University
12/20/2021 | Media Contact: Claire Sylvester | (609) 343-4933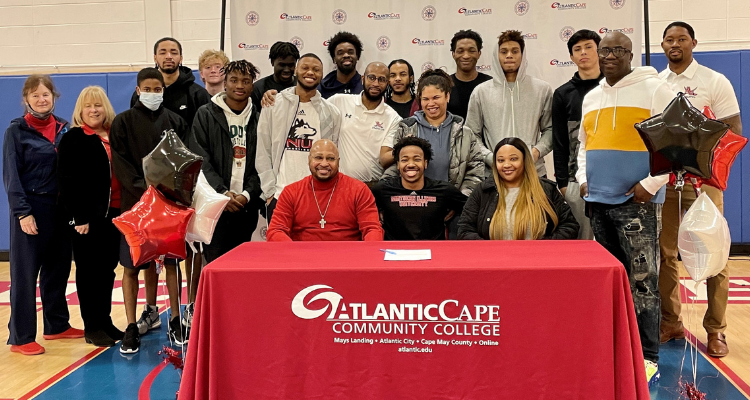 Surrounded by family and teammates, Atlantic Cape Buccaneers Basketball player David Coit committed to NCAA Division I college, Northern Illinois University, during a signing ceremony on Saturday, Dec. 18, 2021, at the Mays Landing campus.

The Buccaneers, under the guidance of Coach Allen Ragland, have a record of 10-3 so far this season in the NJCAA Division III. Coit, who plays guard, has been an important part of the team's success averaging 31 points per game (second in the division). Atlantic Cape is currently ranked third in the division for points.

Coit, 21, of Columbus (Burlington County) was an early standout for the team and had already received scholarship offers from Division I schools, New Jersey Institute of Technology, Northern Illinois University, and North Carolina A&T, by September of this year.

Coit graduated Princeton Day School in 2019 and went on to attend Scotland Campus Sports for a year before coming to Atlantic Cape this year where he is studying business. He will transfer to NIU in the fall.

For more information on the team, visit http://www.atlantic.edu/student-life/athletics/mens-basketball/index.php.