Return to All News
Women's Volleyball team ends 2021 season with 9-game winning streak, championship appearance
11/09/2021 | Media Contact: Claire Sylvester | (609) 343-4933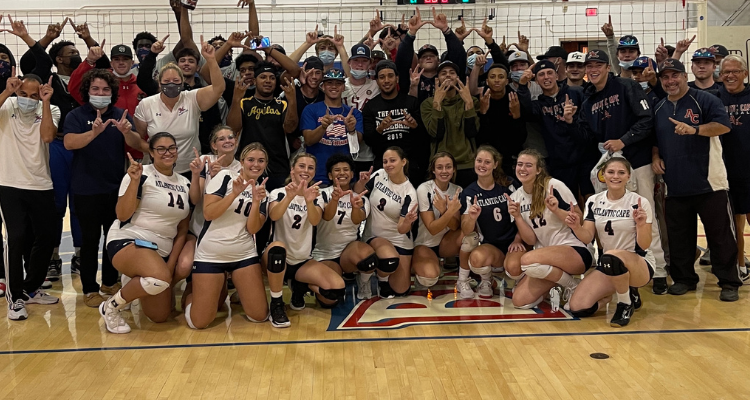 Atlantic Cape Community College's Women Volleyball team finished a remarkable 2021 season Oct. 30, making it to the NJCAA Region 19 Division III championships in the No. 4 spot before losing to No. 1 seed Raritan Valley.
"For the first season back after the pandemic, I'd describe our team as adaptable and resilient," Coach Karla Maisto said. "We also had some of the best fans to cheer us on at every home game, and the Atlantic Cape pride demonstrated at those matches was infectious. It really was an incredible, indescribable atmosphere that I hope to experience again and again in the coming years."
The Buccaneer's 2021 season included a nine-game winning streak, following an 0-5 start, which led them to securing a spot in the playoffs where they defeated Union County College.
Atlantic Cape Athletic Director Jamal Edwards said that despite the rough start, once the team was whole, they had many accomplishments including defeating the No. 8 team in the nation, Rowan College of Gloucester County.
"This was a great indicator of how good of a team we have," Edwards said. "The future is bright for the volleyball program led by Coach Karla. With a team full of freshmen, Coach Karla and her team represented Atlantic Cape Athletics in a major way!"
Maisto has been coaching the team since 2019 – and is the only woman in NCAA history to serve an entire fifth set. She and assistant Coach Josh Concepcion were unsure of what the 2021 season would hold after not competing in 2020.
The Buccaneer's season began with only seven players, after some of the players found out during the summer they weren't eligible to compete due to their grades.
"We had to just work with what we have," Maisto said.
The team practiced together and trained separately when they couldn't, depending on players' schedules.
Then, several of the women took the extra courses required to become eligible about mid-way through the season, and the Buccaneer's season turned around.
"We probably never used the same lineup more than two times; our players had to learn positions that they had never before played; we maybe only had everyone at practice a handful of times," Maisto said. "But these 11 ladies were some of the most determined, coachable, resilient, adaptable young volleyball players that I have ever had the opportunity to train, and it was remarkable to see their progression throughout the season."
Two players on the 2021 team, Isabelle Felix, of Mays Landing, and Angelina Cox, of Galloway, have made 2nd Team All-Region.
Describing these outstanding players, Maisto explained that Cox played the majority of the season on a sprained ankle, and was the backbone of the team's nine-game winning streak.
"She is one of the most coachable athletes that I have ever had the privilege to work with," Maisto said.
She said that Felix's late start on the team was a "game changer" for the Buccaneers.
"She is No. 1 on the team in kills per set with 2.56, and also No. 1 in digs per set with 3.67. Had she been with us for all 16 matches, her numbers would be incredible," Maisto said.
Looking forward, Maisto said she is excited about the potential for Atlantic Cape's Women's Volleyball team in the 2022 season.
 To learn more about the Atlantic Cape Community College Women's Volleyball team, visit atlantic.edu/athletics.