Return to All News
Atlantic Cape and Angels in Motion host free Thanksgiving Luncheon in Atlantic City
11/22/2021 | Media Contact: Claire Sylvester | (609) 343-4933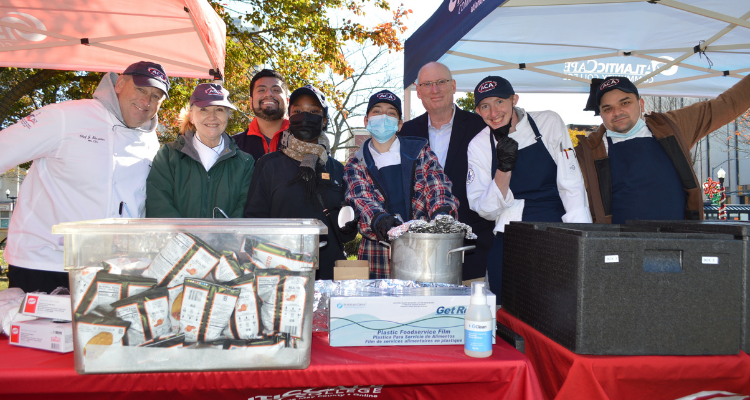 Atlantic Cape Community College hosted a free Thanksgiving Luncheon Friday, Nov. 19, providing food and resources to more than 150 people at City Center Park in Atlantic City.
The event, presented by the college's Community Outreach Program and Angels in Motion New Jersey, provided hot meals from the Academy of Culinary Arts, blessing bags, COVID-19 vaccines and other resources for anyone in need, including many who are homeless or living in poverty.
Partners for the luncheon also included the Hope One Atlantic County, Southern Jersey Family Medical Centers, Jewish Family Services, American Culinary Federation Professional Chefs Association of South Jersey, NJ SNAP-Ed, Legacy Treatments, and Amerigroup.
"I think this event, in partnership with Angels in Motion, underscores the efforts Atlantic Cape is making to support all of the different residents in Atlantic City," said Victor Moreno, senior manager of Campus Operations and Community Outreach at Atlantic Cape's Worthington Atlantic City campus. "We're able to provide much needed resources to the most vulnerable communities in Atlantic City."
"Friday's event was amazing for us because we don't necessarily always get to serve them a hot meal," explained Lisa Bee, co-director of Angels in Motion New Jersey, which gives out food and resources on a weekly basis in Atlantic City. "It just absolutely warms our heart. It is an incredible partnership."
In addition to the meals at Friday's event, Hope One was able to help five people into treatment for substance use disorder.
"We really make a difference when we work together," Bee said. "And I think that's the most important thing. We don't show up once, we show up weekly, and we show up for holidays when they don't have anyone. For a lot of these people, we are their family."
Funding for Friday's event was provided by the Federal Government's Higher Education Emergency Relief Fund.
Atlantic Cape's community outreach events continued on Saturday, Nov. 20 as the college partnered with the Fellowship of Churches in Atlantic City and gave out 300 turkeys and thanksgiving meal kits to local residents.
Flickr photo album from event