Return to All News
Atlantic Cape's Hunger Banquet brings attention to world hunger crisis
11/19/2021 | Media Contact: Claire Sylvester | (609) 343-4933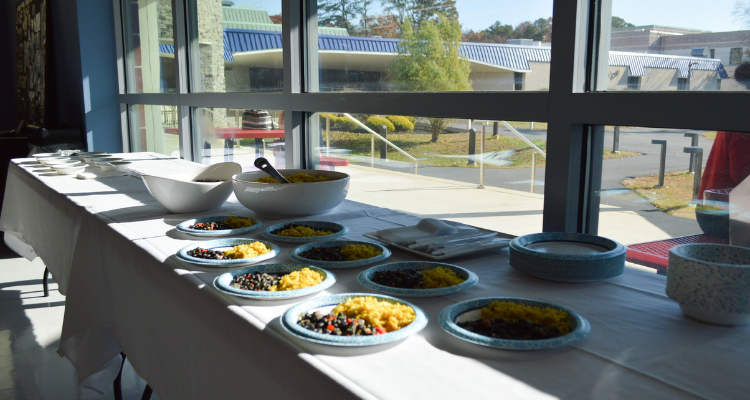 On Thursday, Nov. 18, a group of students, staff and faculty at Atlantic Cape Community College gathered for a Thanksgiving meal with a focus on poverty and world hunger.
During the Hunger Banquet, created by the nonprofit organization Oxfam and hosted by the Student Government Association, participants were randomly assigned to experience a meal as high income, middle income or poor.
SGA President Caesar Sanchez noted that those in the "high income" tables represented the 20% of the world's population with the highest per capita income, earning a minimum of just $7,300 a year.
"Can you imagine—earning less than $8,000 a year gets you into this group?" Sanchez said.
The "middle income" participants represented 30% of the world's population earning between $2,182 and $7,300 a year, while the lowest income group represented just over 50% of the population of the world, earning less than $6 a day.
"This event is a metaphor for how food and other resources are inequitably distributed in the world," Sanchez said. "The one thing to remember is this: Everyone on earth has the same basic needs; it is only our circumstances – where we live and the culture into which we are born – that differ."
The "high income" participants sat at a neatly set table with glassware and cloth napkins. They were served by Academy of Culinary Arts student Jesus Amparo, enjoying salad as a starter and a baked pasta entree.
The "middle income" participants were seated at a single, long table with no place settings. They could retrieve their meals second - men before women – and were served a dish of rice and beans in paper plates.
Finally, the "poor" participants could pick up a small bowl of beans, which they ate seated on a blanket on the ground.
The meal was followed by a group discussion on poverty and world hunger.
Student Alexis Cabrera, who was part of the "high income" group, said that she was surprised about the proportion of the different economic classes.
"I feel very fortunate to be seated at this table," added student Ethan Kresch of Egg Harbor Township, also part of the "high income" group. "It's a bittersweet feeling."
Anaira Roman, a student from Hammonton, said that being part of the "low income" group really opened her eyes to what it means to live in poverty.
"It makes you feel a lot more appreciative of where you are in the world," Roman said.
"Sitting here (on the floor), looking up at the table, it's just like, 'Wow,' It's how they see the world," added student Emily DiStefano. "It doesn't have to be like that and we should change it."
Student David Pacheco Ruiz of Atlantic City pointed to a sign on the floor where he was seated that said 18% of Atlantic County residents struggle with food insecurity.
"Seeing something like this makes it a lot more tangible and it really hits home," said Pacheco Ruiz, who participated in the "low income" group.
Nancy Porfido, Diversity, Equity and Inclusion Advocate and Judicial Officer for Student Affairs at the college, said that hunger, while a worldwide issue, also hits close to home, affecting families and students here at Atlantic Cape.
"That's why Atlantic Cape, in 2019, established food pantries at each of our campuses," she said, encouraging anyone who needs them to use them, and those who can to donate.
For more information on Atlantic Cape's Food Pantries, visit atlantic.edu/student-life/student-resources/food-pantry.php.
For more information on The Hunger Banquet and world hunger crisis, visit oxfamamerica.org.