Return to All News
Dr. Gaba inducted into Rutgers African-American Alumni Alliance Hall of Fame
10/04/2021 | Media Contact: Claire Sylvester | (609) 343-4933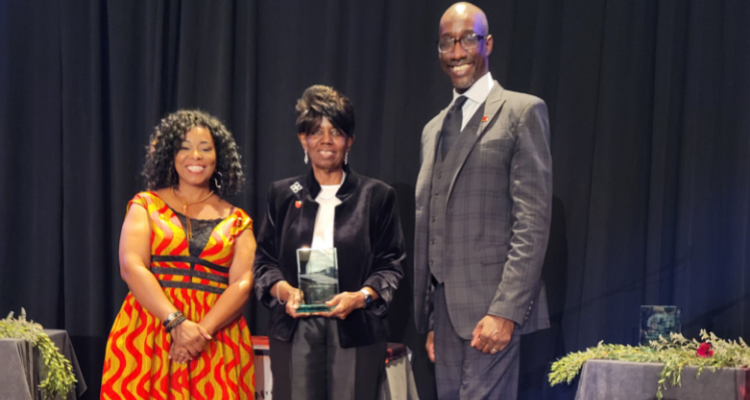 NEW BRUNSWICK — Atlantic Cape Community College President Dr. Barbara Gaba was inducted into the Rutgers African-American Alumni Alliance Hall of Fame during the 18th annual ceremony Saturday, Oct. 2 at the Hyatt Regency Hotel.
Since it began in 2004, the RAAA Hall of Fame has honored more than 100 alumni, celebrating their accomplishments, leadership, and contributions to the university, their respective fields and to the community.
This year's theme was "And It Shall Take A Village," and a portion of the proceeds benefit the Paul Robeson Scholarship Fund through the Rutgers University Foundation.
 "It is with gratitude that I am recognized for my achievements in the company of my fellow distinguished alumni," Gaba said during her acceptance speech. "Being chosen for this distinction by my alma mater is truly an honor."
According to the RAAA, "The ceremony provides our students a glimpse of the endless possibilities their futures hold and it affords them the opportunity to network and connect with their extended family, namely Rutgers Alumni."
Gaba, who obtained her master's degree from Rutgers in Educational Psychology in 1972, was inaugurated as Atlantic Cape's ninth president in 2017, becoming the college's first African American and first female president in its history.
Gaba said she has always been driven by her "passion for service."
"Guiding and helping students reach their goals is what ignites me every single day," she said. 
She also noted that even though it has been years since she graduated, she is still very connected to Rutgers, especially through her position at Atlantic Cape, which has a transfer partnership with the university. There is also a Rutgers classroom building located on the Mays Landing campus.
During her 40-year career, Gaba has served as a teacher, researcher and administrator and has been devoted to working with underserved, underrepresented students, empowering them to attain a college education.
"I credit my Rutgers education for helping to shape the trajectory of my life and my career in many ways," Gaba said.