Return to All News
Academy of Culinary Arts students receive second-year chef's coats
10/21/2021 | Media Contact: Claire Sylvester | (609) 343-4933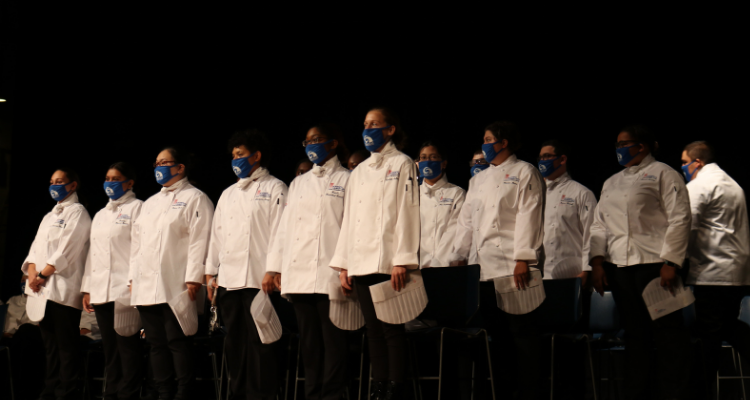 MAYS LANDING — Twenty-seven Academy of Culinary Arts students received their second-year chef's coat and toque during a ceremony Wednesday, Oct. 20 at the Walter Edge Theatre on the Mays Landing Campus of Atlantic Cape Community College.
The new coats for the second-year students are embroidered with each student's name and include a patch for the local American Culinary Federation chapter. The second-year students will also now wear black pants instead of the checkered pants of first-year students, a white neckerchief, and a chef's toque in place of the black skullcap.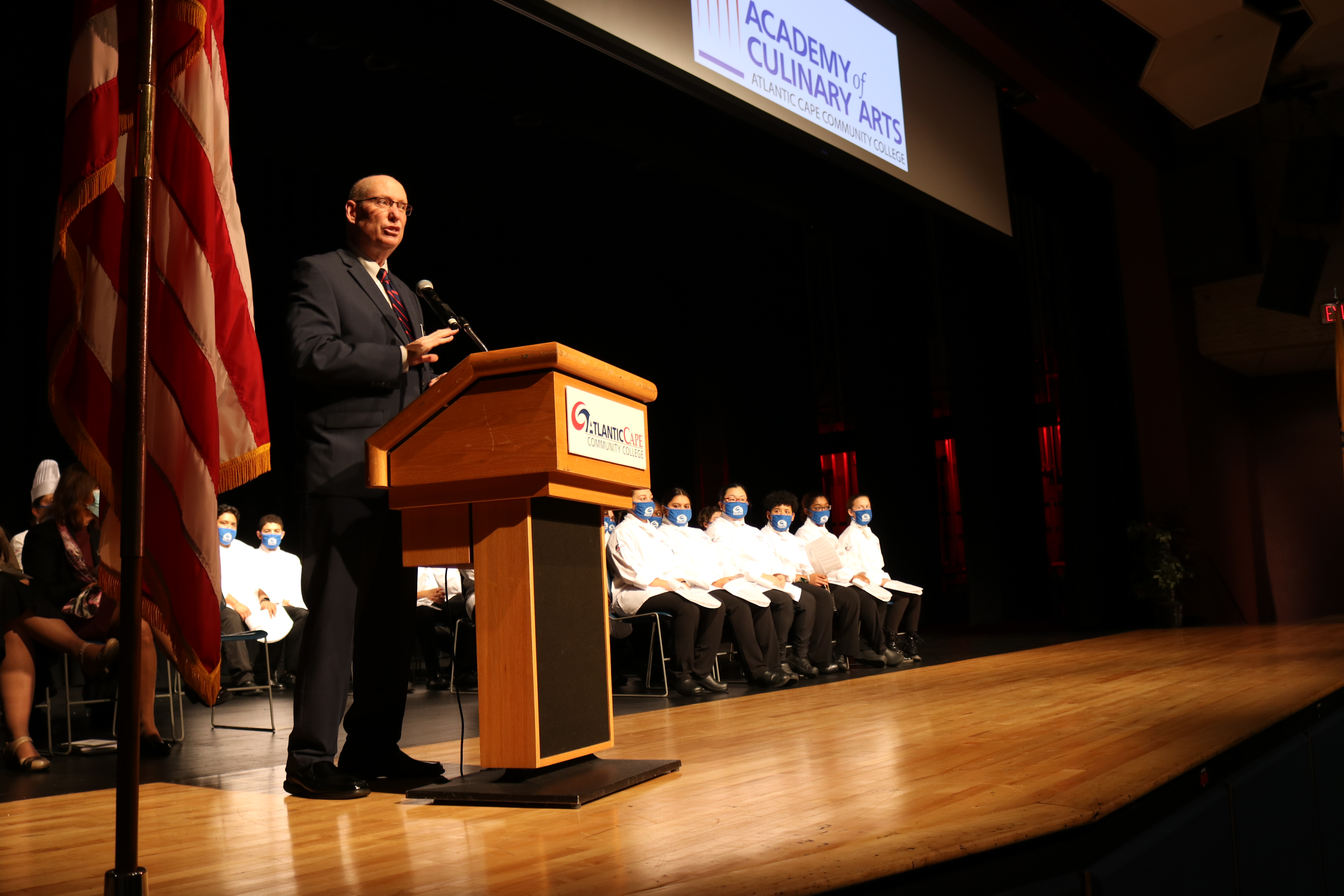 Chef Tim O'Donnell, director of the Academy of Culinary Arts, reminded the students that the chef's coat is a symbol of their profession recognized universally for status and influence, "and of course great food."
The ceremony, new this year to the Academy, which is celebrating its 40th year, serves a moment of pride for the future chefs as they continue their culinary journey, and as a reminder to the first-year students to continue to work hard to achieve their goals.
 "Over the years, the Academy has truly earned its reputation as an institution of excellence. I am reminded of all of the accomplished chefs, bakers and restaurateurs, who have come through these doors and have gone on to great careers across the country and globally," Atlantic Cape President Dr. Barbara Gaba said during Wednesday's ceremony. "Students, receiving your chef's coat symbolizes the progress you have made so far. And each day, as you put on your robes, it will remind you of what you are working to accomplish."
Josette Katz, vice president of Academic Affairs, applauded the second-year students for their dedication, having been on campus all of last year during the height of the COVID-19 pandemic when most other students were attending class remotely.
"They are so dedicated to their culinary education they knew being in the classroom was absolutely imperative to improving their skills," Katz said.
Denise Coulter, dean of the college's Department of Liberal and Professional Studies, who oversees the Academy, challenged the second-year students to keep looking toward their future, but to not forget to help others along the way.
"Don't lose sight of your dreams," Coulter said. "Keep in mind that you are a role model to the people who are coming up in the program. Once in a while, turn back and make sure you give a hand of support, some guidance, some encouragement to those who are coming up behind you."