Return to All News
Meet Atlantic Cape's Alumni Trustee: Valerie Myland
11/12/2020 | Media Contact: Erin Mercer | (609) 343-4923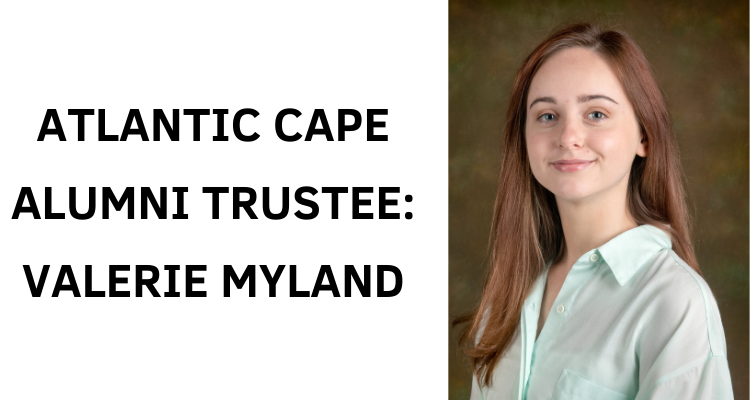 Atlantic Cape Community College's alumni trustee, Valerie Myland, knows that she is serving on the college's board of trustees during an unprecedented time. Myland, who serves as the alumni representative, graduated from the school in the spring of 2020 with an associate degree in Art. Having thoroughly enjoyed her time spent at Atlantic Cape, Myland wants to ensure current and future students at the college enjoy similar experiences, despite the challenges this year. 
"It's a real community here – everyone is kind and welcoming and the professors go the extra mile to help their students succeed. I loved the atmosphere, the clubs, the friends I made, and I want to be part of making sure those types of experiences are able to continue for students," said Myland.
Of course, things look much different this year due to the pandemic. Most classes are held online, along with student services and clubs. Since mid-March, Atlantic Cape has worked to provide students with extra support to get through the tough times. They donated food from the pantries set up on all three campuses, handed out gift cards for groceries thanks to their charitable foundation, and even issued loaner laptops. These are some of the initiatives Myland wants to see continue for the benefit and betterment of the students. "Times are tough for a lot of people, and I want to make sure we are able to help students who need some extra support right now, whether that is with internet funding, computers, or extra help."
Alumni Trustees are voting members and serve a one-year term, beginning July 1, and is always held by a recent graduate. Alumni trustees provide a valuable perspective on behalf of students in the important work that they do in college governance.   
"Having an alumni representative is critical, and offers us great insight to some of the things our students are experiencing," said Board Chairperson Maria Mento. "Valerie has been a wonderful addition to the board during a critical time when we are making decisions that impact all of our students. It's wonderful have her input."
"I'm looking forward to working with other board members and the committees, I'm a part of to get a lot accomplished this year," said Myland.
Myland is a resident of Galloway Township and plans to continue her education, transferring to a four-year college next fall, pursuing a Studio Arts Degree.