Return to All News
3 Brothers, Baseball Standouts, Battling for Same Starting Position
11/12/2020 | Media Contact: Erin Mercer | (609) 343-4923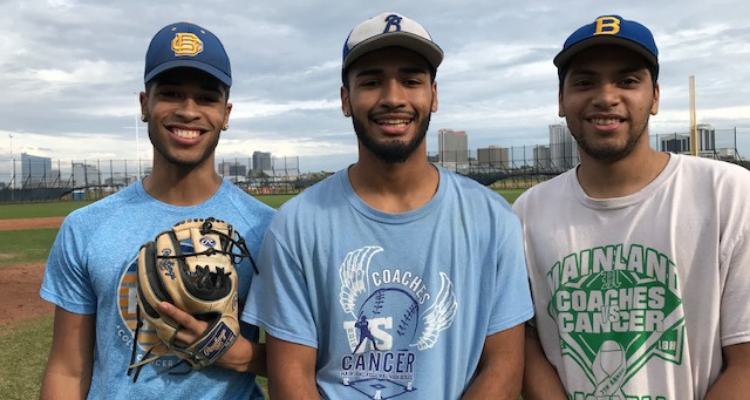 Three South Jersey brothers are battling for the same position on the same inter-collegiate baseball team. Luis G., Luis D., and Yan Sauri, were all standout ballplayers at Buena Regional High School, and are now current members of the Atlantic Cape Community College Buccaneers Baseball team. Another thing they have in common: they each play shortstop. 

Their passion for the game began in Puerto Rico, and has continued since they moved to New Jersey in 2008. "They have played baseball since they were three years old," said their father, Luis, Sr. "One of their biggest blessings is they play so well and they are close in age. Now they are on the same team in college and we couldn't be happier as a family."  While the brothers are close, there's naturally, a little sibling rivalry. 
"Sure, we're competing for a spot on the field," says Luis G.,22, oldest of the three brothers. "But we are brothers first and rivals second. We always pull for one another."  The competition between the brothers is not limited to the ballfield. "It will be a nonstop battle to see who gets the best grades," said the middle brother Yan,19. "The team puts a lot of emphasis on our doing well academically." 

"Our coaches are always asking us about how we are doing in school and we have to turn in progress reports from our professors every two weeks so we are really working hard to do well and be the best we can be," added Luis D.,19, the youngest brother.  "Not only are they good ballplayers, but they are also fine young men," said Head Coach Rod Velardi.  He went on to mention that his Buccaneers Baseball program promotes friendly competition within the team, while also fostering a culture that values brotherly love among all of its members above all else.   

The Sauri brothers, along with the rest of the Buccaneers Baseball team are currently practicing at Surf Stadium in Atlantic City until the end of February.  The game season is slated to begin in late-February.  As far as who will be taking the field as the number one shortstop, Coach Velardi hasn't decided yet.  The brothers will have the next four months to battle it out.