Return to All News
Atlantic Cape and Rowan University Partner on National Science Grant
07/14/2020 | Media Contact: Erin Mercer | (609) 343-4923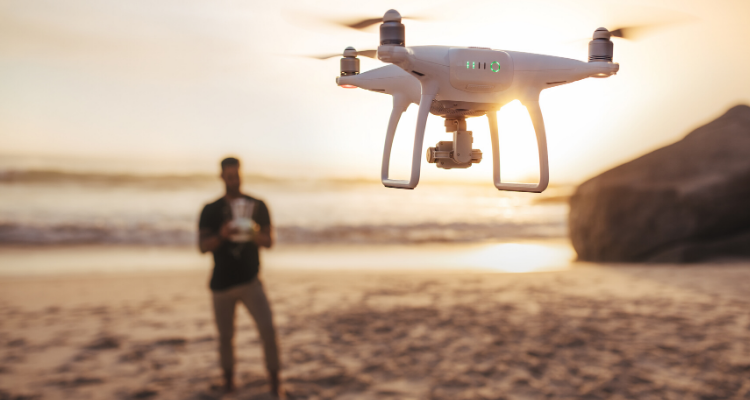 Five students in Atlantic Cape Community College's Drone and Aviation Department will help Rowan researchers and engineers examine ways to improve artificial intelligence systems and machine learning algorithms in a new project called "Self-Assessment and Continual Learning on Edge Devices (SCenE)" supported by a recent $500,000 National Science Foundation award.
This project has the potential to improve smart technologies in many areas including healthcare, public transportation, security and surveillance, environmental, agricultural, aviation, and more.
Drone technology usage spans various industries including public safety, traffic management, construction, public works and land surveying, filmmaking, photography, structural inspections, and real estate, to name a few. And as more industries adopt this technology, the need for service and aircraft operators is steadily increasing.
Atlantic Cape is at the forefront of this growing industry. In July 2019, they expanded their Aviation Department to include a new program that exclusively trains students in the operation and maintenance of the drones, or more formally called small-unmanned aircraft systems (sUAS).
For their part in this three-year partnership with Rowan, Atlantic Cape students will pilot drones equipped with high definition cameras to collect geographically referenced images of Atlantic horseshoe crabs, cranberries, and blueberries. The goal of the data collection is to develop datasets to be used for machine learning, specifically object detection and counting.
The five students involved in the project all have their Commercial Drone License, and under the direction of Atlantic Cape faculty, they will develop image acquisition plans and flight plans, and will execute data collection missions.
"We're honored and excited for our students to be a part of this innovative and unique project" said James Taggart, Professor, Information Systems and Aviation Studies Department. "Drone technology is revolutionizing the way industries view the world, similar to AI, but unique in its own way. We're proud that the researchers and engineers at Rowan recognize and facilitated a partnership with us for the project."
Students will post process the raw images and include georeferencing tags along with corrected images that remove the effects of tilt and terrain to show the specific features in their true positions.
Processed datasets will be made available online and shared with students and the region's developing workforce. This work will aid in the research and be a component in the development of the next generation of autonomous technologies.