Return to All News
Atlantic Cape welcomes students back for Fall 2021
09/10/2021 | Media Contact: Claire Sylvester | (609) 343-4933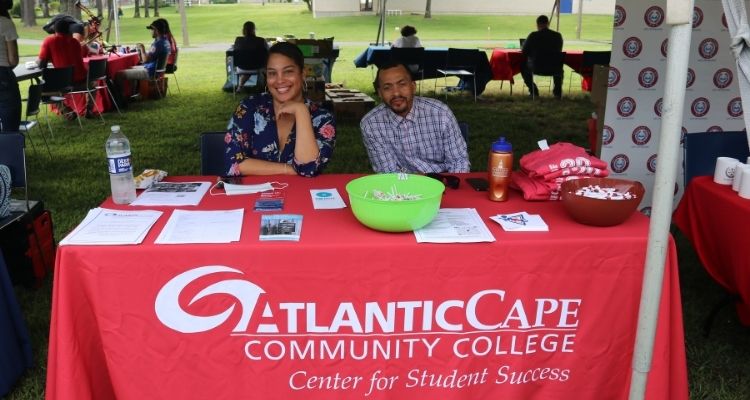 MAYS LANDING — Atlantic Cape Community College welcomed back students to campus this fall with a barbecue, ice cream and games Wednesday, Sept. 8, in quad of the Mays Landing campus.
The Welcome Back Picnic, hosted by the Student Government Association, the Office of Student Engagement and the Atlantic Cape Community College Education Association, included information from athletics, student clubs and organizations, live music from DJ Butta, giveaways and games. There was also a COVID-19 vaccine clinic open to students, faculty and staff.
"This is a day to welcome everybody back. We've had a stressful year last year because of COVID," said Lisa Givens, manager of Student Engagement.
Although the event is annual, last year it was held virtually due to the pandemic.
"I think it's a great turnout," Givens said.
Jenna DeLuca, 26, of Folsom, an adjunct professor, and student Aylin Alvarez, 19, of Cape May, posed with their ice cream at the photo booth Wednesday before checking out the clubs and organizations tables.
Alvarez said she was happy to be back on campus.
"It feels really good because you get to interact with people in person instead of being behind a screen where it's awkward to make friends," she said.
"People seem happy to be sitting next to each other again," DeLuca added.
In addition to the many existing clubs and organizations, Atlantic Cape is offering three new clubs this fall. The Hospitality Management Club, in its first year, is led by Jeanine DiNardo, professor of hospitality management.
DiNardo said she hopes to provide networking opportunities for students and "bring excitement and awareness to the industry."
The club's president is Katelin Egan, 19, of Estell Manor, in her second year at Atlantic Cape. Egan said she wanted to be president because of DiNardo's enthusiasm for the field.
"I really love how great of a resource it's going to be for everyone," Egan said.
Another new club this year is the Community for the Differently Abled.
"What we're really about it creating a safe space for the disabled and their allies," said club advisor Juliana Torres of the Center for Accessibility.
Atlantic Cape's Ending Campus Hunger Club also had a booth at Wednesday's event.
On Thursday, the "Welcome Back" activities continued in the Student Center due to rain with club recruitment, giveaways, games and more.
To learn more about upcoming events hosted by SGA and Student Engagement, visit www.atlantic.edu/sgaconnections.