Return to All News
Celebrating Heroes Among Us: Djaniella Dimayuga Registered Nurse
07/22/2020 | Media Contact: Erin Mercer | (609) 343-4923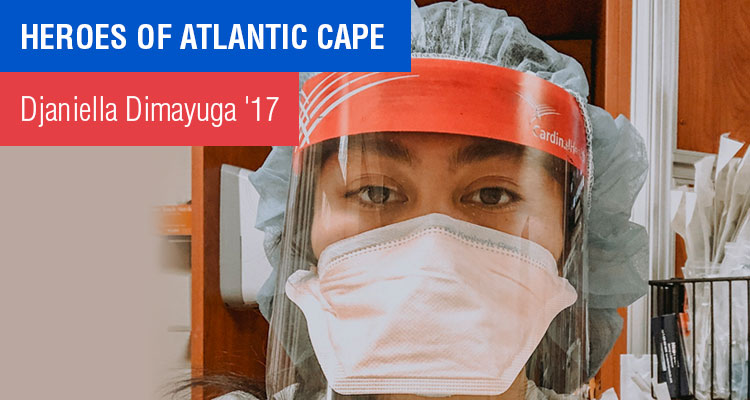 Many Atlantic Cape alumni are making a difference during COVID-19, including Djaniella Dimayuga. Djaniella earned her Associate in Applied Science in Nursing in 2017 from Atlantic Cape. She currently works at the Neonatal ICU at Bellevue Hospital in New York City. Here is her story:
"I work at the epicenter of this whole outbreak in New York City, and it's an experience unlike any I've encountered in the past. I work in the Neonatal ICU at Bellevue Hospital, and we have COVID-19 positive patients and COVID-19 positive nurses. We are, as you probably already know, being asked to reuse our N95 mask for the day and in-between patients. We were, at some point, also asked to reuse our gowns for the entire shift (save to the side until we re-enter COVID+ rooms). We are losing nurses left and right (due to being sick), and the same staff is being asked to come in for overtime help. Because of this, the exhaustion is REAL. Today, we just lost a nurse on our unit from COVID-19, and after a brief moment to ourselves, we continued to work. Every day is just a mixture of emotions - sadness, exhaustion, anger, fear, stress, anxiety, etc. Everything.
Bellevue is the oldest public hospital, and its clientele is broad and open to all walks of life. We treat anyone who walks through our doors regardless of immigration status or ability to pay, so naturally, we see A LOT here. It's humbling. There's a makeshift morgue in our backyard, and it's filling up pretty quickly. New York City feels very eerie at times. The streets are empty. All the businesses are closed. People are scared, confused, and bored. I wish those who are able to read this, know how fortunate and lucky they are to be alive and safe. I know there's a light somewhere at the end of all this, and there are times when I can sense a feeling of "togetherness" around me. It gives me a little spark of hope. There's a lot of uncertainty right now, but we're all in this together, so it's important that we support each other in every way we can, and do our part in this pandemic.
I am currently enrolled in a BSN program at Rutgers -- should complete by next year! Other than my degree from Atlantic Cape, I graduated with a Bachelor of Science in Biology and Psychology from Rutgers University in 2014."
Visit Heroes of Atlantic Cape to read more stories about Atlantic Cape alumni serving their community during this pandemic.