Return to All News
Oakcrest High School Gospel Choir Rocks the Worthington Campus
02/13/2020 | Media Contact: Erin Mercer | (609) 343-4923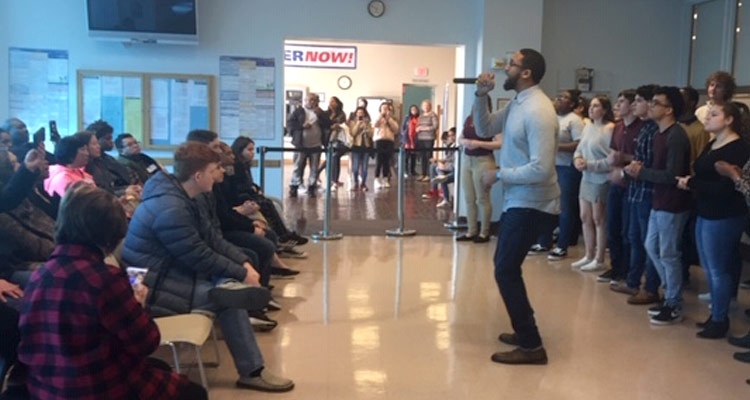 Worthington campus continued their celebration of Black History Month on Wednesday, February 12, 2020. The Oakcrest High School Gospel Choir of Mays Landing, NJ sang to an audience of more than 60 students and staff. Richard Tinsley teacher of vocal music/music composition assembled forty-two 9-12 graders to perform the mini-concert. The choir sang a total of seven stimulating and powerful gospel/spiritual genre musical selections that engaged the entire audience. When the special select choir sang Rockin' Jerusalem by Stacy Gibbs, the audience stood to their feet and gave a resounding standing ovation. The musical arrangement was magnificent and the vocals were exceptionally outstanding. It was truly a breathtaking performance! 
The History of Gospel music can be traced to the early 17th century, with roots in the black oral tradition. Music served a variety of functions in the antebellum African-American community. Slaves frequently sang to communicate in code when their overseers and masters were listening. When Harriet Tubman wished to inform her fellow slaves that she planned to escape to the North, she could not speak plainly because her master was present, so she sang: "I'm bound for de promised land", and "On the other side of Jordan." Singing also served as a medium for the preservation of African culture.
In June 2008, Congress recognized September as Gospel Music Heritage Month, observing in its legislation that the message, rhythms, and melodies of gospel music can be traced to multiple and diverse influences and foundations, including African-American spirituals. Gospel music has reached the world level today and the greatest melodies and most stimulating songs have been given to our Nation and the World through the African American experience. 
A gigantic thank you to Dean Natalie Devonish for providing refreshments, Silvia Schottinger for attending with her entire ESL Civics Grant class, Worthington faculty for encouraging their students to support this event and SGA for their continued financial support for student activities. 
--Vita M. Stovall, Program Coordinator and Social Sciences Instructor