Return to All News
Joshua Carroll Earns WAS Certification
09/30/2019 | Media Contact: Erin Mercer | (609) 343-4923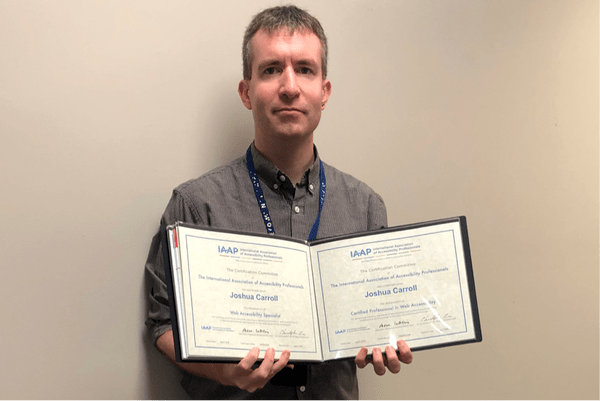 Joshua Carroll, Instructional Technology, earned the Web Accessibility Specialist (WAS) certification from the International Association of Accessibility Professionals (IAAP).
The IAAP certification program aims to better define what accessibility professionals are expected to know and increase the quality and consistency of the work performed by accessibility professionals. The WAS credential is IAAP's technical level exam for an individual with at least an intermediate level of detailed technical knowledge about WCAG guidelines and other related web accessibility topics.
Those successfully passing both the WAS and Certified Professional in Accessibility Core Competencies (CPACC) exams earn the Certified Professional in Web Accessibility (CPWA) credential. Josh joins roughly 200 people worldwide holding this designation.
For more information visit: www.accessibilityassociation.org