Atlantic Cape Community College is committed to the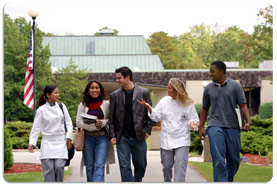 philosophy of equal opportunity and affirmative action in education and employment. Atlantic Cape does not discriminate in admission or access to its programs and activities that offer academic and vocational opportunities or treatment in employment of individuals on the basis of race, color, national origin, religion, disability, age, marital status, pregnancy and related conditions, sex, sexual orientation, union membership, or veteran's status.
Atlantic Cape Community College complies with the Americans with Disabilities Act (ADA) of 1990, and the Rehabilitation Act of 1973, Section 504. Inquiries regarding Section 504 services may be directed to the
Director, Center for Accessibility
. Inquiries regarding Title IX services may be directed to 
Nancy A. Porfido, (609) 343-5095
.
The College is involved in a continuing effort to comply with ADA, Title IX, and civil rights legislation and regulations. Inquiries regarding civil rights compliance may be directed to 
Dr. Vanessa O'Brien-McMasters
, Vice President, Institutional Effectiveness and Chief Strategy Officer, J254, (609) 343-5670.