Accreditation
Atlantic Cape Community College is:
Accredited by the Middle States Commission on Higher Education, 3624 Market Street, Philadelphia, PA 19104, 267-284-5000. Middle States information. 
Approved for veterans' educational benefits.
The American Association of Collegiate Registrars and Admissions Officers, though not an accrediting agency, has given Atlantic Cape an "A" rating which indicates that the credits for Atlantic Cape students transferring to other institutions should be given full value.
The Culinary Arts programs are accredited by the American Culinary Federation Education Foundation Accrediting Commission.
The Hospitality Management program is accredited by the Accreditation Commission for Programs in Hospitality Administration.
The Nursing program is accredited by the N.J. Board of Nursing and the National League for Nursing Accrediting Commission, Inc.
The Respiratory Care Program, offered in cooperation with the Rutgers: School of Health Related Professions, is accredited by the Commission on Accreditation of Allied Health Education Programs for Respiratory Care. Upon successful completion of the program, students receive a joint Associate in Applied Science degree from Atlantic Cape and Rutgers: School of Health Related Professions.
Approved education provider for Counseling Skills in Addiction Counseling as prescribed by Addiction Professionals Certification Board of N.J.
A charter member of Psi Beta, the National Honor Society in Psychology for Community and Junior Colleges. Psi Beta is a member of the Association of College Honor Societies and is an affiliate of the American Psychological Association and the American Psychological Society.
Affiliations
American Association of Community Colleges (AACC)

The American Association of Community Colleges is the primary advocacy organization for the nation's community colleges. The Association represents more than 1,100 associate degree-granting institutions and some 10 million students. Formed in 1920, AACC is a national voice for community colleges, which marked their 100th year of service to the nation in 2001. AACC is leading the celebration of the colleges as they provide learning opportunities to their students and communities and the nation.

New Jersey Council of County Colleges (NJCCC)

The mission of New Jersey's 19 community colleges is to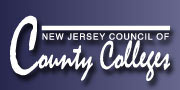 provide high quality transfer programs, occupational programs, continuing education courses, business support services, and community service programs at a reasonably low cost in response to local and statewide needs. The mission of the New Jersey Council of County Colleges is to provide statewide leadership for the advancement of New Jersey's 19 community colleges and to perform sector coordinating responsibilities as required by state law.

NJ Edge
A non-profit corporation of the New Jersey Presidents' Council, is a broadband statewide network designed to enhance the teaching, research and public service missions of New Jersey's colleges and universities. The range of capabilities, resources and services offer economies of 

scale, provide expanded opportunities for integrating emerging technologies, and promote new forms of inter-institutional collaboration. This private, statewide infrastructure effectively "raises the bar" for high performance data and video capabilities across the state's three LATA boundaries and extends the reach of higher education to off-campus learners, K-12, as well as corporate and community constituents.
NJ Transfer
NJ Transfer was developed as a joint initiative of the New Jersey Commission on Higher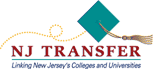 Education and the New Jersey Presidents' Council, and evolved from the Rutgers University transfer pilot program (ARTSYS). Rutgers University is now participating in NJ TRANSFER. Its many features will allow you to learn:
Which courses to select at a community college
Which New Jersey four-year colleges offer equivalent courses
How the courses will satisfy four-year degree requirements
Where you can transfer your community college courses in New Jersey
How to contact a New Jersey college or university if you need information about admissions, transferring courses, or transfer recruitment events