Atlantic Cape Community College's Academy of Culinary Arts' student-run gourmet restaurant, Careme's, is now open for lunch and dinner!
The lunch buffet will be available for $13.95 per person (not including beverage and tax) Monday through Thursday, during culinary class sessions, from 11 a.m. - 12:30 p.m. Dinner service begins on Wednesday, November 8 with an a la carte, three-course menu for $27.95 per person. Menu below. Dinner will be available Monday through Thursday from 6-7:30 p.m. Careme's will be open during the fall semester for lunch and dinner through Monday, December 18.  
Reservations may be made during those times by calling (609) 343-4940 or by emailing caremes@atlanticcape.edu.
Caremes Lunch Buffet Menu
Soup
 Cream of Mushroom
Salads
Shaved steak salad, kidney beans, celery vinaigrette
Spinach salad, apple, pickled onion, feta cheese dressing
Classic Caesar salad
Mains
Asian styled braised pork belly
Entrees
Pork tenderloin haluski
Honey glazed baked salmon, spinach
Cheese ravioli, marinara
Desserts
Pumpkin cheesecake
Apple turnover
Cannoli
 Careme's Dinner Menu
Antipasti
Arancini $7.00 (Risotto, mozzarella, arrabiata parmesan)
Whipped ricotta $6.00 (focaccia, proscuitto, EVOO)
Primo
Tuscan white bean soup $6.00
Roasted beet salad $7.00 (pommelo, blood orange, hazelnuts, white balsamic vinaigrette)
Caesar salad $7.00
Secondi
Ravioli al formaggio $18.00 (mozzarella, mascarpone, pecorino, marinara, bechamel)
Paccheri $19.00 (short rib ragu, calabrian chili crema)
Chicken Milanese $20.00 (arugula, blistered tomatoes, shaved fennel, fig balsamic glaze)
Risotto ai funghi $17.00 (roasted wild mushrooms, truffle, basil oil, pecorino romano)
Dolce $6.00
Tiramisu
Chocolate dipped cannoli with pistachios
Almond Cake with ararena cherries
Anisette biscotti
Beverages $2.50
Boylan's soda
House-brewed iced tea
House-made lemonade
Coffee, Tea, Decaffeinated
Careme's Complete Dinners
Starter, Main and Dessert $27.95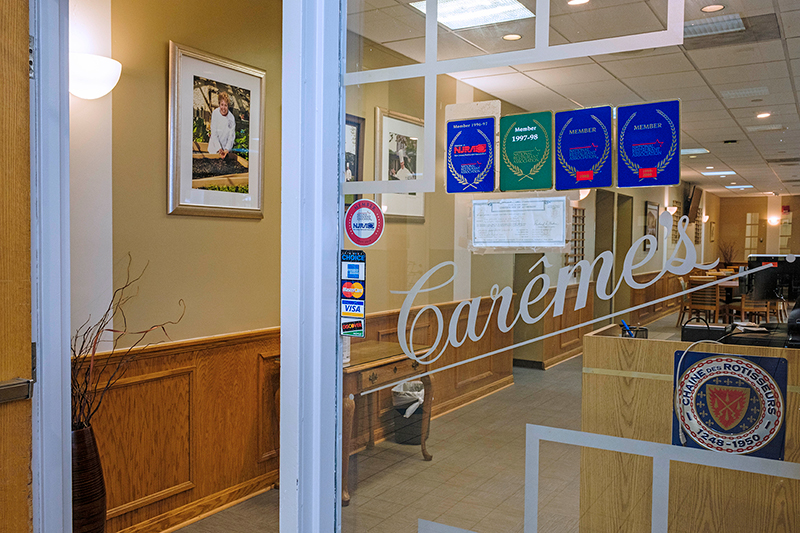 Our Name
Our restaurant is named after the first "celebrity chef" in culinary history,  Marie-Antoine Carême. Carême's command of culinary art was so famous in the early 19th century that he became known as "the chef of kings and the king of chefs."
Strudels Bakeshop
The Academy operates a small retail store, Strudels, located adjacent to the restaurant. Strudels is open when classes are in session for the sale of excess breads, pies, and pastries as available.
 STRUDELS
Strudels will be closed November 29th.