Athletics
The Atlantic Cape Buccaneers athletics program has a long and storied tradition. Our teams compete at our Mays Landing campus and throughout the region. Atlantic Cape's school athletic colors are red and navy blue.
For more information, email the Atlantic Cape Athletics Department, or call (609) 343-5043.

We Need Your Support
Our student athletes need your help to cover travel cost and other expenses. To make a donation to a specific sports team, click the button below. Your support, no matter how small, makes a difference.

Become a Student Athlete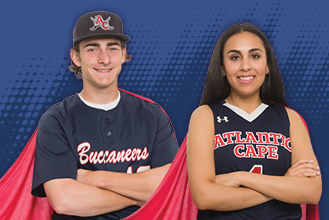 Interested in joining a sport? Learn about Eligibility information, access important forms, and more. Now recruiting for Men's & Women's Soccer, Men's & Women's Basketball, Men's & Women's Volleyball, Archery, Baseball, eSports.
View Information for Student Athletes
Athletic Department Staff & Coaches
Contact Jamal Edwards for transfer release information on Atlantic Cape student-athletes:
FAX: (609) 343-5653