Student Nurse Club
Mission: To attain specific nursing goals and health education on campus and to continue nursing traditions and strive for graduation.
Atlantic Cape's Student Nurse Club (SNC), a community service club, is one of the most active clubs on the campus. Club members have worked with Habitat for Humanity, CARA (Coalition Against Rape and Abuse) of Cape May County, and the Hamilton Township Health Department. Members have assisted with the cleanup of the Atlantic County 4-H grounds, various streets, and several beaches along our shoreline. Club activities have included collecting food, books, mittens and other articles to donate to the needy in Atlantic and Cape May counties.
The club was a recipient of the state-wide Community Health Award and an honorable mention. As a member of the nursing student body, students are automatically members of the constituency. The club is also open to pre-nursing students. Club meetings are open to anyone who is interested in helping the community. Check the bulletin boards in H-building for meeting SNC meeting updates.
If you're interested in joining the Student Nursing Club, please contact Polly Thieler, Deb DaGrosa.
OADN Honors Society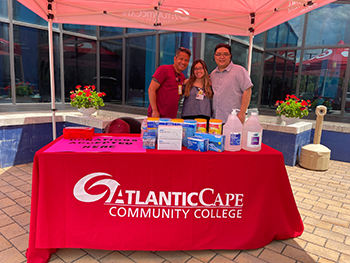 The Organization for Associates Degrees of Nursing (OADN) supports students in their journey of obtaining an associate's nursing degree. Members have access to OADN student scholarships and access to the Alpha Delta Nu Honor Society which is the only honor society dedicated to the development of associate degree nursing students.
Membership Requirements: 
Students must have a 3.0 overall GPA.
Students must have a "B" or higher in nursing courses following the first attempt.
Students must show themselves as professionals on campus and in clinical areas.
For more information on the Alpha Delta Nu Honor Society click here.
Nursing Alumni Council
The Nursing Alumni Council (NAC) was formed by graduates of the Nursing degree program in October 2019.  This organization serves to unite the alumni of the Atlantic Cape Community College Nursing Program.