Mission Statement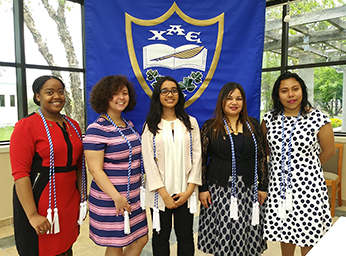 To assist a selected group of culturally diverse, financially eligible students who exhibit the potential to be successful in college in the attainment of their educational goals. The program offers comprehensive support services in a student-centered environment to encourage the pursuit of academic excellence. Services assist program participants in becoming lifelong, independent learners with the tools necessary to graduate and transfer with the skills necessary to succeed in a competitive society.
EOF is one of the nation's most comprehensive and successful state-supported efforts to provide access to higher education for economically and educationally disadvantaged students.
EOF assists low-income residents who are capable and motivated but lack adequate preparation for college study. Helping students succeed and graduate, the EOF supports a wide array of campus-based outreach and support services at 28 public schools and 13 independent institutions in New Jersey.
Eligibility
The following requirements must be met in order to be considered for the Educational Opportunity Fund Program:
You must have received a high school diploma or a New Jersey high school equivalency diploma by the time you register for college.
You must be a New Jersey resident for at least one year.
You must meet the state's established income guidelines (click on the link below to obtain more information on income guidelines).
NJ State EOF Income Eligibility Scale with Asset Cap Calculations
EOF Application  (click on the link to complete the EOF application)

 



Completed applications can be:
 *Faxed to (609) 343-4926   or
 *Scanned and emailed to EOF@atlanticcape.edu  or
 *Mailed to:
  Atlantic Cape Community College
  EOF Office 
  5100 Black Horse Pike
  Mays Landing, NJ 08330
EOF Program Staff