2023 Women of Wonder Award Luncheon
The Atlantic Cape Community College Foundation and the Cape May County Women's Commission hosted the 2023 Women of Wonder luncheon fundraiser on Thursday, November 2, 2023 at The Flanders Hotel in Ocean City. Thanks to our generous sponsors and attendees, this year's event raised $14,150, which will support scholarships for Cape May County students attending Atlantic Cape Community College. The Women of Wonder Scholarship Endowment Fund was established in 2021 but event proceeds have been producing scholarships for Atlantic Cape students since 2011.
The following 2023 Women of Wonder Award recipients were honored during the event: Tracey Boyle-DuFault, Executive Director of the Greater Wildwood Chamber of Commerce; Sandra Lockhart (Operations Director) and Terri Mascione (Program Director) of The Branches Outreach in Rio Grande; and Jennifer Shirk, author and President of the Ocean City Free Public Library Board of Trustees. The Atlantic Cape Foundation and Women's Commission also posthumously honored the late Laurie Johnson, Executive Director of Family Promise of Cape May County, for her many important and lasting contributions to our community. Learn about these incredible Women of Wonder below.
To view photos of this year's event, please click here.
---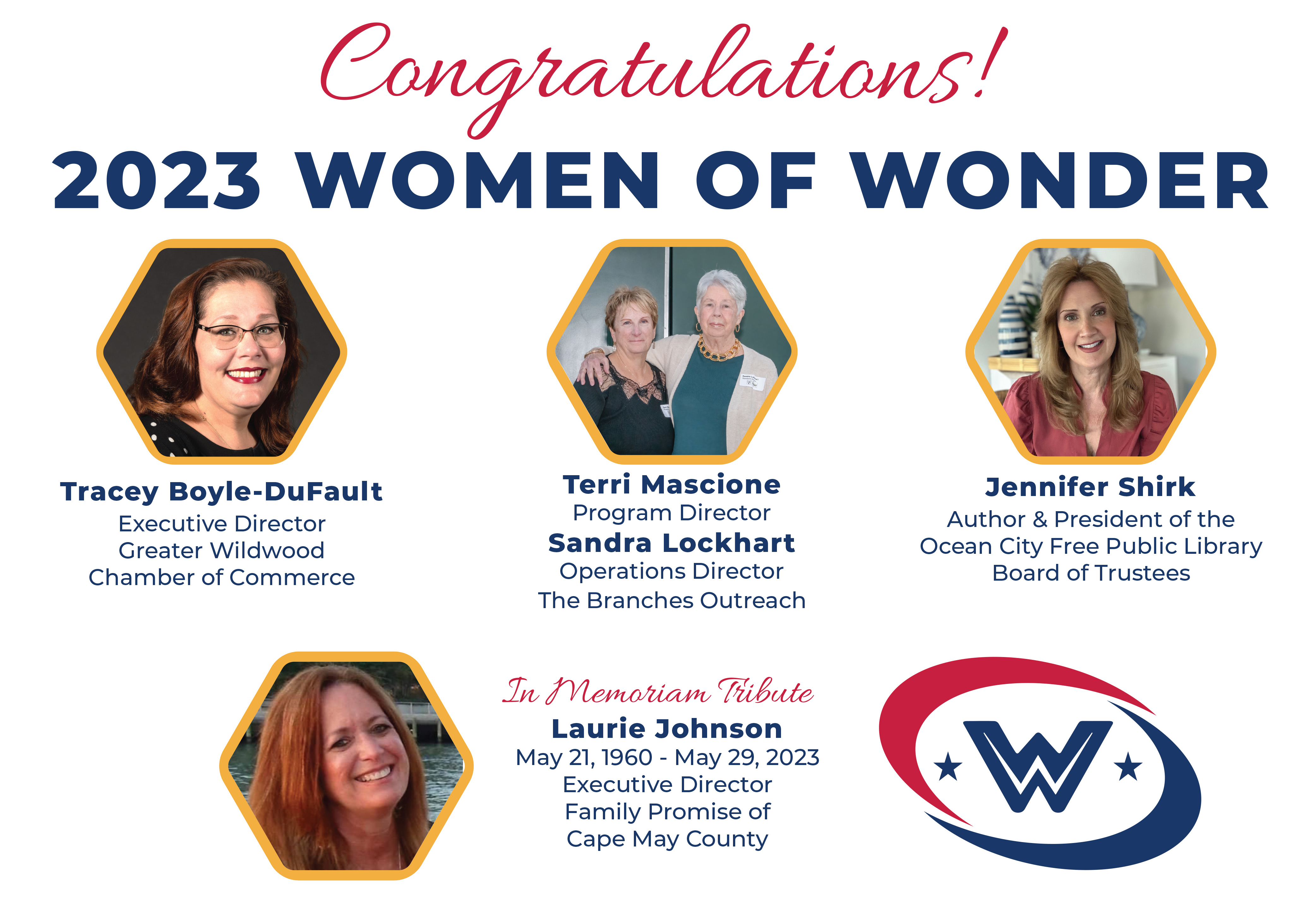 Couldn't attend the luncheon but still want to make a difference?
Click the button below to support the Women of Wonder Scholarship!

For more information about the Women of Wonder Award and annual luncheon fundraiser, please contact Kristin Jackson at kjackson@atlanticcape.edu or (609) 463-3621.
2023 Women of Wonder Award Recipients
Tracey Boyle-DuFault
Executive Director, Greater Wildwood Chamber of Commerce
Tracey Boyle-DuFault is an accomplished professional who has dedicated herself to the growth and development of the Greater Wildwood community alongside her team of board members, volunteers, and staff. With a 17-year tenure as the Executive Director of the Greater Wildwood Chamber of Commerce, Tracey has played a crucial role in nurturing local businesses and fostering collaboration with local organizations. This dedication has contributed to the chamber's 2023 recognition as the 12th largest in the state by NJBIZ.
Tracey's commitment extends beyond her professional responsibilities. She has actively volunteered with organizations like the Boy Scouts of America, Girl Scouts of America, and Lower Cape May Regional High School Track & Field and Volleyball teams on many fundraising initiatives. Her contributions to the Cape May County Vo-Tech Advisory Board underline her commitment to education and community betterment.
In addition to her role at the Chamber of Commerce, Tracey has lent her expertise to several boards over the years, including the Greater Wildwood Chamber of Commerce Foundation, The College of New Jersey Parent Executive Board, Cape Regional Medical Center Foundation, United Way of Cape May County, American Red Cross Southern Jersey, and Atlantic County Boys & Girls Club. Her involvement reflects her deep-rooted passion for making a positive impact on people's lives.
Tracey's journey in the tourism industry began at the age of 17, when she immersed herself in her family's motel business in North Wildwood. This early exposure ignited her passion for the industry, which later led her to contribute her talents to Trump properties in Atlantic City, specializing in player development. Prior to her role at the Greater Wildwood Chamber of Commerce, Tracey honed her skills in the Marketing Department at the Press of Atlantic City.
Beyond her professional accomplishments, Tracey finds immense joy in her personal & family life. Tracey and her husband Joseph DuFault II have been married for 25 years and are the proud parents of two remarkable children, Joelle and Zachary.
Sandra Lockhart
Operations Director, The Branches Outreach
Sandra has been at the Branches since its inception, serving first as a volunteer with her husband, Father Ron Lockhart.  As Branches changed, so did her role, now serving as the Operations Director.
After graduation from college, she was fortunate enough to participate in a training program for special education. That led her down an unexpected path, but one she loved. Eventually, she started the Special Education Program in the Springfield, Delaware County, PA School District.
Working alongside her husband at times, she experienced life and death situations as few are privileged to know. She was also active in many phases of parish life, serving as a senior warden, vestry member and eucharistic minister.
The addiction of a family member led Sandra in yet another direction. After participating in an intervention, she spent a week in the Family Program at The Betty Ford Clinic in California. That experience prompted her to enter the Addiction Counseling Program at Villanova University along with her husband. They eventually taught in two counties in Pennsylvania in a program designed for the families of addicted persons. At the same time, they trained as Interventionists and pursued Intervention as a team.
Sandra is grateful to have been part of the growth of The Branches Outreach and looks forward to its continued growth, as the needs of the homeless and marginalized in Cape May County are great.

Terri Mascione
Program Director, The Branches Outreach
Terri Mascione came to Branches in September of 2015, as a result of a tragedy in her own life. Her son passed away, due to an overdose and she found a way to honor him by caring for those with similar issues.
When Terri started at Branches she was newly retired from a Bayada Nurses. Her compassion, coupled with her background made her a perfect fit.
Terri has a special place in her heart for children. She organizes special events for the children who live in local motels including trips to the water park, an ice cream truck, and a water slide and bouncy house set up on the property of the motel where they live. Christmas and Easter never pass without lots of gifts. In fact in 2022, Terri provided gifts for 146 children.
Skill, compassion, and dedication describe Terri. She is a busy wife and mother, but finds time to make the clients at The Branches Outreach feel special and cared for.
Jennifer Shirk
Author and President of the Ocean City Free Public Library Board of Trustees
Jennifer Shirk has a bachelor's degree in pharmacy from Rutgers, The State University of New Jersey, and was a pharmacist at CVS in both Southern New Jersey and the Boston suburbs during the initial stages of her career. She likes to point this out because it has in no way at all helped her with her current career as an author, but it shows romantic-at-hearts come in all shapes, sizes, and educations.
She currently writes sweet (and sometimes even funny) romance novels for Montlake (a division of Amazon) and Entangled Publishing, having published ten full length books and one novella (short story). She won the 2013 Golden Quill Published Authors Contest for Best Traditional Romance with her novel, Sunny Days for Sam and her novel, Fiancé by Fate—a 2015 Readers' Crown Finalist—became an Amazon #1 best seller for Series Romance. In 2017, her novel Wrong Brother, Right Match became the #1 Amazon Bestseller for Holiday Romance and went on to become a USA Today bestseller.
In addition to writing, Jennifer currently spends much of her time serving as President of the Ocean City Free Public Library's Board of Trustees, where she currently serves as president. She has served on several other boards, including the Ocean City Education Foundation (president for two years), Straight Ahead Ministries (treasurer), and as contributor to the Cape Atlantic Fellowship of Christian Athletes. She also recently became co-chair of the Ocean City Exchange Club's Halloween Parade – a 75-year-old community tradition in her town. When she is not involved in the above activities (or on her Peloton), she's taking care of her most treasured possessions: her husband, daughter, and two spoiled rescue dogs.
Laurie Johnson
May 21, 1960 - May 29, 2023
Executive Director, Family Promise of Cape May County
Laurie Johnson was born and raised in Cape May County. Growing up and through her adulthood, she experienced a number of interesting jobs including bank teller, door-to-door vacuum salesperson, birthing instructor, Sunday school teacher, as well as owner of the restaurant A La Carte and owner of Oma's Doll Shop in Cape May, originally opened by her parents, Eunice and Larry Crookston in 1987. 
Laurie was always active in her church, Cape May United Methodist Church, where she taught Sunday school classes, put on plays and Christmas pageants and even painted all the murals in the church's Lyle Hall. In 2018, she became ordained and later officiated the wedding of her god-daughter and subsequently her niece. 
Laurie truly found her calling when she, along with Pastor Ron Crouch, brought the nonprofit Family Promise to Cape May County in May 2009. The volunteer-based program is designed to help families with children who are experiencing homelessness. The primary goals are to provide shelter, meals, and case management until a family is able to find a home. Laurie served as the Executive Director of Family Promise of Cape May County until her passing in May 2023 after a year's long illness. Over those 14 years, she and Kathleen O'Neill, Family Promise's Family Advocate, mobilized a team of 500 volunteers and 33 local churches to shelter and serve 72 homeless families in Cape May County. Laurie is survived by her husband of 34 years, Leif, her eldest son Craig Rinkerman, Jr. and his wife Kristina, and their children (her beloved grandbabies) Lucas, Elyse, and Zoe as well as her younger son, Alex Johnson, and many other dear family members and friends.
Previously Honored Women of Wonder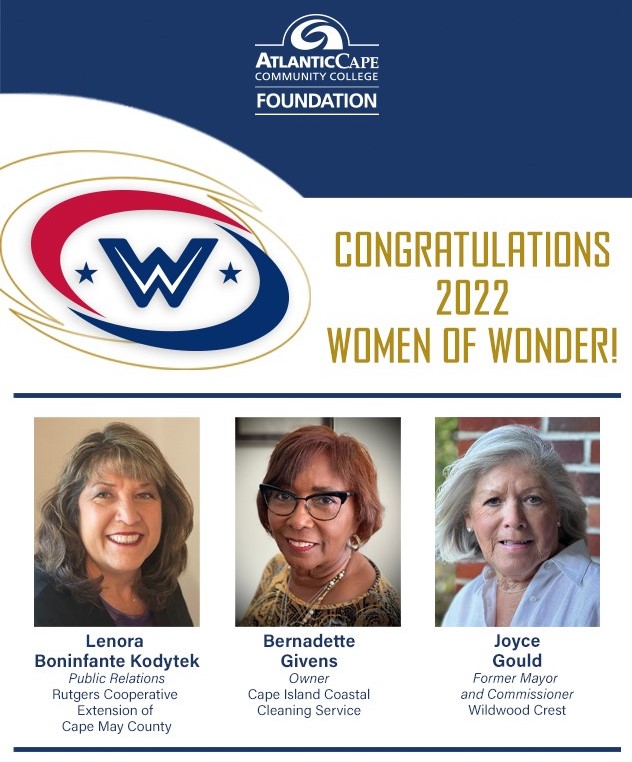 In 2022, we raised $12,100 for the Women of Wonder Scholarship Endowment to support students studying at Atlantic Cape! This scholarship funding provides educational opportunities for female residents of Cape May County who are attending Atlantic Cape Community College.
Check out photos from last year's Women of Wonder Awards Luncheon here.
Lenora Boninfante Kodytek
As a communications specialist in Cape May County and a county employee for over 21 years, Lenora Boninfante Kodytek has had the benefit of working in both the private and public sectors. With a bachelor's degree in communications and a master's degree in public administration, Lenora has spent her life advocating for people with special needs, women, and non-profit organizations. In the private sector, as host and producer of a local interview program on cable television for 20 years, her mission was to promote and elevate individuals and organizations helping those less fortunate and working to improve the community. In the public sector, she has served as communications director for 14 years and as a public relations specialist for the last seven years. She continues to use her abilities to inform the public about programs and services that will enhance their quality of life. Her body of work through the years has earned her national, state, and local recognition.
Professionally, Lenora was involved in the New Jersey Association of Public Information Officials for 15 years and served as president of the organization for ten years. She was a member of the National Association of Public Information Officials, on the Board of Directors of the Cape May County Chamber of Commerce and served as recording secretary for the Southern New Jersey Freeholders' Association (SNJFA). She has the distinction of being awarded the "Southern Star" for distinguished service from SNJFA – at the time, one of only three non-elected officials to receive this honor in the history of the organization.
Lenora served on the Board of Education for the Cape May County Special Services School District from 1993 through 2018 and led the Board as President for eight years. She was a member of the Cape May County School Boards Association for over 25 years and served as both vice president and president of the Association. Additionally, she was a member of the Cape May County Advisory Commission to the Board of Chosen Freeholders (now Commissioners) on the Status of Women, served on the New Jersey School Board's Special Education Committee, and the Southern New Jersey Regional Early Intervention Collaborative.
Active in the community, Lenora is on the Cape May County Special Services School District (CMCSSSD) Education Foundation, a trustee on the Cape Women's Resource Fund, a member of the Ocean Wind Pro-NJ Grantor Trust Advisory Committee, a member of the Cape May County Technical School District Advisory Council, and on the Board of Directors of the ARC of Cape May County. Serving as a founding member and past president of the CMCSSSD Education Foundation, since 1995, she and the foundation have raised awareness and more than a million dollars for children with special needs in Cape May County. As a trustee on the Cape Women's Resource Fund, she continues to raise funds to award scholarships to Cape May County women who are attending college.
Lenora Boninfante Kodytek resides in Upper Township, New Jersey with her husband, Jeff, of 40 years and two grown daughters, Kristine and Cynthia. She remains committed to the betterment of her community and her volunteer efforts.
Bernadette Givens
Bernadette Matthews Givens moved to Cape May, NJ in 2005, to join the Cape May Jazz Festival as its Executive Director.  She later became the Executive Director of the Center for Community Arts, retiring from that position to manage Cape Island Coastal Cleaning Service, LLC, a residential and commercial cleaning company.  
Givens has a bachelor of arts degree in psychology from Temple University. She was part of the IBM President's Class at Harvard University, identified as a "Who's Who in America" and is a member of The International Society of Female Professionals. She worked in the computer field as a Computer Systems Engineer and Marketing Consultant for international accounts for many years with the IBM Corporation in Philadelphia.  She's taught computer systems, traveling throughout the US and Canada and had her own Technical Recruiting firm in Philadelphia.
In her spare time, she is 1st Vice President of the Greater Cape May Chamber of Commerce, Board of Directors of Family Promise, Board of Directors of East Lynne Theatre Company and Board of Directors Historic Cold Spring Village and a member of Cape May Lutheran Church and its choir.  Having grown up in a Church choir, she has a passion for music and entertaining.  Bernadette was lead singer with a few groups in Philadelphia and became a part of the music scene in Cape May with the Hootenanny group singing with the late George Mesterhazy. Currently, she's owner and lead singer for the Capers, a notable ensemble playing in and around the Cape May area. Proud Mother of Kenya Givens Isaac, son in law Clifford Isaac, she has two grand boys, Chad LaMont, Hampton University and Cairo James Isaac, a sophomore at Mt. Pleasant High School.
Joyce Gould
Joyce Gould's steadfast dedication to public service has remained unchanged throughout her life. She has selflessly worked to improve the lives of others through her fundraising, leadership, involvement, and mentorship. Joyce served as the mayor of Wildwood Crest from 1989 to 1993, and was a Wildwood Crest commissioner from 1993 until 2021. Joyce was born and raised in Chicago. She attended the University of Miami, earning a bachelor of arts in communications/speech. That is also where she met her husband, Alan, through mutual friends. After a summer visit to Alan's hometown of Wildwood, a wedding date was set shortly thereafter. After a September wedding in 1965, Joyce settled into her new life in Wildwood Crest while Alan completed his tenure in the Air Force and began practicing law.
Joyce has been a long-standing board member serving the organizations of Cape Women's Resource, Cape Regional Medical Center Foundation, Cape May County Chamber of Commerce (Past President), Greater Wildwood Chamber of Commerce (Past President), Beth Judah Temple, Wildwood Civic Club, Love of Linda Cancer Fund, Cape May County League of Municipalities (Past President), Greater Wildwood Rotary and Greater Wildwood Lions Club.
She is also a supporter and volunteer of the local veterans' organizations, Lunch with Lynch Foundation, Wildwood Crest Volunteer Fire Department, and Garden State Boy Scouts of America. Joyce has received numerous awards in her lifetime including Boy Scouts of America Citizen of the Year Award, Greater Wildwood Chamber of Commerce President Award and Volunteer of the Year Award.
Joyce and her husband Alan Gould, Esq., have been married since 1965 and have a daughter, Traci Gould-Miller, and two grandchildren, Samuel and Paige.

Michele Gillian, Ocean City Regional Chamber of Commerce
Michele Gillian is the executive director of the Ocean City Regional Chamber of Commerce with over 500 members, overseeing the Ocean City Welcome Centers, the production of the Official Ocean City Visitors Guide and the tourism website OceanCityVacation.com. 
Through her leadership, Ocean City has stayed in the forefront of technological advances and improved communication of pertinent information to residents and visitors.
Gillian is a tireless volunteer who has been active in the HERO Campaign, served as director of First Night Ocean City, and is a member of the Night in Venice committee and the Ocean City Pops Board of Trustees. 
Gillian holds a bachelor's degree from the College of Notre Dame. She resides with her husband, Jay, and children in Ocean City.

Chase Jackson, Ocean City Arts Center
Chase Jackson is an arts administrator and a community arts activist, currently serving as the executive director of the Ocean City Arts Center. Jackson has more than 30 years in nonprofit management. During her time in Cape May County, she has produced numerous plays, story and poetry slams, as well as volunteered with several local nonprofits.
A self-described aquaphile, Jackson is originally from Norfolk, Virginia and prides herself in the fact that she has always lived near a large body of water. Sailing is one of her passions and, while semi-retired, she volunteered as a crew member on New Jersey's Tall Ship, the Schooner AJ Meerwald out of Port Norris.  A few years later, she began working for the Bayshore Center at Bivalve, Meerwald's home port, saving money for a bare boat sailing cruise in the French Polynesian Islands. Although she made that trip seven years ago, Jackson just left the position of program and grants manager for the organization in June 2021.

Marilyn Miller, Samuel S. DeVico Senior Center
Since 2014, Marilyn Miller has served as the director of Middle Township's Samuel S. DeVico Senior Center, where she coordinates activities and events for 200 members. Members of the Senior Center Advisory Board have described Miller as "the best thing to happen to seniors" in Middle Township. 
Miller grew up in Cape May  and has lived in Middle Township since 2003. In her role, Miller has promoted wellness at the Senior Center and coordinates exercise classes and blood pressure screenings. Miller also volunteers with the nonprofit group CONTACT Cape-Atlantic. Since the COVID-19 pandemic began, Miller arranged regular telephone calls to seniors, held socially distanced classes in the facility's parking lot, and helped seniors make COVID vaccine appointments. 
Miller was presented with the Middle Township "Middle Matters" Award in March 2021 for her efforts.

Veterans Salute: Doris "Doie" Barnes, Retired Marine Corps Sergeant
Doris "Doie" Barnes celebrated her one hundredth birthday on July 30. A former U.S. Marine, Barnes enlisted at the age of 22 and was stationed at the Air Station Cherry Point in North Carolina until her discharge in 1945, earning the rank of sergeant. 
Barnes' dream was to repair aircrafts, but she never had the opportunity. During her tour of duty, Barnes worked alone in a vault in Aviation Assembly and Repair where she managed and distributed secret and confidential technical documents for the officers. When transporting the files, Barnes carried documents in a briefcase that was handcuffed to her.  
Barnes resides in Ocean City  and is a member of several organizations including Morvay-Miley-Cruice American Legion Post 524, Ferguson-Foglio American Legion Post 6650 and the Fleet Reserve Association in Mays Landing.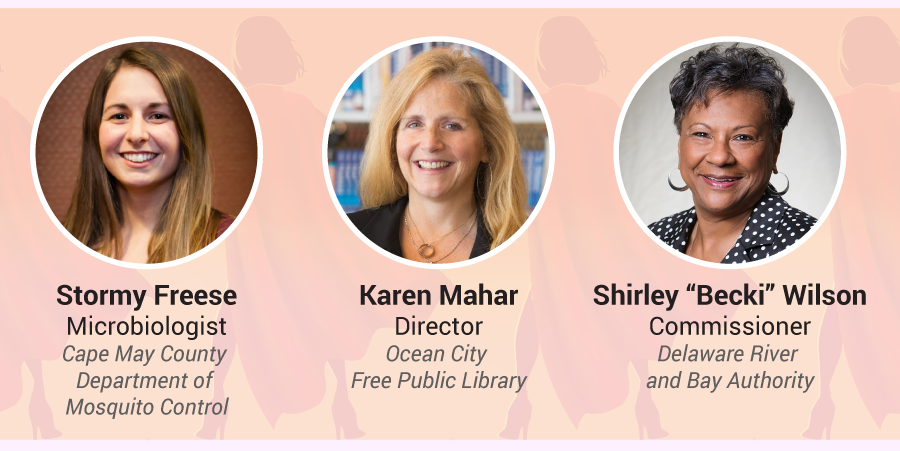 Stormy Freese, Cape May County Department of Mosquito Control
Stormy Freese is the Microbiologist at the Cape May County Department of Mosquito Control where she oversees the Biosafety Level – 3 laboratory and tests mosquito collections for arboviruses. Stormy graduated from Stockton University in May 2014 and plans to pursue her master's degree in the next few years.
Ms. Freese began her career as a seasonal laboratory assistant at the Mosquito Control in May 2014 and became a full-time employee in January 2015.  Since Stormy's full-time career began, she has been actively involved with promoting STEM careers. She organized a Super Mosquito Scientist class for the Girl Scouts, attended several career and STEM days at Dennis and Lower Township schools, and more recently assisted two young ladies with their Girl Scout Silver Award project. 
Stormy is also actively involved with the New Jersey Mosquito Control Association (NJMCA) where she is currently serving as Secretary and participates on several committees. In 2019, she created and became the Chair of the Young Professionals Committee for NJMCA to help get new professionals more involved with the organization. She also currently serves as the Chair for the American Mosquito Control Association (AMCA) Young Professionals Group and organized AMCA's Education Day in Orlando, Florida in 2018.


Karen Mahar, Ocean City Free Public Library
Karen Mahar is well known in Ocean City as a dedicated community leader and involved supporter of many local organizations.  As the Library Director of the Ocean City Free Public Library, Ms. Mahar has been instrumental in maintaining key partnerships with the City of Ocean City, the Ocean City Regional Chamber of Commerce, the Ocean City School District, Atlantic Cape Community College, and a variety of local businesses. 
Karen attended Villanova University, where she earned a Bachelor of Arts in Communication in 1986 and two years later, a Master of Science in Library Science.  Karen's long tenure of devoted service at the Ocean City Free Public Library dates back to 1989, first serving as a library page.  Over the years, Karen climbed the career ladder and served as the library director from 1993-2004.  She returned to the library in 2012 as a senior librarian and was named library director again in 2015, where she hires, trains, and supervises a library staff of over 45 employees.
Karen's countless community-based endeavors include serving as a member of the Board of Directors for Literacy Volunteers of America, Cape-Atlantic, Inc., member of the Board of Directors of the Ocean City Regional Chamber of Commerce, Board of Trustees member for the Friends of the Ocean City Pops, and former director of the Miss New Jersey Parade from 2014-2018.  In 2017, Karen was presented with the "Working Woman of the Year" award by the Ocean City Regional Chamber of Commerce.


Shirley "Becki" Wilson, Delaware River and Bay Authority Commission
Long-time Cape May County resident, Shirley "Becki" Wilson, has served as a commissioner on the Delaware River and Bay Authority Commission since her appointment in 2012.  Before that, the Temple University graduate worked as a social worker with the Division of Youth and Family Services and for 27 years as a certified school social worker and Child Study Team case manager at her high school alma mater, Lower Cape May Regional High School, where she graduated as class valedictorian in 1964.  Additionally, Ms. Wilson has worked as a local realtor since 2011 and is a co-owner of The Creative Touch, a home staging company in Southern New Jersey.
Ms. Wilson is the president and founder of Everything Is Attitude, a New Jersey non-profit corporation that provides funding for character education programs.  Becki has served as an active member of many organizations including the Atlantic/Cape May Supreme Court Committee on Diversity, Inclusion, and Community Engagement, Mid-Atlantic Center for the Arts and Humanities, Concerned Citizens of Whitesboro, Inc., NAACP, Cape May County Art League, and the Board of Directors for the Center for Community Arts in Cape May.
Ms. Wilson's state and local appointments include the NJ State Supreme Court- District I Attorney Ethics Committee, Human Services Advisory Council for Cape May County and Dr. Martin Luther King, Jr. Commemorative Commission.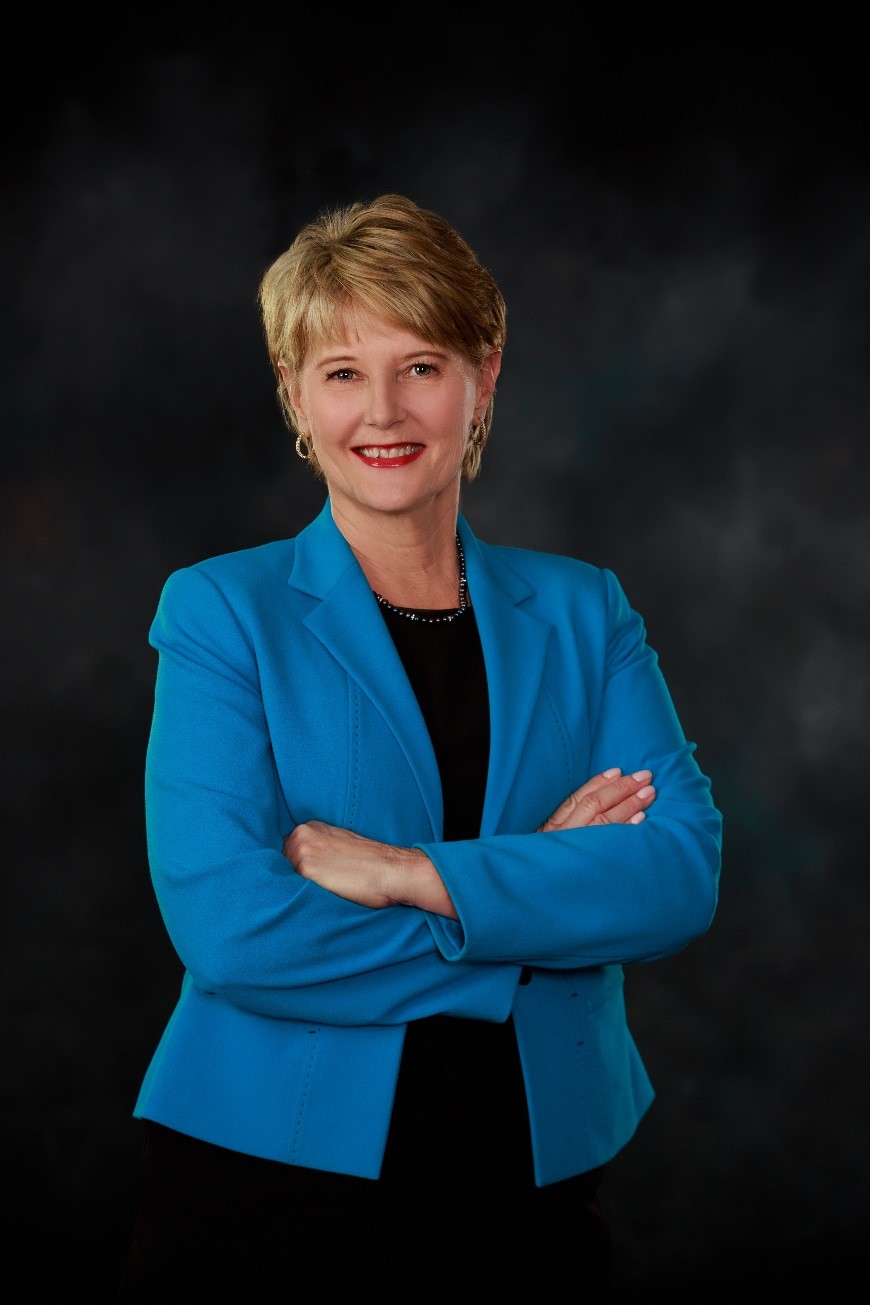 Vicki T. Clark, IOM
President, Cape May County Chamber of Commerce
Vicki Clark is the President of the Cape May County Chamber of Commerce, a position she has held for the past 14 years.  Prior to that, she served as the Chamber's Marketing and Membership Director for 13 years.  She oversees the daily business operations, advocacy positions, and membership programs with a staff of 4 year round and 2 seasonal employees. 
Clark holds a Bachelor of Science Degree from VA Tech in Marketing Management and is a graduate of the U.S. Chamber of Commerce Institute for Organization Management as well as both the classic Dale Carnegie Course and Dale Carnegie Sales Training.
She is President of the New Jersey Tourism Industry Association, serves on the New Jersey Chamber of Commerce Board of Directors, the Board of the New Jersey Association of Chamber of Commerce Executives (NJACCES), the Atlantic Cape Community College Foundation Board, and served on the Lower Cape May Regional Board of Education for eleven years. 
In 2016 she became a founding member of the Business Alliance for the Protection of the Atlantic Coast and currently serves as the organizations first President.  In July 2018, Clark became a member of Court Appointed Special Advocates of Atlantic and Cape May Counties.
She and her husband Bruce have three married children and five grandchildren.

Biography
Freeholder Responsibilities: Board of Elections, County Clerk/Adjuster, Culture and Heritage, Fare Free Transportation, Library, Museum, Park/Zoo, Print Shop, Surrogate, Tax Board and Tourism & Public Information
Freeholder Liaison: Advisory Commission on the Status of Women, Chamber of Commerce, Culture and Heritage Commission, Jersey Shore Partnership, Library Commission, New Jersey Association of Counties - 1st Alternate, Ocean City Chamber of Commerce, Park Advisory Board, Tax Board, Member - Atlantic Cape School Board of Estimate, Member - Special Services School Board of Estimate and Member - Technical School Board of Estimate
Biography:
E. Marie Hayes was sworn-in on February 1, 2013 to fill the unexpired term of M. Susan Sheppard, Esq. on the Board of Chosen Freeholders. Hayes was re-elected in November 2014 to her first three year term and will serve until December 31, 2016.
In late 1970's, Marie was hired by the Cape May County Prosecutor's Office as an Investigator. During the majority of her career, she was assigned to Child Abuse and Sexual Assault Investigations. She rose through the ranks being promoted to Sergeant of Detectives to Lieutenant of Detectives, retiring as Captain of Detectives in 2009.
Hayes received her Associate Degree from Atlantic Cape Community College, where until this year; she was an Adjunct Professor teaching Criminal Investigation. Hayes received a Bachelor Degree in Human Services, with a concentration in Criminal Justice from Thomas Edison State College and is a 1996 graduate of the FBI National Academy in Quantico, Virginia.
Hayes resides in Ocean City with Lloyd, her husband of 32 years, and their son Lloyd. Also, she has two grown daughters, Megan and Danielle, a son-in-law Vince and six grandchildren.
The 2013 Woman of Wonder, Noel R. Hiers, is the director of School Based Youth Services at Cape May County Technical High School. Noel began to build this vibrant school program in 2006…from scratch. Now, Cape May Tech has a meaningful program with outstanding counseling services for all its students. The multi-focus program includes activities like field trips, student clubs and support groups like the diabetes support club and the GLBT club, among others.
The school based youth services program has become one of the most highly valued, highly utilized programs of the school. In others words, this super hero built a world of good from literally nothing.
Some of the outcomes from this super hero's unsung work have been building tolerance for all, creating a sense of community for the diverse group of students attending tech, and a safe haven for students when they are at their most vulnerable moments.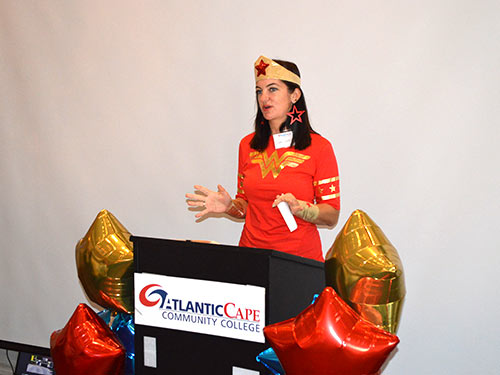 Noel Hiers, Director, School Based Youth Services at Cape May Tech High School.
Whether it is at noon on a school day or midnight on a weekend - Martina Singleton is there when you need her! Martina is employed by the Coalition Against Rape and Abuse - CARA - as the Sexual Assault Program Director. But that is just her cover story for her life of heroic actions. She has not only risen up from her own personal history of abuse, she helps to raise our children up out of their situations of abuse and helps them learn to cope with the life altering consequences of violence. For her support, love and work with the COMPACT students, Martina takes her place in the WOW Hall of Fame.
Tracey Staab, principal COMPACT, Martina Singleton, recipient, and Amanda Paris, former COMPACT student.
Myra Belasco, Counselor, Lower Cape May Regional School District exemplifies an unsung super-hero among us who quietly and without much fan fare is making a huge difference in the lives of our at-risk children. Myra works closely with Cape Educational COMPACT to recommend and support students from her high school to the program. According to her nominator, she consistently goes above and beyond in supporting her COMPACT students. Myra's dedication earned her a place in the WOW Hall of Fame.
Vicki Clark, Foundation VP, Diane McKoy, Foundation President, Myra Belasco, recipient, Tracey Staab, COMPACT, Freeholder Sue Sheppard, Dr. Pat Gentile
For additional information about Women of Wonder, please contact Kristin Jackson at kjackson@atlanticcape.edu or (609) 463-3621.