How to request and receive academic accommodations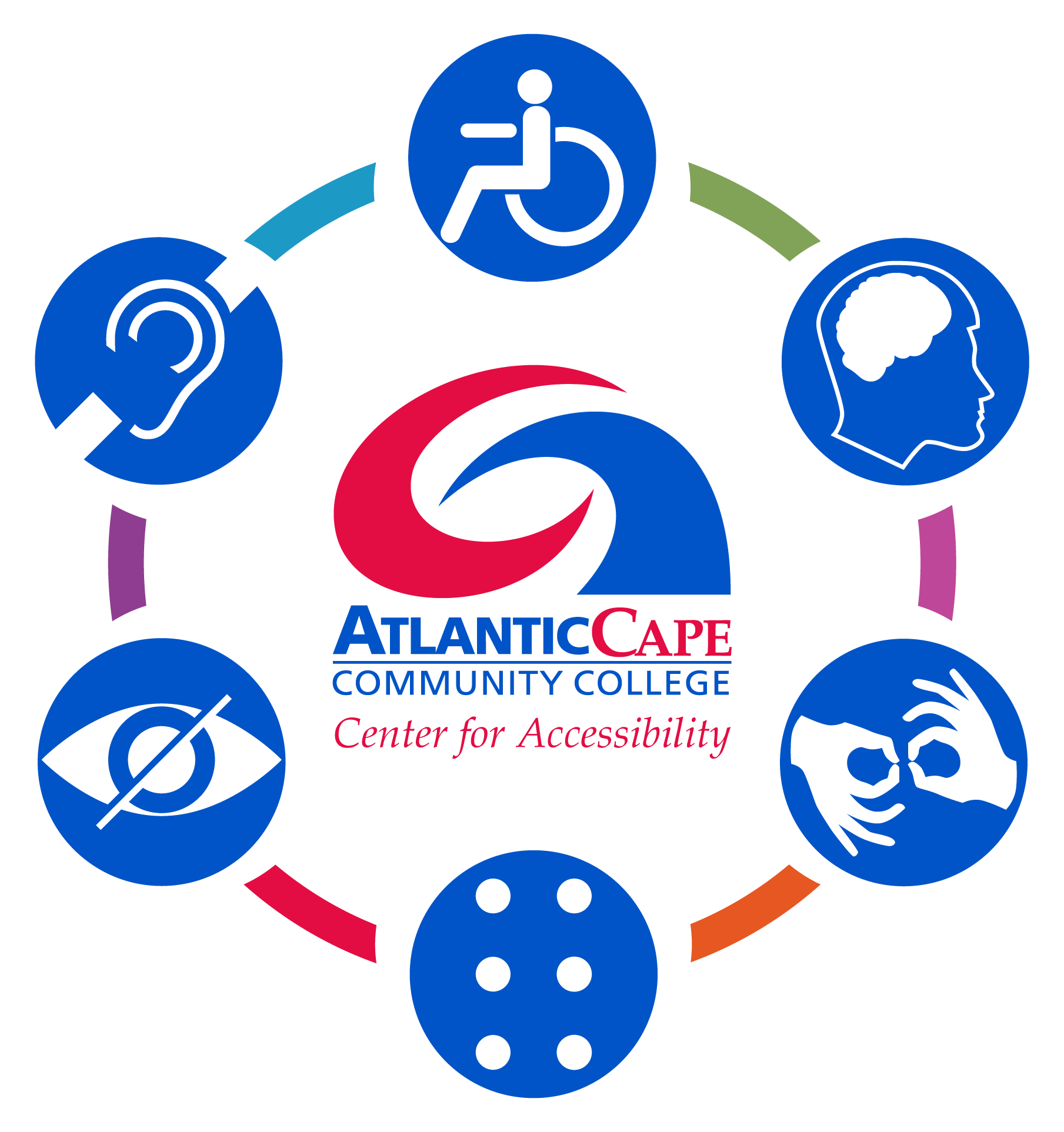 Eligibility for student accommodations is based on medical and/or other professional documentation of disability as well as the impact the disability has on the students' access to their education. Please note this is an individualized process, and will vary based on student needs. It is the responsibility of the student with a disability to identify himself/herself as having a disability and to request academic adjustments, auxiliary aids and/or modifications necessary to receive equal access to the College's program, activities and services.
Accommodations
Eligibility for student accommodations is based on medical and/or other professional documentation of disability as well as the impact the disability has on the students access to their education. Students must go through an intake process in order to be eligible for accommodations. Eligibility information is found below.
The student is responsible for scheduling their exam with the Testing Center at least 5 days in advance of the exam.
Extended time tests (duration to be determined at time of intake based on provided student documentation) may be proctored by someone designated by the Director of the Center for Accessibility in consultation with the director of testing services at the specific campus where the test is to be taken, or by the faculty member giving the exam.
Every effort will be made to ensure the student is able to take the test at the same date and time as their peers.
It is faculty responsibility to ensure the testing center has the exam before the test date. Under no circumstances are students to transport their tests and/or examinations to the Testing Center. Security of the test materials is then provided by the Testing Center staff. The faculty member may pick up the test or arrange for delivery under secure conditions.
Scribes and/or readers for CFA students will read test items exactly as given. Scribes and/or readers will not provide additional information, interpretation or definitions about test items unless specifically included as part of the modifications provided to students.
Tests will be administered in accordance with written instructions from the instructor.
Permitted for each student who has been given the accommodation by the CFA. The College may require the student to sign a recording agreement specifying limited use of the taped material.
To be provided for students who, because of developmental, physical, and/or learning disabilities, need assistance with taking lecture notes during class sessions. This need must be specifically defined in the documentation provided by the student. Note taking software and assistive technologies are available to all CFA students with this approved accommodation and demonstrations are available.
The student who qualifies for this access service is responsible for contacting the Interpreter, as much in advance as possible, when the student will not be attending class.
The College does not provide Personal Aides or Assistants. It does not provide services of a personal nature, which includes assistance in transporting, eating, toilet usage, guides and dressing, etc. If students have questions on how to obtain a personal care attendant, the CFA will provide pertinent referral information.
The College does not provide personal devices & equipment such as wheelchairs and hearing aids. Information on personal devices & equipment is available with the Center for Accessibility.
When necessary, classes may be moved to an accessible location to accommodate a student with impaired mobility, or under documented special circumstances. This determination shall be made by the Director of CFA. The Director will consult with faculty for the specific course re-location.
Course substitution will be considered as a reasonable accommodation if supported by documentation and provided the substitution does not fundamentally alter the nature of the academic program in which the student is enrolled or excuse the student from courses that are integral to that program.
This decision shall be made by the appropriate staff from the student's major field in consultation with appropriate faculty and the Director of CFA.
If a field trip is scheduled for a class in which a disabled student is enrolled and transportation is provided by the college, the transportation will be handicapped accessible.
Field trips and field experiences for courses that have enrolled students with disabilities must be made to accessible sites. If there is an insurmountable barrier to providing access to a site that is essential to the course or program, students with disabilities denied access must be provided an alternative educational experience that offers comparable and equal instructional benefits.
Definition of Disability
A person with a disability is defined as an individual who has or is regarded as having any mental or physical condition that substantially impairs or restricts one or more major life activities such as performing normal tasks, walking, seeing, hearing, speaking, breathing, learning and working. This includes, but is not limited to, such disabling conditions as visual impairments, psychological/emotional disabilities, speech and/or hearing impairments, mobility impairments or learning disabilities.
Eligibility
Students must request to receive accommodations due to disability need by completing the following process:
Be a current Atlantic Cape student enrolled in at least one class.
Provide current and comprehensive documentation of a diagnosed disability to the Center for Accessibility.
Register with the Center for Accessibility and complete an initial intake meeting
* The Center for Accessibility is also able to assist students with temporarily disabling conditions (i.e. broken hand).
Students are required to submit supporting documentation, which includes a diagnosis of medical condition(s) and sufficient information regarding the impact on the student's ability to perform and/or function. Documentation must support the need for the accommodations requested. Typically an IEP/504 plan will be sufficient.
The documentation can be submitted in one of three ways. 
Sending as an email attachment to: cfa@atlanticcape.edu
Faxing to (609) 343-4926
Bringing the documentation to the intake appointment
Refer to the About page to Contact the The Center for Accessibility (CFA) for information about appropriate documentation of disabilities.
The person with a disability can initiate self-identification by seeking assistance from The Center for Accessibility. Students who self-identify elsewhere will be referred to the Center for Accessibility.
In order to receive accommodations in a timely manner, schedule a meeting with the CFA for documentation review and individualized need assessment.
Schedule an Initial Intake Meeting by:
Phone: (609) 343-5680

Email:

cfa@atlanticcape.edu

In Person: Center for Accessibility Office, Mays Landing campus, J Building, Room 123
*While it is our preference to discuss your needs in person this meeting can be done in person, via Skype, or by phone. Please submit supporting documentation prior to or at this initial intake meeting.
Determination
Upon completion of the intake, The Center for Accessibility will review the submitted documentation. Students will receive a response via email, within 10 business days, with one of the following application statuses:
Reasonable Accommodations Approved: when a student's request for reasonable accommodations have been approved, the student will be required to schedule a follow up meeting with their assigned counselor to finalize the process for receiving accommodations. This meeting can be done in person, via Skype, or by phone.
More Information Needed: when a student's request for reasonable accommodations cannot be approved due to insufficient documentation the student will be notified via email that will specifically outline the additional documentation or information needed.
Application Not Approved: when a determination is made that the student is not entitled to the accommodation requested, the student will receive notice of the denial, via email. A student may request a follow up meeting with the Center for Accessibility in order to discuss rationale for the denial, and to advise the student of his/her right to seek reconsideration and to appeal the determination.
Areas of Responsibility for Providing Accommodations
The Center for Accessibility does not have the sole responsibility for providing modifications and or auxiliary aids for students with disabilities. Rather, it is the function of this office to assist and enable all areas of the college to meet mandated responsibilities. Recommendations for the services will be developed in consultation with the appropriate faculty, staff, administrators, and students.
The Right To Succeed: Atlantic Cape Community College believes that all students are entitled to an equal opportunity to succeed academically.
Faculty are requested to inform students about services available to them through the CFA
Atlantic Cape Community College is committed to ensuring that all accommodations are implemented in a timely manner under the supervision of the Center for Accessibility.