Return to All News
After Ousting the Number One Seed, Atlantic Cape's Men's Basketball Squad Earns Spot in National Top 15 Division III Rankings
01/23/2023 | Media Contact: David Zuba, Public Relations Manager and Copywriter | (609) 343-4933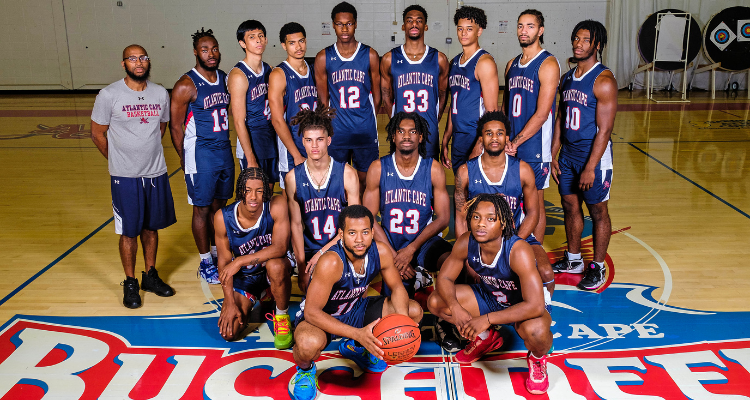 MAYS LANDING — Following a week that saw the Atlantic Cape Community College Buccaneers Men's Basketball team upset the number-one-seeded and undefeated Brookdale Community College Jersey Blues, the Buccaneer men placed 13th in voting for the National Junior College Athletic Association's (NJCAA) Division III rankings for the week of January 24.
The Buccaneers entered last Thursday's contest at home against Brookdale seeking to avenge a December 13th 83-71 defeat. Sophomore Guard Tyrese Myrick led a balanced Bucs scoring attack with 21 points, while four other Bucs topped double digits in points, and Freshman Forward Olyn Knox pulled down 12 rebounds as the Bucs edged the Jersey Blues 81-79 in thrilling fashion. The Bucs victory over Brookdale knocked the Jersey Blues out of its first place ranking, which they had held for nine consecutive weeks.
Watch the exciting final seconds here!
The Buccaneers followed up Thursday's effort by defeating Passaic County Community College 84-80 on Saturday. This is the second consecutive year that the Buccaneer Men's Basketball team has been voted to the NJCAA Division III top 15 rankings in-season.
"Our guys understand what we have been preaching, they are putting it all together now and they are believing in themselves," said Head Coach Allen Ragland. "I am happy for the college. We are playing well, we have an all-around team and they are working hard."
Athletic Director Jamal Edwards concurred. "It's great to see Atlantic Cape get recognition not just locally, but nationally, and it shows the growth and progression of our program," Edwards said. "This is due to the hard work of coach Ragland and the team. We are changing expectations and the mentality here."
The Buccaneers are currently 13-4 overall, 12-2 in Region XIX play and 11-2 in the Garden State Athletic Conference (GSAC) for an .846 overall winning percentage. The Bucs return to the court tomorrow evening at 5 p.m. when they visit Ocean County College in Toms River.
Visit atlanticcape.edu/mens-basketball for a schedule of upcoming games and results.
About Atlantic Cape Community College
Atlantic Cape is a comprehensive two-year community college serving the residents of Atlantic and Cape May counties. The college offers over 40 career, transfer and workforce development programs to more than 8,000 students annually at three campuses in New Jersey: Atlantic City, Cape May Court House and Mays Landing.