Return to All News
GivingTuesday Donations Raise Nearly $14,000 for Atlantic Cape Students in Need
12/05/2022 | Media Contact: David Zuba, Public Relations Manager and Copywriter | (609) 343-4933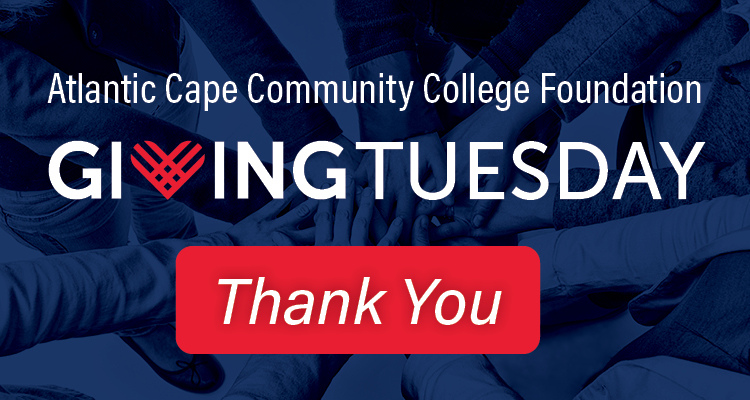 MAYS LANDING — Thanks to a tremendous outpouring of selfless giving and philanthropy this holiday season, Atlantic Cape Community College and the Atlantic Cape Community College Foundation raised $13,921.67 during GivingTuesday on Tuesday, November 29 to help provide critically-needed financial support to Atlantic Cape students in need.
Created in 2012 as a day that encourages people around the world to do good, GivingTuesday is an annual international effort that has raised billions of dollars globally. This year, 71 donors and four fundraising teams helped the foundation surpass its intended goal of $10,000 and more than doubled the $5,716 amount that Atlantic Cape raised in 2021. Donors could choose where they wanted their donations to be allocated to, such as towards Atlantic Cape's proposed baseball field improvements, the campus food pantry, the general scholarship fund or to the area with the greatest financial need.
"I am truly thankful for the kindness and generosity of every donor this GivingTuesday," said Atlantic Cape Foundation Executive Director Jean McAlister. "Thanks to the overwhelming support of our Foundation Trustees, the College's Board of Trustees, administration, faculty, staff, students and alumni we exceeded our goal of $10,000 and more than doubled last year's amount."
Since 2016, Atlantic Cape has raised $43,609.67 on GivingTuesday to help students attending the college receive scholarships and emergency funds to assist in paying for tuition, fees, supplies and even housing and food.
"Our students need our support now more than ever, and GivingTuesday is just one way our community gives back," McAlister concluded.
The Atlantic Cape Foundation raises funds for college scholarships, capital for campus improvements, and support for cultural and educational community outreach programs. In its history, the Foundation has raised more than $6 million for college scholarships, academic programs and campus enhancements.
For more information, visit atlanticcape.edu/foundation.
About Atlantic Cape Community College
Atlantic Cape is a comprehensive two-year community college serving the residents of Atlantic and Cape May counties. The college offers over 40 career, transfer and workforce development programs to more than 8,000 students annually at three campuses in New Jersey: Atlantic City, Cape May Court House and Mays Landing.
About Atlantic Cape Community College Foundation
Atlantic Cape established the Foundation in 1978 as a 501(c)3 nonprofit charity to build a broad base of financial support for its programs and services. Foundation members are drawn from local industry and small businesses and represent a broad cross-section of active leaders in the community. The Foundation has raised more than $5 million for scholarships, Foundation operations and to enhance academic programs and the campus environment. Annually, the Foundation provides nearly $600,000 for institutional scholarships, grants and emergency help.