Return to All News
Atlantic Cape to Partner in Art Exhibition Showcasing Beauty of Atlantic County Park System
10/11/2022 | Media Contact: David Zuba, Public Relations Manager and Copywriter | (609) 343-4933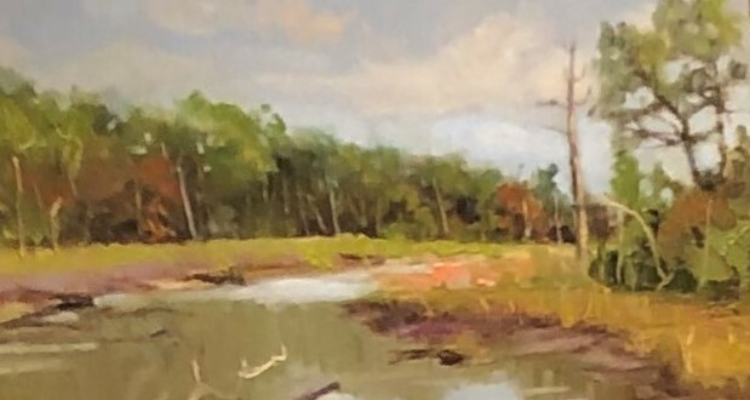 Photo Credit: Doreen Khebzou
This exhibit is now over. Please see atlanticcape.edu/artgallery for the latest exhibit information.*
MAYS LANDING — The Atlantic Cape Community College Art Gallery is once again partnering with the Friends of The Park, Inc. to produce this year's Atlantic County Parks Plein Air and Photographic Exhibition showcase from October 12-November 30.
The exhibit will showcase the sublime natural beauty of the Atlantic County Parks System through various forms of media, such as acrylics, oils, watercolors and photography from different locations throughout the county. An opening night reception will be held on Wednesday, October 12, 5-7 p.m. at Atlantic Cape's Art Gallery, located on the second floor of the William Spangler Library in Daniel Leeds Hall (D building) on the Mays Landing campus at 5100 East Black Horse Pike.
"The idea of the Atlantic County Parks show is to bring all of the wonders of nature that our area holds to our students and a community that otherwise may not experience it," Atlantic Cape Art Gallery Coordinator Katherine Aikens said. "So many people have grown up in Atlantic County and have never encountered the plethora of beautiful places there are to see. This show brings tangible evidence of the beautiful spots located throughout our county."
The exhibit, which began in 2017, is returning after a two-year, pandemic-induced hiatus and will be open to the public Monday through Thursday from 9 a.m. - 6 p.m., Friday and Saturday from 10 a.m. - 2 p.m. and will be closed on Sunday. 
For more information, visit atlanticcape.edu/artgallery or contact Katherine Aikens, Art Gallery Coordinator at (609) 625-1111, extension 5346.
About Atlantic Cape Community College
Atlantic Cape is a comprehensive two-year community college serving the residents of Atlantic and Cape May counties. The college offers over 40 career, transfer and workforce development programs to more than 8,000 students annually at three campuses in New Jersey: Atlantic City, Cape May Court House and Mays Landing.