Return to All News
'Voices and Votes' exhibit opens at Atlantic Cape
07/12/2022 | Media Contact: Claire Sylvester | (609) 343-4933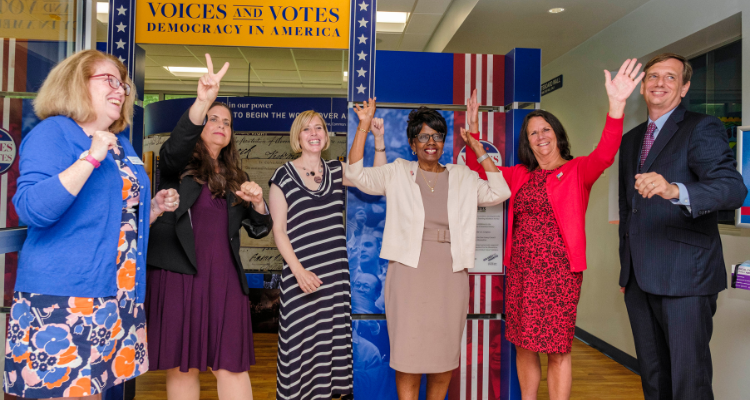 From the American Revolution to the political movements of present day, the Smithsonian Institution's traveling exhibit exploring one of the most important civic responsibilities of United States citizens opened at Atlantic Cape Community College on July 11.
"Voices and Votes: Democracy in America," presented by Museum on Main Street in cooperation with New Jersey Council for the Humanities (NJCH), is a free exhibit at Atlantic Cape's Mays Landing campus, open to the public Monday through Saturday until Aug. 13.
"The exhibit explores the action, reaction, vision and revision that democracy demands," Atlantic Cape President Dr. Barbara Gaba said. "From the revolution and suffragists to Civil Rights and casting ballots, everyone in every community is a part of this ever-evolving story: The story of democracy in America."
"Voices and Votes" is based on an exhibition currently on display at the Smithsonian's National Museum of American History called "American Democracy: A Great Leap of Faith." The display includes historical and contemporary photos, educational and archival video, engaging multimedia interactives with short games, and historical objects like campaign souvenirs, voter memorabilia, and protest material.
Guests and dignitaries were invited to preview the exhibit during an opening reception on July 7 that included NJCH Executive Director Carin Berkowitz, New Jersey Council of County Colleges President Aaron Fichtner and Atlantic County Board of Commissioners Chairwoman Maureen Kern.
"Our nation's democracy was and continues to be because we fought for our independence with our voices," Kern said. "Our voices are heard through the privilege of voting. Constructive dialogue and debate are what makes our freedom and independence so special. Let us not take for granted our voices and the opportunity to serve."
"I think this is a great way for us to bring the community together," said Ellen Byrne, vice president of the Atlantic Cape Community College Board of Trustees. "The Board was very excited and supportive of the application and the acceptance of the funds from the (NJCH) because we knew it was going to provide a great opportunity for our students and the wider community to learn about the history of our democracy. And isn't that one of our most important functions here as a community college? To serve as a venue for discussion, for thought, for critical thinking, for learning, and maybe for disagreement."
U.S. Rep. Jeff Van Drew also sent a video message to share with attendees.
The "Voices and Votes" exhibit has been traveling the country, making several stops in New Jersey this year thanks to funding through the NJCH. Berkowitz said this is the 50th anniversary for the nonprofit organization.
"We were founded in the early '70s with the idea that we could help foster dialogue and commitment to American democracy, by bringing the humanities to communities experiencing the tumult of that period," she said. "Our event tonight, this exhibit, and our partnership with New Jersey's county colleges help to continue that legacy."
 "Voices and Votes" is part of Museum on Main Street, a collaboration between the Smithsonian Institution and the Federation of State Humanities Councils. Support for Museum on Main Street has been provided by the United States Congress. To learn more, visit museumonmainstreet.org.
For more information about the "Voices and Votes" exhibit at Atlantic Cape, including hours, parking and directions, visit www.atlantic.edu/voices.