Return to All News
Atlantic Cape chapter of PTK Honor Society inducts new members
05/10/2022 | Media Contact: Claire Sylvester | (609) 343-4933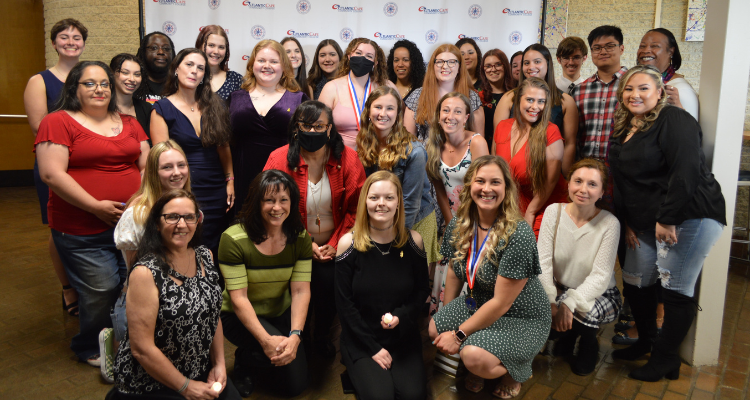 The Alpha Delta Mu chapter of the Phi Theta Kappa (PTK) Honor Society held its 43rd induction ceremony Tuesday, May 3, 2022 in the Walter Edge Theater on the Mays Landing campus.
Thirty-nine Atlantic Cape Community College students, 28 in person and 11 virtually, attended the ceremony. In the 2021-22 school year, there were 174 Atlantic Cape students who joined PTK, bringing membership up to 215 active members.
PTK recognizes the academic achievements of students and provides opportunities to advance skills in education and leadership. Headquartered in Jackson, Mississippi, PTK has nearly 1,300 chapters on community college campuses across all 50 states and beyond.
The induction ceremony included remarks from Senior Vice President of Academic Affairs Josette Katz, Dean of Professional and Liberal Studies Denise Coulter, and previous PTK advisor Effie Russell, professor of English. Russell gifted each inductee a copy of one of her favorite books, "The Alchemist."
Courtney Rice, vice president of the PTK Regional Alumni Association and Atlantic Cape alumna; PTK Atlantic Cape Chapter President Madelyn Sacco; and PTK Atlantic Cape Chapter Vice President Megan Kazier also spoke.
Stephanie Natale-Boianelli, PTK advisor, announced the names of the new inductees, who proceeded on stage to sign their name in the membership book and take the pledge: "I do solemnly promise on this 3rd day of May 2022 to uphold the standard of Phi Theta Kappa and to keep this object and aim in my mind; and I do solemnly pledge allegiance to my fellow members and promise to aid them in all worthy endeavors."
Refreshments and cake were provided after the ceremony.