Return to All News
Center for Student Success Awards recognizes graduates and their mentors
05/11/2022 | Media Contact: Claire Sylvester | (609) 343-4933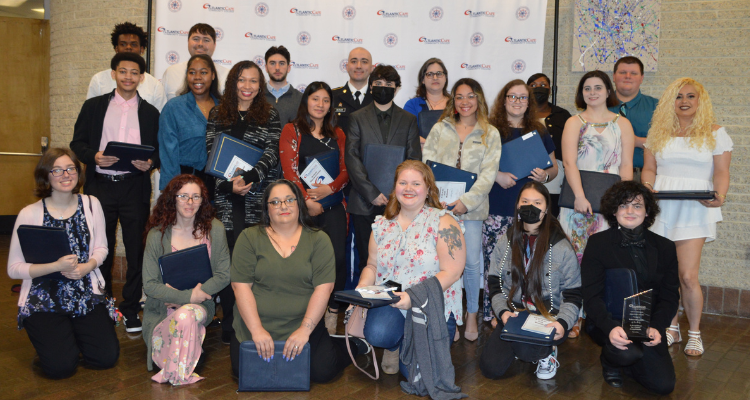 Atlantic Cape Community College's Center for Student Success (CSS) celebrated the class of 2022 and their mentors during a Graduate Awards Ceremony on Friday, May 6 in Walter Edge Theater on the Mays Landing campus.
The students who participated in the Educational Opportunity Fund (EOF), Center for Accessibility (CFA), New Jersey Student Tuition Assistance Reward Scholarship (NJ STARS), Men of Atlantic Cape (MAC), and Student Support Services (SSS), as well as veterans and military members, were recognized during this ceremony. Students were also invited to nominate a staff or faculty member to receive an Extra Miler recognition for helping them to achieve their academic goals.
Center for Student Success Senior Director Stacey Zacharoff and Vice President of Student Affairs and Enrollment Management Dr. Natalie Devonish welcomed the guests. Wendy Gray, assistant director of Advising and Retention, presented the graduates.
EOF Senior Achievement Awards were presented during a virtual ceremony April 8. EOF Counselor Najah Jones recognized the awardees. The Distinguished Scholar Awards (4.0 GPA) went to Alyssa Lazio, Maria Mejia-Izcoa, and Kelis Thompson. The Outstanding Academic Achievement (3.5-3.99 GPA) went to Porsche Boynton, Samatha Harken, Rashuan Mason, Maitri Patel, and Melany Rodriguez. The Academic Achievement Award (3.2-3.49 GPA) went to Jamilah Bennett, Stephano Bustamante, Terrisha Edwards, Lanisha Green, Julie Helverson, Dara Mencia-Morenoe, Alba Rosario and Arlene Viruel.
CFA Accessibility Services Counselor Kathleen Piontkowski presented awards on behalf of CFA, Student Services Navigator Jessica Brown on behalf of NJ STARS, Counselor Lynette Ingram on behalf of SSS, Jones on behalf of EOF, and Zacharoff on behalf of veterans.
Counselor's Awards went to Amber D'Abundo (EOF); Joelizabeth Aponte-Rodriguez (CFA); Maria Mejia-Izcoa (NJ STARS); Andrew Freeto (veterans); and Gerald Carrion (MAC).
The Juan Alvarez Award was presented to Heleena Hendricks (SSS).
The Director's Awards went to Heleena Hendricks (CFA); Jamillah Bennett (EOF); Robert Blaszczyk (NJ STARS); Megan Doyle (SSS); and Patrick Butler (veterans).
Outstanding Academic Achiever awards were presented to Maria Mejia-Izcoa (CFA); Taahirah Reid (EOF); Victoria Axelsson (NJ STARS); Arabia Crawford (SSS); and Robert Basco (veterans).
A special recognition award in honor of Paula Stewart Davis, retired dean of Student Affairs and Enrollment Management, was presented to Senior Clerk Tiffani Harris and One Stop Assistant Athena Kramvis.
For more information on the Center for Student Success, visit www.atlantic.edu/student-life/student-resources/counseling.