Return to All News
Students shine at 15th annual Communication Awards at Atlantic Cape
05/03/2022 | Media Contact: Claire Sylvester | (609) 343-4933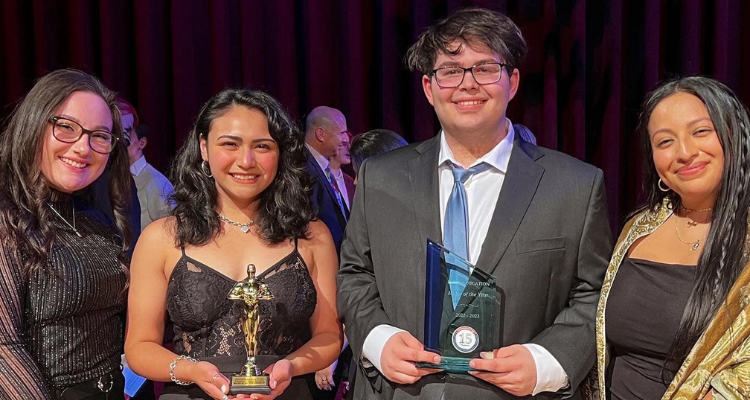 With all the glitz and glam of a televised awards show, the students in the Communication program at Atlantic Cape Community College were recognized for their efforts in spring and fall 2021 during the 15th annual Communication Awards.
During the event, held Friday, April 29 in the Walter Edge Theatre on the Mays Landing campus, 100 awards in more than 40 categories including journalism, public relations, public speaking, performing arts, film and television were presented to students, alumni and faculty.
The event featured student-produced videos and performances by four Communication Major of the Year nominees: Cameron Main of Mays Landing, Chloe Cramutola of Hammonton, Bobby Prince of Mays Landing, and Anthony Coccaro of Williamstown.
Jess Mounce and Kyle Schachner, 2016 Atlantic Cape graduates who met at the college and are now engaged, hosted the awards. 
This year's Communication Major of the Year award, as selected by the audience during the show, was presented to Bobby Prince.
Jenna DeLucca, '17, an adjunct professor of communication, was honored as Communication Alumni of the Year and Taylor Henry, '16, an adjunct professor of communication and president of the Wildwood Historical Society, received the Alumni Professional Achievement Award.
The full list of award winners is as follows:
Best Fiction - Gabrielle Sangataldo, Myphuong Nguyen, Jay Corbin
Best Poetry - Ludovico Menegon, Kyli Wolfson
Best Play - Soleil Yakita
Public Speaking Achievement - Soleil Yakita
Rewrites - Samantha Harken
Best Interpersonal Group Project - Sheila Jiminez, Sophia Fagan, Zoe Greblunas
Best Interpersonal Achievement - Zoe Greblunas, Andrew Freeto, Josephine D'Anna
Best Feature Story - Paul Garraty
Best Reporting - Tabitha Taylor
Atlantic Cape Review - Tabitha Taylor
Most Creative P.R. Practitioner - Avery Brown
Best Press Release - Kayla Corson, Ashia Reid, Tabitha Taylor
Best P.R. Group - Sabastian Mottola, Jessica White, David Pacheco-Ruiz, Maximus Baruti, Ashia Reid, Tabitha Taylor, Julia Conner
Best P.R. Practitioner - Jessica White, David Pacheco-Ruiz, Tabitha Taylor
Best TV History Paper - David Pacheco-Ruiz
Most Authentic Voice - Brianna Torres
Most Imaginative Writing - Rebecca Reade 
Best Informative Speech - Madeline Murillo, Brianna Thomas, Grace Rivera, Alessia Ross-Terrigino
Best Persuasive Speech - Brianna Thomas, Alexis Cabrera, Michelle Thieu Ruby Taylor Oscar Sanchez Kyleigh Robertson
Public Speaking Achievement - Alexis Cabrera
Best Mass Media Project - Cameron Main, Libby Little, Kirby Delgado, Israel Reyes, Frank Moreta
Best Pop Music Project - Frank Moreta, Michael Bautista
Best Mass Media Achievement - Chloe Cramutola
Best Mass Media Paper - Chloe Cramutola
Best Film History Paper - Chloe Cramutola
Best Theatre Essay - Daniel Loper, Deanne DeClementi, Julianna Lovett Roche, Micaela R Kelly
Radio Club - Ethan Kresch
Media Productions Club - Riley Murray
Best Pop Music Achievement - Julia Conner
Best Pop Music Paper - Julia Conner
Best Film History Group - Aylin Alvarez, Bobby Prince, Rachael Lewis, Elijah Redmond, Charlene Maycott
PR Achievement - Charlene Maycott
Best Film History Achievement - Robert Blasczyk
Alumni of the Year - Jenna DeLuca
Alumni Professional Achievement - Taylor Henry
Faculty Pioneer - Stacey Gerst, Hammonton
Unsung Hero - Jesus Delvale
Mentoring Award - Laura De Blois, Lena Lintner, Alessia Ross-Terrigino, Michael Bautista, Tabitha Taylor, Rachel Dougherty, Devan Freas, Aylin Alvarez, Julia Train
Senior Mentoring Award - John Maggio, Katie Weightman
Student Pioneer - Tabitha Taylor, Charlene Maycott, Kayla Corson
Communication Awards Club - Kayla Corson
JS Volunteer Service Award - Julia Train
Outstanding Academic Achievement - Tabitha Taylor
Communication Major of the Year - Bobby Prince, runner-up is Chloe Cramutola