Return to All News
Atlantic Cape Archery team heads to Nationals after impressive showing at Regionals
05/09/2022 | Media Contact: Claire Sylvester | (609) 343-4933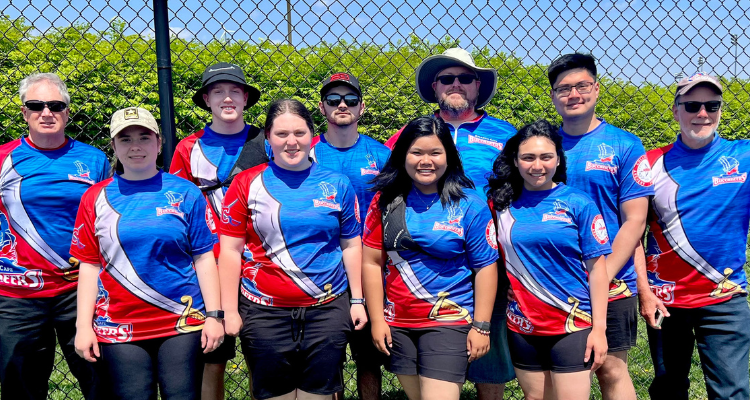 The Atlantic Cape Community College Archery team took home several accolades in the 2022 USA Archery Collegiate Target Regionals-East Region at James Madison University April 23 and 24 in Virginia. 
Overall, Atlantic Cape's Compound team finished 3rd and the Recurve team finished 5th among the 12 collegiate archery programs from the East Coast competing.
Individually, Matthew Byrnes finished 2nd in the Male Compound Division, while Jocelyn Geese finished 6th in the Female Compound Division.  
In Recurve competition, Jared Lancaster finished in 4th place and Justin Tresvalles finished 9th in the Male Division, while Zoe Torralba and Chloe Cramutola finished in 9th and 17th respectively in the Female Division. 
Atlantic Cape's only Female Bowhunter, Brooke Kaeble, finished 5th in her competition.
In addition to the wins at the competition, Byrnes and Lancaster were named to the 2022 All-East Team for USA Archery. This recognition is based on the combined results from the USA Archery Indoor Nationals, held in January and February, and the Collegiate Target Regionals.
Byrnes was named to both the All-East and All-American teams last season and finished first in the Male Compound Division. Lancaster, who is a first-year student at Atlantic Cape and picked up a bow for the first time in September 2021, finished 3rd in the Male Recurve Division.
"It is very impressive for someone to climb in the rankings so quickly," Archery Coach Chad Affrunti said of Lancaster's accomplishments this season. "It is a direct result to his level of commitment and the effort he has put in this season. I believe this is the beginning of great things for him, as he finishes this season and prepares for his second year at Atlantic Cape."
This year Byrnes was also named to the 2022 Collegiate All-American Academic Team.
Up next, the Atlantic Cape Archery team will be traveling to southern California for the 2022 USA Collegiate Target Nationals this May.
To learn more about Atlantic Cape's Athletics programs, visit atlantic.edu/athletics.