Return to All News
Atlantic Cape Nurses Club collects supplies for families in need at SimMom Baby Shower
04/13/2022 | Media Contact: Claire Sylvester | (609) 343-4933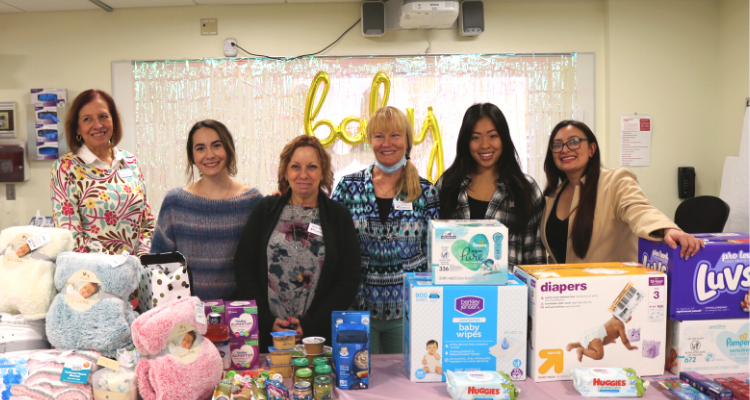 SimMom and her new SimBaby were "recovering" nearby as students, faculty and staff members filtered through the Nursing Lab at Atlantic Cape Community College Monday, April 4, to celebrate the occasion and donate items for families in need.
It's been two years since the Student Nurses Club here has been able to host its SimMom Baby Shower, and the college community showed up for the cause.
The Shower is for a faux delivery of babies from the Nursing Program's female simulator, SimMom.
Attendees were encouraged to bring donations of baby items for the Atlantic County Women's Shelter and Meest, a nonprofit supporting Ukraine refugees and humanitarian aid.
"It's very humbling to see everyone come together for the community," said Nurses Club treasurer Katie Huynh, of Galloway Township. 
Nurses Club leadership also includes President Annabelle Corpus of Egg Harbor Township, Vice President Rachel Wetzel of Ventnor, and secretary Stacey Mendoza of Northfield.
Assistant Professor of Nursing Polly Thieler is the Nurses Club advisor.
"We were really shocked by the turnout," Mendoza said.
"It's just really nice to come together after COVID-19 (restrictions) because we know everyone has been impacted by it," Wetzel added.
Tables in the front of the lab were overflowing with donations. On another table, dessert provided by the Academy of Culinary Arts and other refreshments were laid out for guests and games invited attendees to "Guess the Cost" of regular baby items, or name the four new SimBaby simulators.
The Nursing Program has several state-of-the art simulators that mimic human bodily functions such as breathing, heartbeat, sweating, illness, and even birth.
The simulation equipment available at Atlantic Cape is federally funded and gives nursing students an advantage over students in other programs around the state.