Return to All News
Register at Atlantic Cape by May 3 and get three free credits
04/11/2022 | Media Contact: Claire Sylvester | (609) 343-4933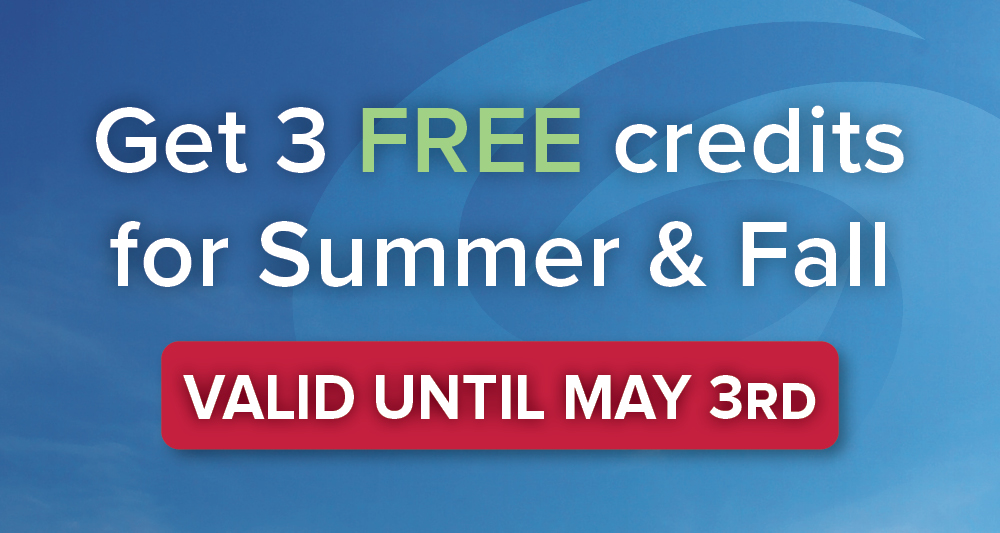 Students have until May 3 to register for Summer and Fall 2022 classes at Atlantic Cape and receive up to six free credits.
Summer semester begins May 16 and fall classes start Aug. 29.
Students who register by May 3 will receive three free credits, a savings of $438, for each semester they register. That's the cost of an iPhone, a new pair of Yeezy's or a quick trip to Miami.
Many classes at Atlantic Cape are the equivalent of three credits, however some classes are worth more or fewer credits.
This program is made possible by the Federal Government's Higher Education Emergency Relief Funds (HEERF).
Students who register for six or more credits can also receive a new laptop, which they are allowed to keep upon graduation with an associate's degree or certificate.
Additional details are available at atlantic.edu/exclusives.
In addition, students registering for Fall 2022 earning less than $65,000 a year, and who are enrolled in at least six credits may be eligible to have their tuition costs covered under New Jersey's Community College Opportunity Grant. Financial aid and scholarships are also available.
Registration is easy at Stop, Drop, Enroll, set for 3-6 p.m. April 28 at the college's three campuses. During this one-stop enrollment event, students get one-on-one help filling out their application, choosing classes, and applying for financial aid. Attendees should bring their photo identification and high school/college transcript or SAT/ACT or high school graduation test scores. Those who need help with financial aid applications should bring their tax returns (2019 if registering for summer and 2020 for fall).
Registration is also available online and in-person at any of Atlantic Cape's three campuses 9 a.m.-4:30 p.m. Monday through Friday.
Current students can download Atlantic Cape's new mobile app, Atlantic Cape Connect, to register for classes, check financial aid status, make a payment, and much more.
For more information or to register, visit atlantic.edu/register.