Return to All News
Area employers search for new staff at Atlantic Cape Career Fairs
04/18/2022 | Media Contact: Claire Sylvester | (609) 343-4933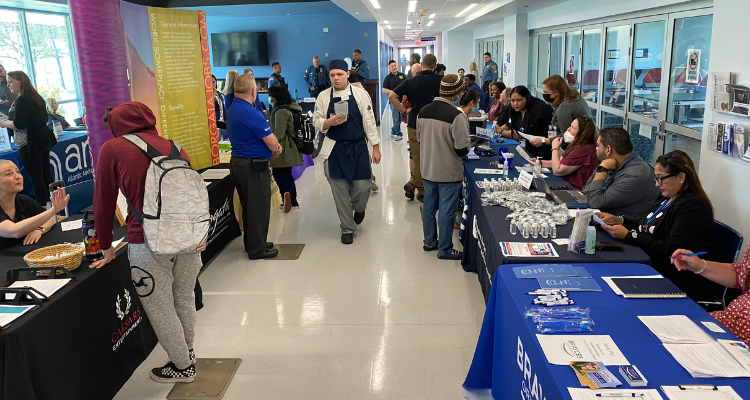 Atlantic Cape Community College hosted two job fairs over two days in April, one for nursing students at the Mays Landing campus, and another general career expo across its three campuses, drawing employers and potential employees from across the region.
The Nursing Career Fair Monday, April 11 at the Mays Landing campus included several area health facilities like AtlantiCare Regional Medical Center, Cooper University Health Care, Cape Regional Medical Center, Shore Medical Center and Recovery Centers of America. There were also several four-year colleges present so that students could get more information on advancing their degrees.
On Tuesday, April 12, students and members of the public had a chance to meet with more than 50 employers from South Jersey and surrounding areas searching for seasonal, part-time and full-time employees. Career Fairs were set up on each of the college's three campuses with employers from various sectors including health care, education, retail, nonprofit, hospitality, food service, casinos, and more.
Phyllis Figueroa, an Atlantic Cape student in the Human Services program participating in the Work Study program with Inland Family Success Center, was at the Career Fair in Mays Landing Tuesday as a recruiter.
She said she was glad to see so many people out, noting that several told her they had come to the event looking for both in-person and remote positions.
Atlantic Cape student David Ade of Galloway Township, who is studying Criminal Justice, stopped by the Galloway Police Department's table at the Career Fair on Tuesday for more information.
"Right now, I'm a Class II officer in Wildwood and I'd love to come to my hometown and work," Ade said.
He said he was thankful for the opportunity to make a connection with a potential employer, and that the Career Fair was able to be held in-person.
"I think it's great because you actually get to talk and hear what they have to say about the job," he said.
In addition to the Career Fair, Atlantic Cape offers many opportunities for students to connect with employers through its Career Advising program. Career Exploration Workshops and counseling are available for free at each campus.
At atlantic.edu, students can take a Career Assessment to identify and learn more about careers that match their preferences, strengths, and values; a career video library has thousands of videos from industry professionals sharing their job experience and career; and Big Interview is an online system that combines training and practice to help improve interview skills and build confidence. There are also College Transfer visits throughout the year.
For additional information, visit atlantic.edu/career.