Return to All News
Academy of Culinary Arts debuts food truck, partnership with Chow to help veterans
03/22/2022 | Media Contact: Claire Sylvester | (609) 343-4933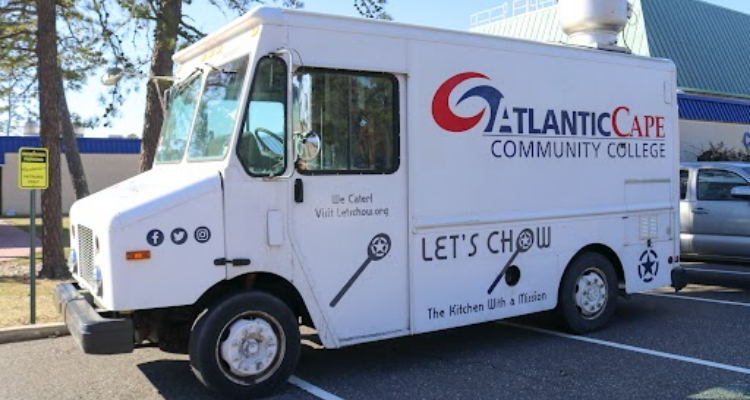 The new food truck at the Academy of Culinary Arts at Atlantic Cape Community College will help teach students about mobile food operations while helping a local veteran start their own business.
Acquired through a partnership with Chow Corp., the truck has been parked outside of the ACA in Mays Landing, and has been utilized by students over the last month to promote the culinary program. Recently, Chef Tim O'Donnell, Director of the Academy of Culinary Arts and Hospitality, took the food truck to the Gloucester County Institute of Technology where culinary students there had the chance to serve homemade ice cream to teachers and their fellow classmates as a sweet treat to brighten their day.
"We brought our food truck down to introduce the future chefs to the truck," O'Donnell said. "Going forward, the plan is to bring the food truck back to GCIT and let the culinary program instructors and students work on it during an event or just for fun."
The food truck is on loan to Atlantic Cape by Chow Corp., a Maryland-based nonprofit designed to provide services for military veterans through cooking therapy, cookware donations, culinary education, and business advice for anyone from home chefs to aspiring food truck or restaurant owners. Chow honors America's veterans and military spouses by providing a pathway to learn vocational skills in the culinary arts. 
This program would give the Academy's students an opportunity to work alongside veterans to learn the necessary culinary skills and equip them with outfitted food trucks to run a profitable business.
To learn more, about the Academy of Culinary Arts, visit atlantic.edu/culinary or attend one of Atlantic Cape's upcoming Open Houses on March 24, 26, and 29 and April 9.
For more information and to register, visit www.atlantic.edu/openhouse.