Return to All News
Day of Unity flag raising kicks off Black History Month events at Atlantic Cape
02/02/2022 | Media Contact: Claire Sylvester | (609) 343-4933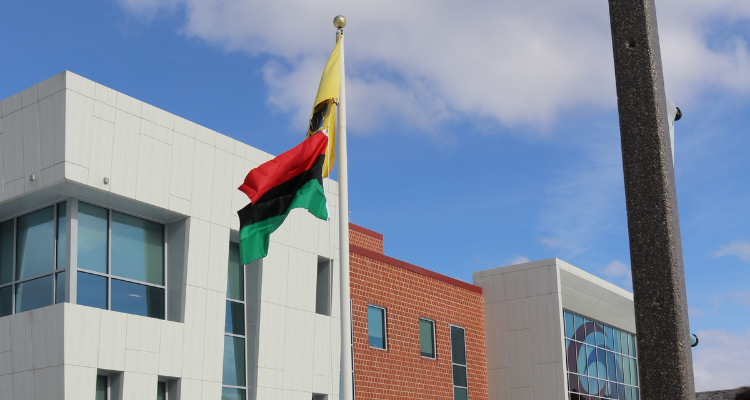 MAYS LANDING — Black History Month 2022 kicked off across Atlantic Cape Community College's three campuses on Tuesday, Feb. 1 with a Day of Unity flag raising ceremony in the quad.
Members of the Student Government Association raised the Pan-African flag, created in 1920 to represent people of the African diaspora and symbolize Black liberation in the United States, and read about the meaning of the flag's colors: red, black and green. The event was held in partnership with the Office of Student Engagement and the Office of Diversity, Equity and Inclusion.
"I think this flag raising is important because it acknowledges what exactly we are celebrating," said SGA President Caesar Sanchez. "Just a gentle reminder to our community."
SGA advisor Lisa Givens said that, for her, the flag raising was a monumental moment for the Atlantic Cape community.
"We have a lot of symbols of unity and diversity on this campus," Givens said, referencing the Holocaust memorial and the LGBTQ Pride bench. "And for this to be done the first day of Black History Month I think says a lot for our college. I think it shows that we're moving forward and I think it's a milestone for us."
She thanked everyone for supporting the SGA's efforts to enlighten the students and "grow in unity, diversity and inclusion."
The flag raising was followed by music and refreshments in the Student Center.
Black History Month events will continue throughout the month of February in Mays Landing, Atlantic City and Cape May County.
On Feb. 8, the public is invited to the Student Center at the Mays Landing campus to view "Talking About HER Story," a moving exhibit of African American women and icons in history, presented by the African American Heritage Museum of Southern New Jersey. The exhibit features local women including our own Atlantic Cape President Dr. Barbara Gaba and Atlantic Cape supporter Rita Mack, as well as national historical figures like Harriet Tubman and Ida B. Wells.
On Feb. 22, at 11:30 a.m., local story-teller Michelle Washington Wilson will present "Harriet Tubman, Tales from the Cape," a virtual event open to the public. This presentation will focus on the life and times of abolitionist Tubman, conductor of the Underground Railroad and women's suffrage supporter, who was active in Cape May County. Visit SGA Connections for the Zoom link to participate.
For a complete list of events, visit atlantic.edu/sgaconnections.