Return to All News
3 honored as 2021 Women of Wonder by Atlantic Cape and Women's Commission
11/12/2021 | Media Contact: Claire Sylvester | (609) 343-4933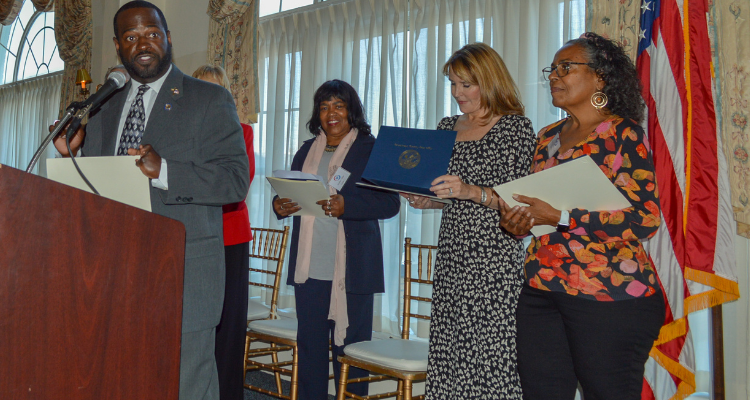 OCEAN CITY — Michele Gillian, Chase Jackson and Marilyn Miller were honored Wednesday as Cape May County's 2021 Women of Wonder for their contributions to the local community.
The Women of Wonder awards luncheon, hosted by the Atlantic Cape Foundation and the Cape May County Women's Commission at The Flanders Hotel, not only recognizes admirable local women, it also raises money for at-risk high school students in Cape May County to attend Atlantic Cape Community College and become future community leaders.
This year's awards achieved a milestone, raising more than $17,260 to create an endowed scholarship for the students.
"It was wonderful to see so many people come out to honor three incredible women in our community," said Maria Kellett, associate director of the Atlantic Cape Foundation and dean of the Cape May County campus.  "All the support we received from sponsors and guests helped us achieve a dream that was 10 years in the making: creating the Women of Wonder League endowed scholarship. The Women of Wonder endowment will forever give future generations of Cape May County residents the opportunity to attend Atlantic Cape Community College."
Violet Rixey, chairwoman of the Women's Commission added, "We are thrilled to recognize these outstanding women across Cape May County, and thankful for the generosity of those who support our mission. Each year's event grows in participation and enthusiasm. We realize that not only are we celebrating the Women of Wonder recipients, we are all sharing in a blessing to the women awarded Atlantic Cape scholarships, who will ultimately enhance their lives." 
During Wednesday's luncheon, each recipient was presented with a crystal star award.
"Your leadership and commitment to the citizens of Cape May County will have a lasting legacy," Atlantic Cape President Dr. Barbara Gaba told this year's Women of Wonder.
Gaba also thanked all those in attendance and who donated to support the scholarship fund.
"You are all making a difference in Cape May County," she said.
As director of the Sam. S. DeVico Middle Township Senior Center, Marilyn Miller coordinates activities and events for 200 members and has worked tirelessly to support the seniors since the start of the COVID-19 pandemic. Upon accepting her award, Miller thanked all of those who support her in her role.
Michele Gillian, executive director of the Ocean City Regional Chamber of Commerce, asked the attendees to think about the mission of Women of Wonder.
"We're here to provide opportunities for women, working moms, and young girls as they pursue a path to higher education," Gillian said. "Community colleges play a critical role in advancements made by women."
Chase Jackson, director of the Ocean City Arts Center, has more than 30 years of experience in nonprofit management, has produced numerous plays, story and poetry slams, and also volunteers for several nonprofits.
"Don't forget your passion," Jackson encouraged the attendees. "I advise, I guide, I push and I do."
Each of the women also received special recognition from the Cape May County Board of Commissioners and the 1st District state legislators, presented by Assemblyman Antwan McClellan.
This year, Women of Wonder organizers also recognized Doris E. Barnes, 100, of Ocean City, a retired U.S. Marine sergeant whose service to the country included managing and distributing secret and confidential technical documents for the officers in the 1940s, carrying the files in a briefcase handcuffed to her. 
Flickr photo album from event