Return to All News
Careme's to reopen for lunch Sept. 13
09/10/2021 | Media Contact: Claire Sylvester | (609) 343-4933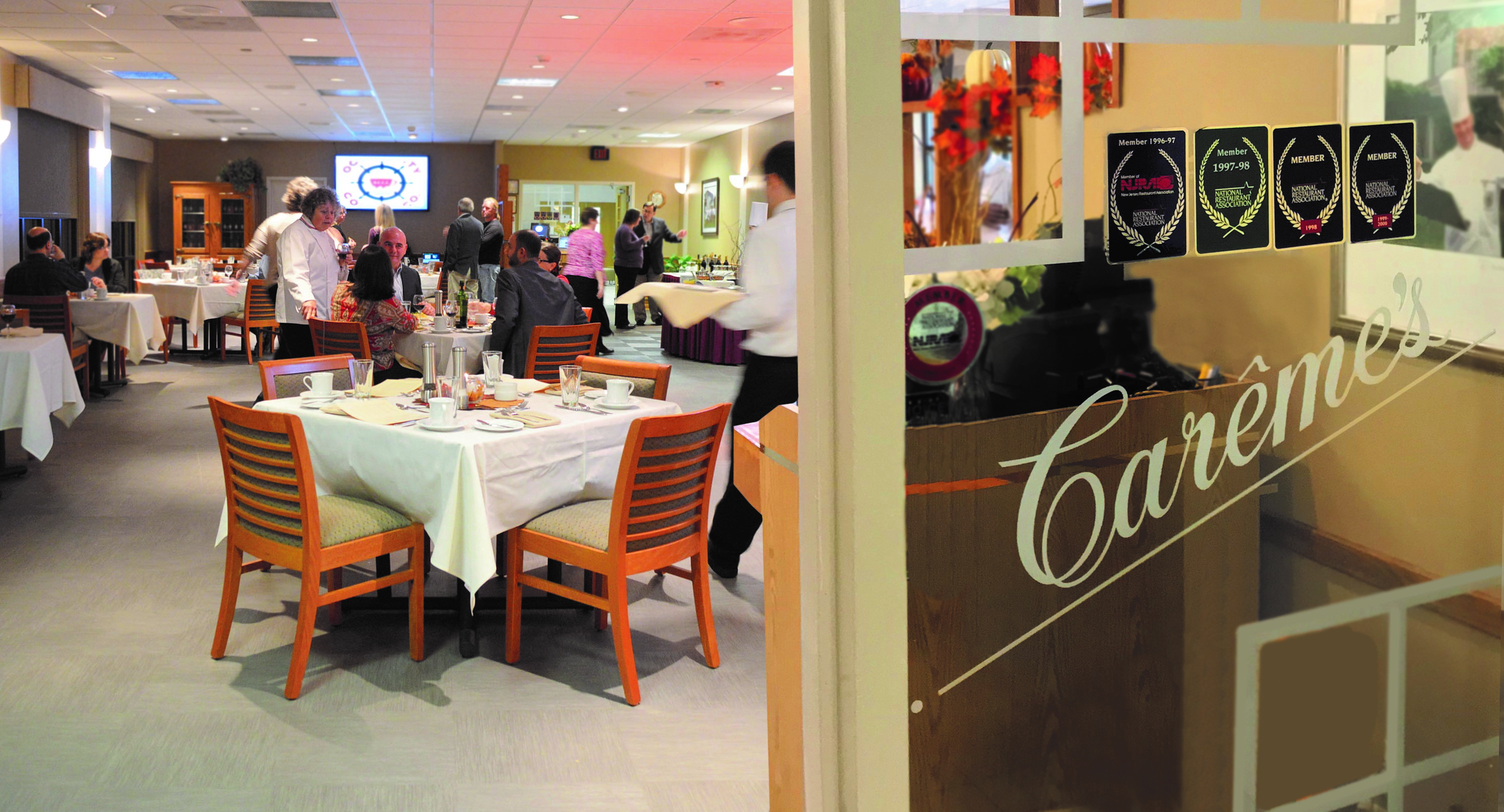 MAYS LANDING — Atlantic Cape Community College's high-end and affordable, student-run restaurant Careme's will reopen for lunch on Sept. 13.
Often touted by loyal customers as the "best kept secret in Atlantic County," Careme's will be open for lunch 11 a.m. to 2 p.m. Monday through Thursday. Dinner service will begin on Nov. 3. Lunch and dinner service will run through Dec. 14.
The 80-seat restaurant is also open for catered lunch and dinner events throughout the semester.
Named for famed 19th century chef Marie-Antoine Careme, Careme's has been operating at the Academy of Culinary Arts for nearly 40 years.
"By the customers' participation, they're supporting a great service to the community," said Chef Tim O'Donnell, director, Academy of Culinary Arts and Hospitality.
The restaurant teaches students the skills required to run a restaurant. Each shift, about five students work the kitchen while another five serve tables.
"All the menu items are cooked by and served by culinary students working on their associate's degree in culinary arts or baking and pastry," Chef educator Joe Sheridan explained. "They take the foundational skills they learn in their lab classes and they put them into practice in an actual restaurant that's open to the public."
Sheridan said that the Academy purchases items through many local vendors including Randall's Seafood in Pleasantville, Ocean City Coffee Company and Boylan Bottling Company.
Denise Coulter, Dean of Professional and Liberal Studies, who oversees the Academy of Culinary Arts, said customers should expect high-quality products and top-notch service because of the dedication of students to their future careers.
"The students are invested in the whole product," she said.
Funds collected through gratuities go toward supporting ACA students through scholarships.
Reservations are accepted, but not required. To reserve a table, call 609-343-4940 and leave a message or email caremes@atlanticcape.edu. All reservation requests are returned within 24 hours.
For more information about Careme's, visit www.atlanticcape.edu/caremes.
About Careme's
Careme's, located in the M building at Atlantic Cape's Mays Landing Campus, 5100 Black Horse Pike, offers a farm-to-table dining experience. Visa, MasterCard, American Express and Discover are accepted. Parking is available in Lot 3.
About the Academy of Culinary Arts
The Academy of Culinary Arts at Atlantic Cape Community College is celebrating 40 years of educating future chefs and food service professionals. The ACA was ranked the No. 1 culinary school in New Jersey by Best Choice Schools.
For more information about the academy, visit www.atlanticcape.edu/aca.