Return to All News
Matthew Byrnes Named To Collegiate All-American Archery Team
05/24/2021 | Media Contact: Erin Mercer | (609) 343-4923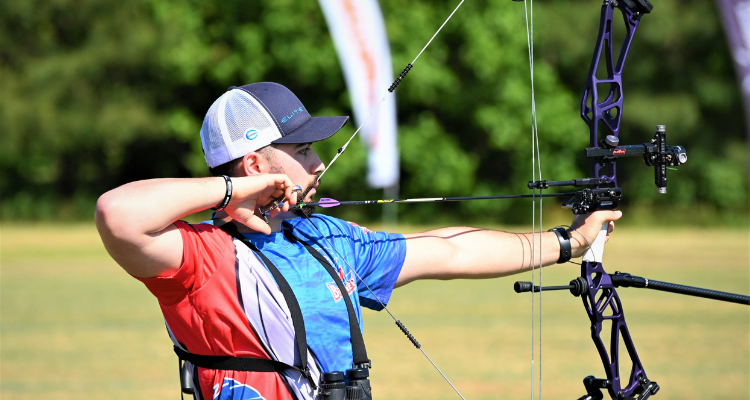 Atlantic Cape Archer Matthew Byrnes was named to the 2021 Collegiate All-American Archery Team this past weekend at the United States Collegiate Championships in Richmond, Virginia. The event featured nearly 300 collegiate archers, representing over 40 colleges and universities from around the country.  Due to COVID limitations, the Atlantic Cape Archery Program was shut down for much of the past year.  As a result, Matthew was the only Atlantic Cape archer to participate in the event. 

On Friday, Matthew started the competition shooting a ranking score of 687 out of a possible 720.  This seeded him 7th for the head-to-head elimination matches that took place Saturday and Sunday.  This ranking score was combined with the results from the Indoor Nationals competition this past February, with the Top 10 finishers being named to the All-American Team.  Matthew finished in 8th place in the All-American Competition. 
In the individual eliminations, Matthew won his first 2 matches to advance. In the round of 16, Matthew traded the lead back and forth throughout the match, with the 10th seeded archer from Texas A&M University.  The match ended regulation tied at 142 out of 150 points.  A one arrow shoot-off, closest to the center, decided the winner.  Matthew advanced by scoring a center 10 while his opponent's shot was only worth 9 points. In the quarter-final round, Matthew faced the 3rd seeded archer from Lindsey Wilson College. His run ended there, as he lost the match to the eventual Bronze Medalist, 141 to 143.   Overall, Matthew finished in 6th place in the competition. 
 
Matthew was additionally named to the Academic All-American Team. This award is presented to the top finishers in the competition who also maintain the highest GPA.  Matthew's tournament scores combined with his 3.8 GPA resulted in him receiving this honor.