Return to All News
Drive-through and Virtual Graduation Celebrations Announced
05/18/2021 | Media Contact: Erin Mercer | (609) 343-4923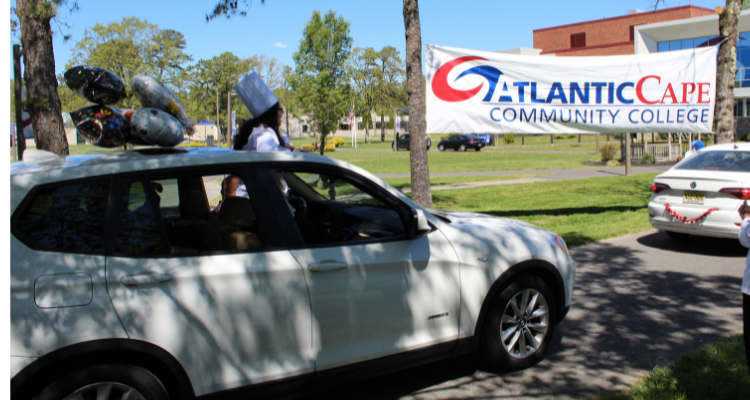 In an effort to truly recognize the accomplishments of the class of 2021, Atlantic Cape Community College will host two separate graduation events. On Thursday, May 20, the college will host a drive-through graduation event on the Mays Landing campus from 9 a.m. through 6 p.m., as well as a virtual ceremony on Wednesday, June 9 at 7 p.m.
The drive-through graduation will be a contactless ceremony, where students can decorate their vehicles, similar to decorating their caps, to show school spirit. During the procession, graduates will receive a gift from the Alumni Association and the Student Government Association before picking up their diploma, all while seated in the passenger side of their vehicle. Once they reach a certain point in the route, graduates will exit their vehicles and proceed on foot. They will have their individual photos taken, then proceed to a designated area where their name will be announced, and then have their photos taken with Atlantic Cape President Dr. Barbara Gaba or a cabinet member. From there, graduates will get back in their cars and proceed along the route, which will be lined with faculty and staff cheering them on.  
"We are really excited to offer our graduates this opportunity," said Dr. Gaba. "Our students have worked so hard to get to get to this point, and we want to honor that dedication in the best way possible. This is a safe, fun, and memorable way to mark the occasion."
An identical ceremony will also be held on Wednesday, May 19 at the Mays Landing campus for graduates of the Early College Program. On May 19, from 1:30 p.m. through 3:30 p.m., 34 high school students from Atlantic County Institute of Technology (ACIT), Middle Township High School, and Pleasantville High School will receive their associate degrees from Atlantic Cape before attending their own high school graduations in June. Nine local high schools currently participate in Atlantic Cape's Early College program, which offers dual and concurrent enrollment opportunities for high school students allowing them to earn up to 60 credits towards an Associate degree while still in high school.
Both drive-through ceremonies will be traditional, with graduates wearing their caps and gowns for the ceremony and photos. Faculty and staff will be wearing custom T-shirts in support of the event. There will also be a designated area where graduates can stop to take pictures with their families and friends.
Additionally, all graduates will be honored during Atlantic Cape's virtual commencement ceremony on June 9. This celebration will include a message from Dr. Gaba, keynote speaker Dr. Natasha Corbitt, The President of the Board of Trustees, the High Honor Student, and President of the Student Government Association. Similar to last year's virtual ceremony, a list of graduates along with their photos and the conferral of degrees will be included. The virtual ceremony will air live at 7 p.m. and then be available for playback on YouTube. 
For more information, visit Atlantic Cape's Virtual Graduation page at atlanticcape.edu/graduation.