Return to All News
Bucs Baseball Home Opener "A Tale of Two Wins"
03/20/2021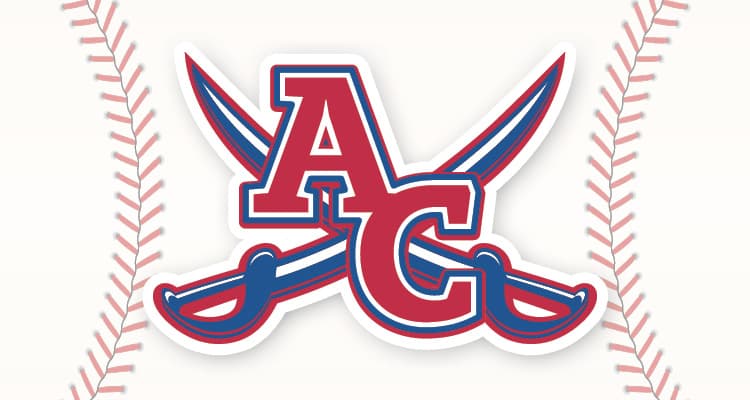 The sun was shining at Surf Stadium Saturday as the Atlantic Cape Community College Buccaneers treated their fans to double header victories in their home-opener against the Union County Owls - it was a "Tale of Two Wins."
In game one, Nick Atohi (Mainland) had all the right stuff on Saturday for the Buccaneers, striking out eight and scattering three hits over seven innings. His effort on the mound was complemented by a solid Buccaneer's defense.
 The pitching was strong on both sides. Bryan Padilla sat down three for the Owls as he and Atohi traded shutout innings until the bottom of the seventh.
Capping off a solid pitching performance, Atohi started the seventh with a leadoff double. Right fielder Omar Luis (Millville) hit a line-drive single to left field to move Atohi into scoring position. Second baseman Shane Nanek (Absegami) then hit a hard ground ball to right field to score Atohi on an exciting walk-off game winner.
Game two was a different story as the Buccaneers bats came to life and center fielder Sleiter Suriel's (Pleasantville) speed on the basepaths helped to produce manufactured hits and runs. 
Phil Santa Maria (ACIT) retired the side in the top of the first after hitting the leadoff batter with his first pitch.
Buccaneer shortstop Luis Sauri (Buena) led off with a line drive single to right field and advanced to second on a sacrifice grounder by first baseman, Angel Murray (EHT). Using his speed up the line, Suriel beat out a ground ball to second base that scored Sauri. Catcher Omar Hernandez (Absegami) drove a double to the left field gap and scored when Atohi singled on a hard ground ball to left field to round out the scoring in a 3-run first inning.
Union managed to get back one run in the top of the second when right fielder Olvera singled then scored on a double by third baseman Jaros. The Buccaneers strongly countered with a 5-run third inning after Suriel started the festivities with a line-drive double to left field. Hernandez is hit by a pitch and DH Logan Petty (Mainland) drove in both with a line drive to left field. Petty stole third and scored on a single by Atohi to left field, who then advanced to second on a single by Luis. After left fielder Anyelo Nicasio (Pleasantville) walked to load the bases, Sauri sacrificed to right to score Atohi and advanced Luis to third while Nicasio was held at first. Luis scored on a wild pitch for the final run of the inning and an 8-1 Buccaneer lead.
Union scored four runs in the fourth inning led by Colin Jaros, Jacob Bottomly, and Miguel Leocadio, who each had RBIs in the inning.
After scoring 3 runs in the bottom of the fourth, the Buccaneers scored another six runs in the fifth inning.  Omar Hernandez, Logan Petty, Shane Nanek, Anyelo Nicasio, and Luis Sauri II all moved runners across the plate with RBIs in the inning.
Santa Maria was the winning pitcher for the Buccaneers. The southpaw surrendered four runs on four hits over three and a third innings, striking out four and walking one.  Alex Gallagher (EHT) threw three and two-thirds innings in relief out of the bullpen.
Eriberto Reyes took the loss for Union. Reyes went three innings, allowing 11 runs on ten hits and striking out three.
The Buccaneers collected 17 hits on the day.  Suriel, Sauri, Nick Atohi, Petty, and Hernandez each collected multiple hits for the Buccaneers.  Atohi, Sauri II, and Suriel each had three hits to lead the White, Red, and Blue in the box scores.
Union tallied five hits.  Olvera and Jaros all had multiple hits for Union.
The Buccaneers are back at it Sunday at 12 Noon at Surf Stadium when they host reigning national Champion Cumberland for the second game of their season series with the Dukes. Atlantic Cape won the first game of that series and is now in First Place in the NJCAA Region XIX Standings. Sunday's game will determine if they stay there.