Return to All News
Atlantic Cape Knitting Group Donates Hand-Made Newborn Hats
09/16/2019 | Media Contact: Erin Mercer | (609) 343-4923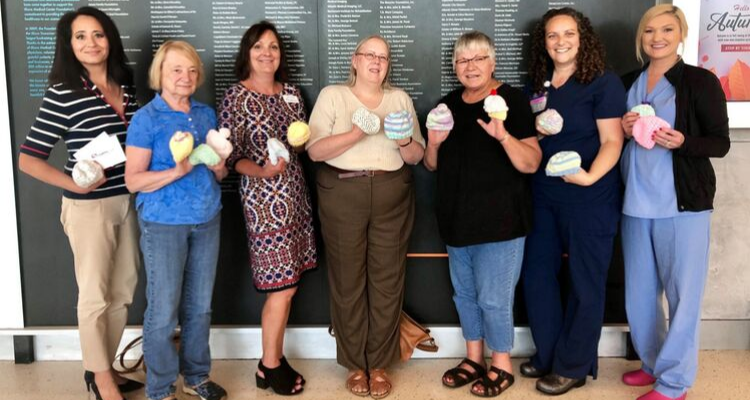 Shore Medical Center delivers more than 1,000 babies each year, and each one receives a special hat to help prevent heat loss as their bodies adjust to life outside the womb. These hats become treasured mementos from a baby's first days. 
Thanks to a new group formed this summer at Atlantic Cape Community College, Shore has a generous stockpile of beautiful hand-knit newborn hats. Atlantic Cape Library Assistant Sue Skinner and Director of Academic Support Services Janet Hauge came up with the idea as a way of uniting faculty, staff, students, and the community in a fun weekly knitting group to benefit others. They recently delivered 66 hats to Shore, and each hat is unique. Some feature sailboats or heart patterns. One looks just like a cupcake with a cherry on top. The 8-week program was so successful that another will start in October to make hats for patients undergoing chemotherapy. 

People of all levels are welcome to join or knit at home and donate to the cause. Lessons will be offered to beginners. The next knitting group will meet in October and will be held Tuesday evenings at 7 p.m. To learn more, contact the Atlantic Cape library at (609) 343-4951 or email library@atlanticcape.edu.

Pictured left to right is Jocelyn Sampson, Shore patient experience associate; Virginia Macrie, Atlantic Cape instructional technologist; Janet Hauge, director of academic support services; Leslie Murtha, librarian; Sue Skinner, library assistant; Rhonda Terwilliger, maternity health unit secretary; and Lauren Matalucci, lactation consultant.