Return to All News
Tuition-Free Community College Returns for Fall/Spring
08/14/2019 | Media Contact: Erin Mercer | (609) 343-4923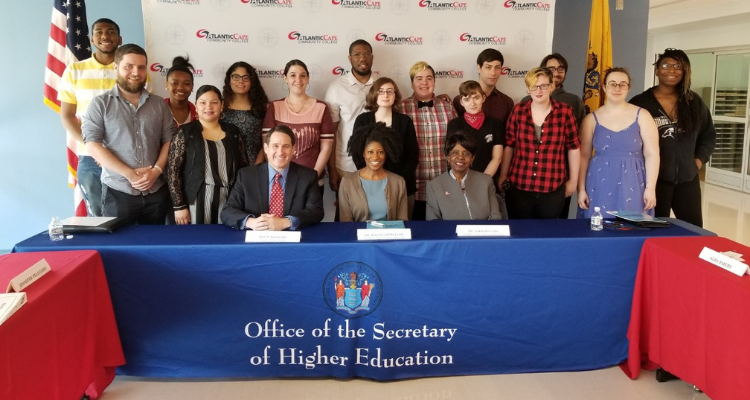 The Community College Opportunity Grant, or Tuition-Free College, has been renewed for Atlantic Cape's academic year 2019-2020. The state of New Jersey approved funding for the program with expanded eligibility, including raising the adjusted gross income to $65,000 or less for all part time or full time students. Students are encouraged to apply now since Fall semester starts September 3. 
Atlantic Cape participated in the successful pilot program, nicknamed "Free College" in the spring and welcomed New Jersey Secretary of Higher Education Dr. Zakiya Smith Ellis in May to discuss the expansion. Torey Spindler, a CCOG recipient and resident of Cape May county, explained what the program meant to him: "The Community College Opportunity Grant has substantially enriched my life. Thanks to this grant, I have been able to pursue higher education without having to worry about becoming trapped in student debt or having to choose between paying for tuition and paying rent. I  appreciate the NJ Secretary of Higher Education visiting to hear how important this program is to me and so many others across the state of New Jersey." 
Torey was one of over 300 recipients of CCOG funds during the Spring 2019 semester and over $400,000 was awarded in total. During the initial phase, students with an adjusted gross income of up to $45,000 were eligible for the grant. Now that the income level has been raised to $65,000, even more students will qualify for tuition-free college this year. The Community College Opportunity Grant pays for tuition costs and approved educational fees that are not already covered by other grant funds. Atlantic Cape President, Dr. Gaba, has strongly advocated for the program and recently commented about this exciting grant: "For many, one of the biggest barriers to a college degree is the cost. New Jersey has taken that obstacle away and is inviting you to pave your way to a new future. You don't have to worry about student loan debt with this opportunity." 
To qualify, a student must have a total household adjusted income not exceeding $65,000; be a resident  of Atlantic or Cape May counties, apply to the college and complete an online application for financial aid prior to September 15, 2019. To begin the process, students and prospective students should fill out the 2019-2020 FASFA application at www.fafsa.gov or the New Jersey Alternative Financial Aid  Application at HESAA.org. The college's school code is 002596. The New Jersey Alternative Financial  Aid Application allows NJ Dreamers enrolled in eligible New Jersey colleges and universities to apply for state financial aid. 
Any student who has completed their financial aid application will be automatically considered for this  last-dollar state grant funding. There is no separate application needed and all steps are free to  complete. Links to both applications can be found on Atlantic Cape's free college website, atlantic.edu/freecollege. 
Classes for the fall semester begin on September 3, with the Cape May County campus starting September 23. For more details about tuition-free college, email freecollege@atlanticcape.edu, call 609-343- 5000 or visit atlanticcape.edu/freecollege. There are representatives available to answer your questions in person at any of the three campuses locations.