Return to All News
Atlantic Cape Buccaneers Give Back at the AC Rescue Mission Gala
08/15/2019 | Media Contact: Erin Mercer | (609) 343-4923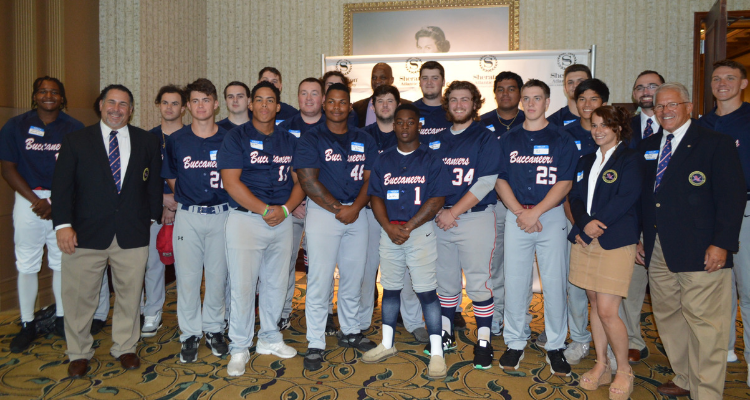 The Atlantic Cape Buccaneers Baseball team was proud to be asked to serve as ushers & greeters for this years Summer Fundraising Gala for the Atlantic City Rescue Mission. The event was held on August 14th, 2019 at the Atlantic City Sheraton Convention Center Grand Ballroom. The Keynote speaker for this year's gala was Darryl Strawberry who graciously met with the coaches and players and took photos with the team. 
Coach Rod Velardi presented Mr. Strawberry with a Buccaneers Baseball Team Tie, a Baseball Blazer Crest and the Team Handbook, making him an Honorary Buccaneer! 
The Atlantic City Rescue Mission provides hope daily to thousands of individuals and families in need. They provide physical, emotional and other basic needs (through the provision of shelter, clothing, food, counseling, referral and structured programs) of the poor and those who struggle with addictive lifestyles in Atlantic City and the surrounding communities. Their commitment to serving the community mirrors the values and ethics of the Atlantic Cape Buccaneers who strive to be leaders both on and off the field.