The health and well-being of all students, faculty, and staff at Atlantic Cape Community College is the top priority of the college and the college-wide Health and Safety Committee. We pledged from the onset of the pandemic that we would continue to monitor the impact of COVID-19 and make adjustments as necessary.
Masking Optional
Indoor masking is optional on all campuses for all individuals except in the following cases:
Nursing students and faculty in clinical settings, nursing classrooms, and laboratories must continue to wear a mask;
If an individual is exposed to someone with COVID-19;
If an individual is instructed to wear a mask by a healthcare provider;
If an individual feels ill with upper respiratory symptoms or is COVID-positive.
To keep our college community safe and healthy, we still require that you immediately report to the college if you test positive for COVID-19. For students, please contact Nancy Porfido at porfido@atlanticcape.edu. For Faculty and Staff, please contact Cindy DeFalco in Human Resources at defalco@atlanticcape.edu.
COVID-19 Testing
Testing is no longer mandatory for most unvaccinated students, faculty, or staff. Student-Athletes will have to continue weekly testing. 
Moving Forward
The health and safety of our college community continue to be of utmost importance so we will keep you informed of any updates. We appreciate your continued support and understanding.
Atlantic Cape Connect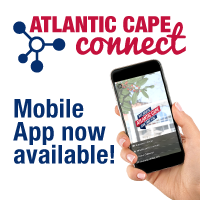 If you are planning on taking in-person classes or coming to campus regularly, we recommend installing the mobile app on your device as you will be required to show proof of vaccination or negative Covid testing result upon entering campus.